---
This Stansport Scout 2 Person Backpack and Camping Tent is a single-wall 2-pole structure, easy to use, and incredibly affordable.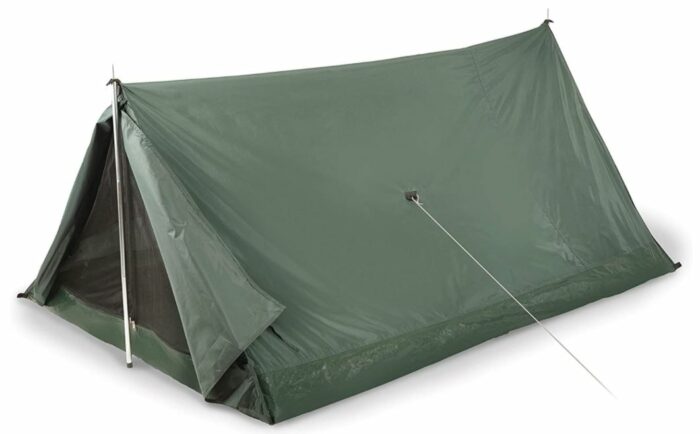 ---
Key features & benefits
Two poles.
Classic A-shape tent.
1 Door.
1 Rear window.
Lightweight.
Compact.
Incredibly affordable.
---
What this is about
So this is a non-freestanding tent supported by two poles only, one on each of its ends. The structure is A-shape as in old tents, see the picture below. I had one of those almost 40 years ago when I started mountaineering. Such a tent brings lots of memories, if you are of a similar age you will probably feel the same.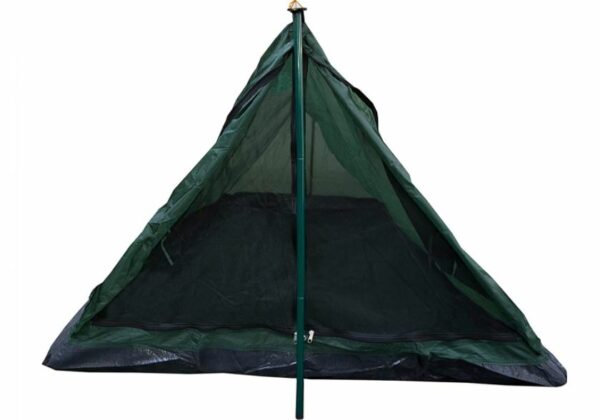 The tent is single-wall and single-door type, just the shell, no vestibules and no bells and whistles, a very basic shelter. The only major double-wall part is its door where you have a mesh as well together with the panel, it is visible in the picture above.
But the tent still has a small rear window with mesh and zippered panel from outside, see the picture below. So you cannot unzip it from inside, and this is certainly not a very smart design. As you see, you can roll it up and fix with a toggle.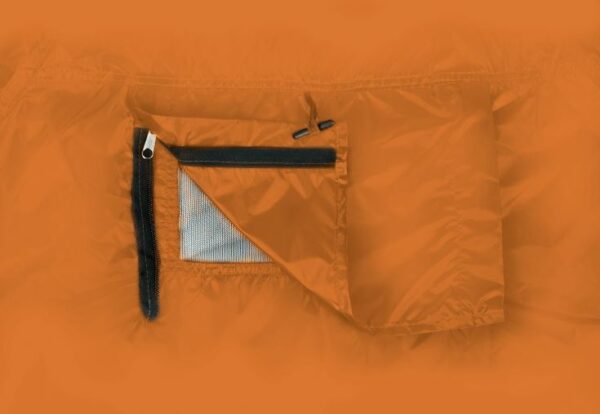 To pitch the tent, it is necessary to stake it properly at the tent's base and also with two gulines on the front and at the end. Make sure that these two gulines are tensioned enough so that the tent's roof is without sagging in the middle.
But the problem is that it has two guylines on the sides as well, so when you tension them, they pull the roof to the sides and sagging is difficult to avoid, see the picture below.
This can cause pooling of the rainwater on the top and you can be sure it will result in leaking. So make sure that the tension is much stronger on the guylines on its short sides (front and back). The side guylines are there only to keep the roof A-shaped and not to pull it out, this is the secret of how to keep the roof in the right position.
The picture below shows the tent in the orange color and with all the guylines in place.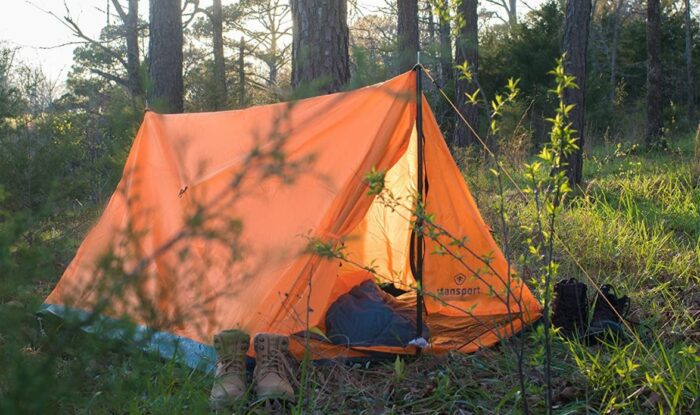 Dry setup: I wont to point this out because of my own bad experiences with standard double-layer tents. Namely, if you are forced to pitch a tent when it is raining, everything will become wet before you add the fly.
But this is not so here. You raise the tent from the ground keeping it closed all the time. So you stake it down at the corners, and then add poles. The inner remains protected all the time. This can make lots of difference if you find yourself in a bad weather and cannot wait for the rain to stop.
---
Materials
The poles & stakes
There are two heavy poles only, one on the front and one on the back. They contain three pieces each, and those are not shock-corded. You snap the pieces together and the one on the top is with a narrow end that fits into an eyelet on the tent, see the picture below. But you can leave them at home and use your terkking poles instead, this will give you an ultralight shelter.
You also have 8 simple steel stakes and 4 guylines included in the package. So 4 of the stakes are used for the tent's base and the rest for the guylines. It is best to replace the stakes with aluminum and this will make it much lighter.
The fabric
The fly is a PU coated nylon with an 800 mm waterproof rating. The floor is a thick polyethylene, a sort of a highly waterproof plastic material so you are definitely safe from the groundwater. You see it in the picture below as the dark fabric, and you realize it is bath-tub shaped and goes above the ground to protect the tent from splashes.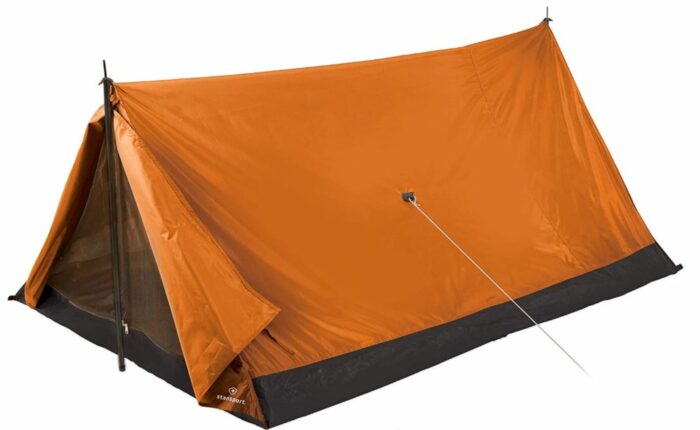 They claim that the fabric meets CPAI-84 flame retardant specifications. As mentioned above, the door has an extra No-See-Um mesh screen against insects.
This tent is incredibly inexpensive, so it is advisable to do a bit on it, with a small additional investment it will transform in a reliable tent. By this I mean waterproofing its seams, replacing its guylines, replacing the stakes.

---
Who is this Stansport Scout 2 Person Tent for
Regarding the weight, you have seen the official name of the tent so you have the word Backpack there, indicating this is a tent for hikers and backpackers. So it is lightweight and backpack-portable with its 3.8 lb (1.72 kg), but this is not an ultralight tent. To realize what I mean, see this ultra-advanced and ultralight Big Agnes Scout 2 Platinum Tent. Yes, I know this is like comparing apples and oranges, this tent costs 16 times more, but see its weight and fabric.
But you can make this Stansport tent under 2 pounds (0.9 kg) if you replace the stuff mentioned above and use trekking poles for its support.
The packed size is very good, it measures around (L x D) 14 x 4.7 inches (36 x 12 cm) so you can store it anywhere, and transport on a bicycle. Without poles it is much more compact.
Regarding seasons & climate, I guess this tent can be used in any season and in any weather conditions, but this does not mean you would feel great inside.
With such a design, condensation should always be an issue if you cannot keep the door and window with mesh. But when the sky is clear, with mesh on these openings you will feel great.
On the other hand, so many people have complained about leaking that this cannot be ignored, therefore either waterproof it yourself, or avoid rain in general.
Regarding the dimensions & capacity, this tent is officially for two people. For this you have the area of 29 ft² (2.6 m²) which is formally enough for two people.
But note that this is an A-shape profile so the volume is minimal with such an angled roof. More importantly, the tent is very short; you have only 78 inches (198 cm) so the sleeping bag will always touch the walls and it can get wet.
---
Specifications
Weight: 3.8 lb (1.72 kg).
Dimensions: 78 x 52 in (198 x 132 cm).
Area: 29 ft² (2.6 m²).
Peak height: 38 in (97 cm).
Packed size (L x D): 14 x 4.7 in (36 x 12 cm).
---
Final thoughts, rating, pros & cons
So to summarize this Stansport Scout 2 Person Backpack and Camping Tent review, this tent is a very basic shelter, and it is with a price that can hardly be matched. It is lightweight and it is compact, and you can make it much lighter and much more compact if you use your trekking poles instead of its own poles.
But do not expect too much from such a tent, you will have to make it waterproof yourself. It is best to use it in a dry climate.
This tent has been on the market for years and it has collected a huge number of reports by users, only on Amazon you have a four-figure number of reports. So everything is known about it and you will know what you are buying. Here is my own rating against my standard set of criteria:
BEST PLACEs TO BUY regarding shipping and price:
If you need more options, please check under the group of Tents for 2 people here in the site. Note that this The North Face Tuolumne 2 tent is built in the same style, and the same holds for this Kelty Rover Tent for two people. But if you would rather have a tent with vestibules, check this Alps Mountaineering Chaos 2 tent.
Bookmark this site and visit it again, this will keep you informed because we add here texts on a regular basis. Thank you for reading and have a nice day.