---
This Big Agnes Scout 2 Platinum review is about the tent which you have to see to believe it is real with its impressive 1 lb 5 oz (595 g) weight and great packed size.
---
Key features & benefits
Incredible weight.
Single wall design.
No poles.
Very small packed size.
---
Where to buy
This tent is available on Amazon, they operate globally so please follow the link and check the price and shipping conditions for your location.
---
Big Agnes Scout 2 Platinum Crazylight Backpacking Tent – what is behind the name
This is the name they use for this tent on Amazon. The weight 1 lb 5 oz (595 g) is such that the word 'crazylight' used in the name sounds appropriate. But note that this is:
A single-wall tent. As you can imagine, this is not the best option to fight condensation.
It comes without any poles. The idea is that you use two trekking poles to support the tent. This indicates yet another important feature – the tent is not freestanding. So you have to camp on the ground where you can stake it properly, this will not work on sand or gravel.
You might want to see how it compares with their Big Agnes Scout 2 Carbon which is lighter because of its Dyneema fabric.
This is an A-frame style structure with vertical end-walls and over-vertical sidewalls. Namely, the side walls are at an angle of 45 degrees or so in the outward direction, see the picture below. So the volume which users have inside is not so bad in spite of such a roof shape and the small floor area.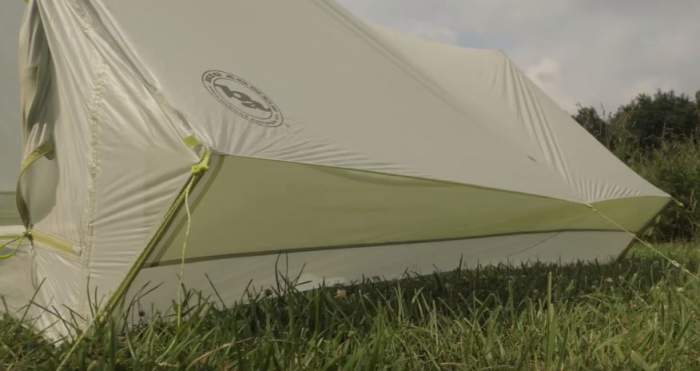 To set this tent up, you have to stake the corners, then find the reinforced sections under the roof where you will put your trekking pole and raise to the prescribed height by extending the pole. Then you have to stake the guyline to stabilize the pole.
Repeat the same on the other end of the tent. After that go around and tension the guylines on the sides.
Ventilation
This is related to the single-wall design. The potential issues of condensation they solve with long mesh vents all the way along the tent's sides (and I stress, this is on both sides). You also have large mesh sections in the corners under the roof.
The high mesh sections are protected with small awnings on the ends of the tent, see the picture below. The side wents are fully protected with the overhanging eaves above them. So as you realize, this design is far from an ordinary single-wall tent and ventilation is optimal.
Other features
This is a minimalist design with a single front door and without vestibules. Everything is done to shed weight. The headroom is not the best side of this tent. The height changes from 45 to 33 inches (115 to 84 cm) from the front to the back, and you have to have adjustable poles for this.
Such a height may look good, but you will notice that it becomes lower in the middle. So to reduce this effect it is necessary to tighten the guylines on the front and on the back, but this cannot be avoided here. The picture below shows what I mean:

The side vents look like a dual-layer design, so you have mesh outside and panels inside. But these panels are introduced to serve as storage pockets. This is a huge storage area, yet it is not supported by the frame and it cannot serve the purpose properly, see the picture: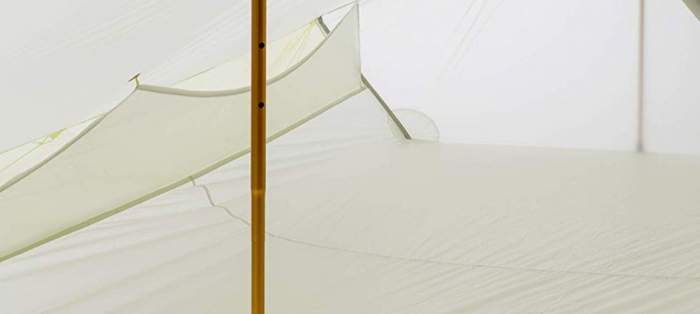 You also have:
Storm flaps on exterior zippers.
Double slider zippers for venting from the top or bottom.
Guyouts on corners.
Pre-cut guylines and tensioners attached to fly.
Reflective guylines and webbing on the corners.
Interior loops for use with gear lofts.
Footprint available – sold separately. Note that the footprint weighs 5 oz (142 g), so this is still an ultralight combination if you add it to the pack.
---
Who is it for
Capacity-wise, the declared capacity is 2 people and the floor plan below shows what it offers. This is a tapered floor design and not a camping castle for sure. There is space for two partners and in my view, this is the only way of sharing this tent with somebody.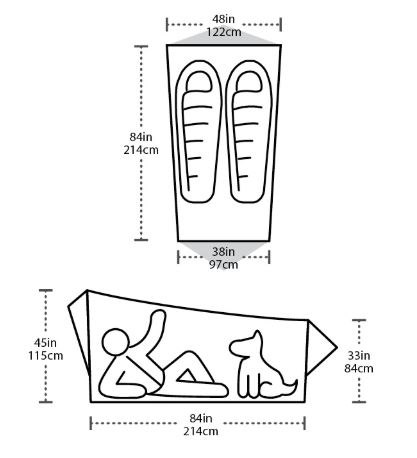 Weight-wise, they give trail weight and packed weight, see in the specifications below. So the former is the weight of the tent components necessary for setup and function. Packed weight is the weight with everything included with purchase.
In any case, this is an ultralight structure as a 2-person tent. But, it is so light that you can use it as a solo tent and it will still be an ultralight solo tent.
Seasons-wise, they describe it as a 3-season tent, but it may not be so great in a very warm environment. This is a single layer structure and rather enclosed. Also, I would not use it in an environment with strong winds, and above the tree line.
The packed size 13.5 x 5 inches (34 x 13 cm) looks impressive but bear in mind that it is without vestibules and poles. But indeed you can transport it in any way possible, in the pack, on a bicycle, on a motorbike, in a kayak, and you name it.
---
Materials
So when it comes to materials, you only have fabric here and this is a silicone treated nylon ripstop with 1200 mm waterproof polyurethane coating. You will hardly ever need more, just to know if this number looks small to you. The seams are taped with waterproof and solvent-free polyurethane tape (No PVC or VOC's).
Please see a bit more in this short video:
---
Good and less good features
Here is my short summary:

Quality craftsmanship.
Quality materials.
Super-ultralight.

The price & rating
This tent is on the market with the price tag $450, so this is very steep if you are on a budget. But no doubt there are users who are able to appreciate its incredible weight and invest in such a tent. If you are a backpacker, you know well how important it is to have light and packable the three most important pieces for outdoor sleeping (the tent, bag, and pad).
Please see how I rate this tent against my standard set of criteria, so you can easily compare with other tents here in the site:
My rating breakdown of the Big Agnes Scout 2 Platinum Tent:
Area per person -

7.6/10

Area/Weight ratio -

10/10

Packed size -

8.6/10

Reliability & protection -

8.4/10

Ease of use & features -

8.5/10

Price -

7/10
---
Specifications
Declared capacity: 2 people.
Trail weight: 1 lb 1 oz (482 g).
Packed weight: 1 lb 5 oz (595 g).
Dimensions: 84 x 48/38 (214 x 122/97 cm).
Area: 27 ft² (2.5 m²).
Peak height: 45/33 in (115/84 cm).
Packed size: 13.5 x 5 in (34 x 13 cm).
Doors: 1.
---
Big Agnes Scout 2 Platinum vs Marmot Bolt UL 2 & Big Agnes Tiger Wall UL 2 tents
The comparison table below should help in understanding the incredible weight of this Scout 2 Platinum tent. I show it side by side with Marmot Bolt UL 2 and Big Agnes Tiger Wall UL 2 tents. Both of them are in the category of ultralight backpacking tents, yet the Scout 2 is half the weight of these tents.
But as pointed out above, there are reasons for such a weight. It is without poles and there are no vestibules, and this is the only single-layer tent here. This is why its packed size is so great when you compare it with the other two tents. However, note also that the Big Agnes Tiger Wall UL 2 tent is with two doors and two vestibules.
Big Agnes
Scout Platinum 2
---
Final thoughts
In summary of this Big Agnes Scout 2 Platinum review, before you get too excited with the weight of this tent, it is best to inspect its features. But indeed, its weight is simply incredible and having such a tent absolutely makes sense on a trail. It is light enough to be used as an ultralight solo tent. I have added it to my list with best lightweight 2 person backpacking tents.
If you are a person who does not use trekking poles, you might realize that this tent is not an option for you. But even in such a case, you should know that you can buy separate poles. They have them specifically built for this tent, the Big Agnes Accessory Backpacking Tarp Poles.

If you need more options, please visit my page with tents and shelters, you will find top-notch tents from the most important brands presented in detail.
Note that this is not a sponsored text, and I am not paid by the brands. Please use the comment box below in the case of questions or comments. Have a nice day.

---