---
This Marmot Bolt UL 2P Tent is an ultralight backpacking item with one front door and one vestibule and with top-notch DAC Featherlite NSL poles, and the price to match its quality.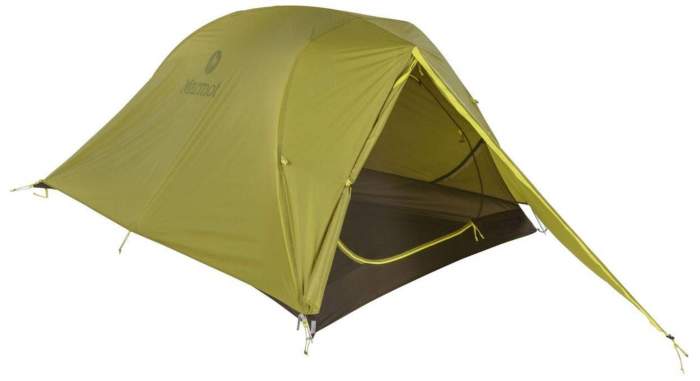 ---
Key features
Ultralight backpacking tent.
Tapered floor design.
Non-freestanding.
DAC Featherlite NSL aluminum poles.
1 Door & 1 vestibule.
Lantern pocket on the ceiling.
---
What type of tent is this

Marmot Bolt UL 2P
So this is a new tent on the market, an ultralight design with a single front door and vestibule as shown in the top picture above. The tent is not freestanding, although the manufacturer writes it is. The feet area must be staked out and spread because in that section you have only one end of the pole on the ground. You see this in the picture below which shows the tent without the fly.
Note that the floor is tapered so it is 52 inches (132 cm) on one end and 42 inches (107 cm) on the other. They built it reasonably high for such a design where everything is done to shed the weight, so the peak height is 42 inches (107 cm).
---
The materials
The poles
The poles are among the best you will find on the market, those are DAC Featherlite NSL, and you surely know that this is the leading manufacturer of tent poles in the world. So these are poles built from their TH72M alloy, specifically for backpacking tents, and they are 9.3 mm in the diameter.
You have them two only, the front pole is pre-bent for some extra volume inside. The second pole is a ridge pole, you can see below how they intersect, there is a plastic clip to keep them together. The poles attach to the tent's base through grommets, one is shown below.
The fabric
All the fabric is thin as you would expect. So the canopy is 15D 100% nylon No-See-Um mesh F/R, the fly is 20D 100% polyester RS, Sil/PU treated and with 1500 mm waterproof rating, F/R. Note that you have vents available here, one is shown below.
The floor is the same as the fly and with the same rating, and it is a catenary cut. All seams are fully taped throughout the tent.
Other features
Lampshade pocket is on the ceiling, see the picture above.
Color-coded design.
Interior pockets for small gear are available, one is shown above.
Jingle-free nylon zipper pulls are used.
Optional footprint is sold separately.

---
So who is it for
Weight-wise, this is clearly a backpacking tent. But this means also that it is versatile and suitable for a variety of outdoor activities. The packed size is great so you can use it on your motorbike, bicycle, or kayak tours.
Space-wise, you can see the numbers in the specifications, so clearly this is not a castle. But it is so light that you can use it also as a solo tent, and then you will have a hiking castle.
Seasons-wise & climate-wise, this tent is all mesh and this makes it great for a warm climate. Vents are available for optimal ventilation, the waterproof rating is good, and the fly is full-coverage type. So you have complete protection with such a tent.
But I would not use it in a cooler climate. If this is what you need better check some of these tents.
---
Specifications
Declared capacity: 2 people.
Weight: 2 lb 5.1 oz (1052 g).
Min. weight: 2lb 1.9 oz (960 g).
Dimensions: 86 x 52/42 in (218 x 132/107 cm).
Inner area: 28 ft² (2.6 m²).
Inner area per person: 14 ft² (1.3 m²).
Vestibule area: 6.9 ft² (0.6 m²).
Packed size: 19 x 6 in (48.3 x 15 cm).
Peak height: 42 in (107 cm).
---
Marmot Bolt UL 2P Tent vs Competitors
Here I show this Bolt 2 side by side with two tents from Big Agnes. As you see they all have the same floor size, but there are differences in vestibules and doors.
The C Bar 2 is also a single door type and I show it here to see how much lighter this Bolt 2 Tent is. On the other hand, I add the Tiger Wall UL 2 on purpose, to show that you can go ultralight and still have 2 doors and 2 vestibules. It all depends on how much you are willing to invest. Please follow the links for more.
---
Final thoughts, rating, pros & cons
So I hope this text has presented Marmot Bolt UL 2P Tent from all important angles and you have a clear picture of its features and purpose. It does not offer too much space for two users, but the area is quite typical for such a type.
It is best suited for two intimate backpackers. With such a tapered floor, you can use this Big Agnes SLX Tent Floor Pad which is also tapered and it matches the floor dimensions perfectly. All in all, this is a well-built and reliable backpacking and hiking tent. Fully recommended.
This tent is not really an affordable item, but you have seen its weight, this has a price. Please see how I rate this tent against a standard set of criteria used for all the tents here in the site for easy comparison:
If you need more options to consider, please visit our page with tents, you will have them from all top brands and in all shapes and sizes.
Note that this is not a sponsored text, and I am not paid by the brand. Please use the comment box below in the case of questions or comments. Have a nice day.