---
This Big Agnes SLX Tent Floor Pad review is about a unique tapered inflatable double sleeping pad designed for the corresponding floors of backpacking tents. This is an ultralight 3-season option for two people.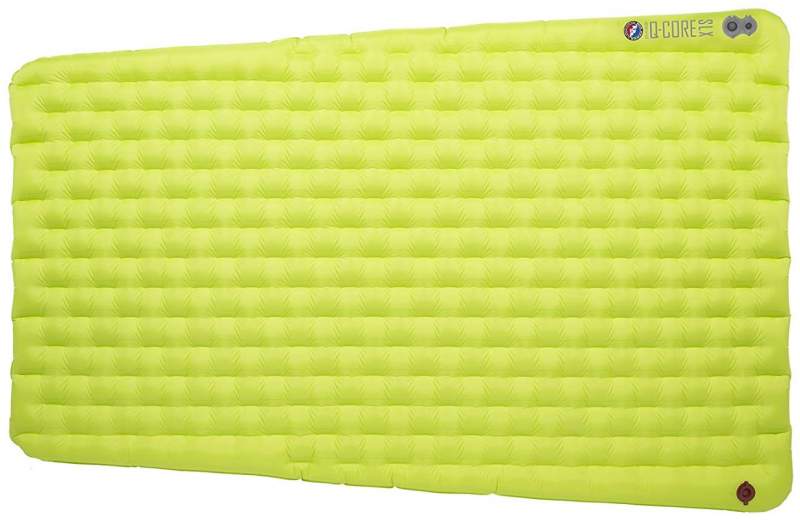 ---
Key features
Double size sleeping pad.
Tapered dimensions.
Inflatable design.
Lightly insulated.
Nicely packable.
Ultralight.
---
Where to buy
This double sleeping pad is a new item on the market but it is already available on Amazon. So follow the link and check their shipping conditions, they have a global shipping service.
---
What this Big Agnes SLX Tent Floor Pad is about
Perhaps you have been in the situation to use a two-person tent which has a tapered floor size. There are many of this type here in the site, like the Big Agnes Tiger Wall UL Backpacking Tent, Big Agnes C Bar 2 Backpacking Tent, Sierra Designs Sweet Suite 2 Tent, and many other tents. They do this to save weight so you have such a shape in backpacking tents.
So those are not rectangular structures, they are trapezoidal by shape, and when you put a rectangular pad, there are sections on the wider side (headend) of the tent that are not covered by the pad. Such spaces are not wasted though, you can always keep some of your gear there. But in any case, Big Agnes has designed this pad to follow the shape of the floor in such tents.
I guess this is why they use the word Floor Pad, the meaning is that it will cover the complete floor as you can see in the example of the tent below. This will give more sleeping surface in the case of two users.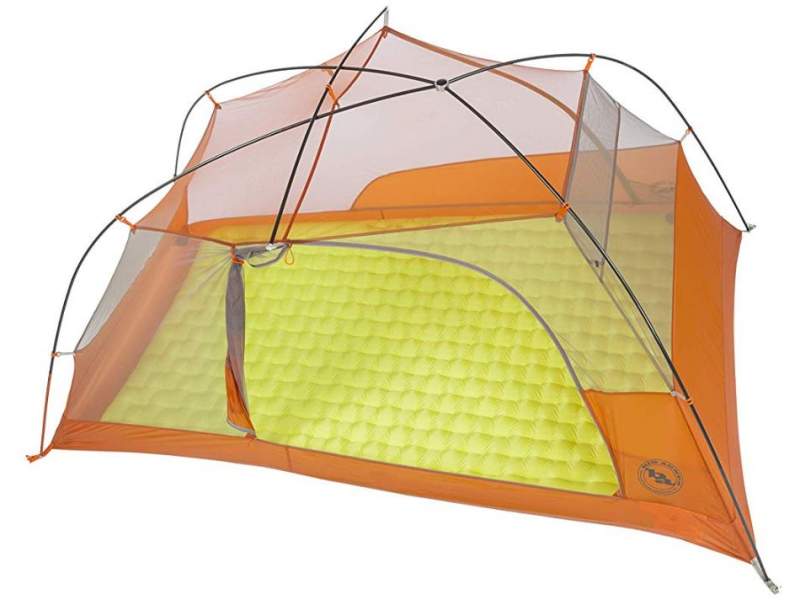 So this is 78 inches long pad, and the width at the head and feet size is 50 and 40 inches, respectively. This makes it suitable for the tents mentioned above, and for many more of course because these are typical dimensions of backpacking tents. The pad offers 3.5 inches (8.9 cm) space between you and the ground, and this should be good enough even if you are a side sleeper.
The particular feature you see in the pictures is its quilted surface and offset I-Beam construction which reduces weight and provides consistent stability and comfort. So this is a surface that is more stable than the traditional design with tubes. The outer chambers are made larger to keep you comfortably cradled in the middle of the pad.
The material
This is nylon double ripstop, exceptionally strong for its weight, it improves tear strength and durability by 25%. They use an Aviation grade TPU lamination technology for the best possible durability.
The pad is with an internal microbial treatment which is supposed to prevent microorganism growth. They would develop due to moisture which may develop in the pad. Inflation is through a one-way valve while keeping the deflation valve closed.
---
Who is it for
Size-wise, as you have seen from the text above, the pad is designed to fit backpacking and hiking tents. The dimensions 78 x 50/40 inches (198 x 127/102 cm) are such that it is suitable for most users and the width is optimal for a 2-person tent. The thickness of 3.5 inches (8.9 cm) is such that it is good enough even as a standard camping pad.
Weight-wise, this pad is in the group of ultralight double sleeping pads. This is normal in view of its basic purpose for backpacking. You will see how it compares with some other top-notch pads on the market. The packed size is also excellent for a double bag.
Seasons-wise, the pad comes with a built-in advanced heat reflective technology and with WRM HL durable, high-loft synthetic insulation. The temperature rating is 32 F (0 C) and this is around 2.6 R-value. So this is a pad for 3-season use.
Please see a bit more in this short video:
---
Good and less good features
Here is my short summary:

Great quality.
Very durable & tough materials.
Exceptionally comfortable.
Very stable for sleeping.
Unique design.
Insulated.
Great packed size.
Great weight.

The price & rating
The price is currently around $300, so this is not for people on a budget. But those who carry all the stuff in the backpack will know to appreciate its features. Please see how I rate it for the usual set of parameters used for all the pads here in the site:
My rating of the Big Agnes SLX Tent Floor Pad:
Weight -

9.4/10

Size -

9/10

Comfort & features -

9.4/10

R-value -

7.5/10

Packed size -

9.6/10

Priice -

6/10
---
Specifications
Type: double-size inflatable pad.
Weight: 42 oz (1.19 kg).
Dimensions: 78 x 50/40 in (198 x 127/102 cm).
Thickness: 3.5 in (8.9 cm).
Packed size (L x D): 11 x 6 in (28 x 15 cm).
---
Big Agnes SLX Tent Floor Pad vs Competitors
To realize how lightweight this pad is I have decided to show it side by side with the Klymit Double V which is in the same weight range, and Kelty Tru.Comfort Camp Bed. The latter is thicker but it is three times heavier and it is without insulation.
The Klymit pad is a bit lighter but it is much shorter. Of course, both of them are standard rectangular pads. But the Big Agnes pad is far more expensive than the other two. Please follow the links to read more.
Big Agnes SLX
Tent Floor Pad
78 x 50/40
(198 x 127/102)
---
Final thoughts
So you have seen the unique features of this Big Agnes SLX Tent Floor Pad. I do not remember any other sleeping pad with such a tapered shape.
One interesting question would be – is this really a better option than two single pads. I would say it is definitely more comfortable if you are going with your partner. Regarding the weight, this depends on what you choose to compare with.
As an example, if you take two Therm-a-Rest Trail King SV Sleeping Pads, the combined weight is much bigger, around 1.63 kg for the size R. The combined price is similar to one Big Agnes SLX Pad.
But take two Klymit V Ultralite SL Sleeping Pads, the combined weight is only 674 grams, and the combined price is currently below $100. As usual, it is hard to match the value/money combination which you have with Klymit pads.

I have added this pad to my list with best inflatable sleeping pads. If you need more options to check, please visit our page with sleeping pads.
Note that this is not a sponsored text and I am not paid by the brand. What do you think about this new pad from Big Agnes? Do share your thoughts here, there is a comment box below.
---