---
If you need a double size pad with an innovative and advanced award-winning design, this Klymit Double V Review is for you. Read here about this lightweight inflatable pad built from durable materials, and large enough for two grown-up people.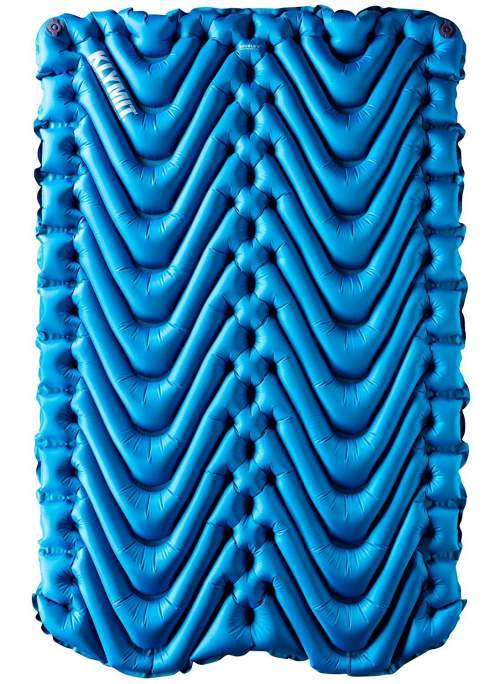 ---
Key features & benefits
Air pump bag included; it doubles as the pad's stuff sack.
Lightweight.
Durable.
Great price.
---
Who is it for
I see the Klymit Static Double V sleeping pad as a great tool for couples or for a mother with a child. It can be combined with double sleeping bags as well, so you have a great combination here. Did you know that there are bottomless sleeping pads? They have a sleeve where you insert the pad. See the NEMO Tango Duo in this text as one great example.
Two single pads or one double, what is better?
Regarding the price, the Static Double V pad costs around $93 at the moment of writing this text. The single Static V is around $55.
The width of the Double V is 47 inches (119 cm).  The single Static V is 23 inches (59 cm).
The weight of the Double V is 40.5 oz (1.1 kg), while the weight of the Static V is 18.1 oz (514 g).
So it is pretty much neck and neck. Currently, it is cheaper to buy one Double pad, which is also slightly warmer, with the R-value 1.6, as compared to 1.3 for the single Static V pad. But having two single pads looks like a more versatile option than a double pad.
In view of its low R-value, this is a 3-season tool. If you need something for winter, check the insulated version.
---
Description
I have already mentioned the single Static V pad, so what you have in the Double pad is the same award-winning technology and design, applied to a double-wide structure. The famous V-shaped baffles are here again, combined with the much shorter horizontal side rails.
The purpose of both is to mitigate air movement and to form a much more stable structure under your body. So when you move around, you much less disturb the person next to you on the same pad. This is probably partly the reason for the word Static they use here.
Apparently, this structure enhances the insulation performance as well because the air moves less efficiently along the pad and therefore the warmth is better preserved. I am a bit skeptical about this because there are pads with classic longitudinal baffles and yet with a higher R-value although uninsulated. But this is not so important, the insulation is low in any case, what matters here is the comfort and this is pretty much undeniable with this technology.
This all structure is what they call Body Mapping Technology, which delivers superior support and comfort at places where it is needed as compared to those where it is not needed. This design is suitable for any type of sleeper, side, stomach or back.
The side rails have also the purpose of cradling you on the pad; when the central zone is pressed with the body, the side rails tend to kick up a bit and this will signal you the position on the pad during the night.

The V-channels look too deep and wide (see the pictures below), but when the pad is pressed, the air chambers flatten and fill these channels. On the other hand, the loft of the bag can also at least partly fill these channels, so the bag's material and insulation may not be pressed everywhere. Namely, it is known that such insulation materials lose this feature when pressed; so as you realize, a bit of the bag's insulation can still be preserved under your body, and this is what can make this construction a bit warmer than other pads, well, at least in theory.
The materials
The material is quite durable, 75D polyester. In spite of this, it is also quite lightweight and with a soft feel, the pad is only 40.5 oz (1.1 kg). Divide by 2 to realize how much this is per person. It is not so crunchy and clammy like many other pads on the market, so it is comfortable when you are laying on it without a sheet.
Inside you have antimicrobial laminate, so it is treated to inhibit the growth of microorganisms which can cause odors and material damage. Note that the pad is with two Flush Flat Valves shown in the picture below; here too you have a secure and comfortable design which allows for an easy inflation, and they open wide for a quick and rapid deflation.
The pad is with the R-value 1.6, which makes it a 3-season tool. I am not sure what makes the difference with respect to the single Static V pad where this value is 1.3.
Patch Kit is included for emergency repairs; it is stored in the pad's storage bag.

Bonus airbag pump
This is a great feature – the pad's stuff sack doubles as an air pump. You can inflate the pad with some 8 – 10 volumes of the sack. The stuff sack has a one-way valve that integrates with the flat valve with a gasket which is on the pad. This 7 seconds video will show you how to inflate the pad, have a look:
Fitting in the tent
I already gave above the numbers for the width, so this pad will easily fit any 2-person tent. Take as an example this Mountainsmith Morrison Evo 2 tent with side doors, and also the MSR Elixir 2 tent.
Note that this double-wide pad is a great combination with double wide cots. Such cots also fit in any 2-person tent, they do occupy a lot of space, but bear in mind that you still have all the space under such a cot to store your gear. This is not so when you put such a double pad on the tent floor, see the picture below.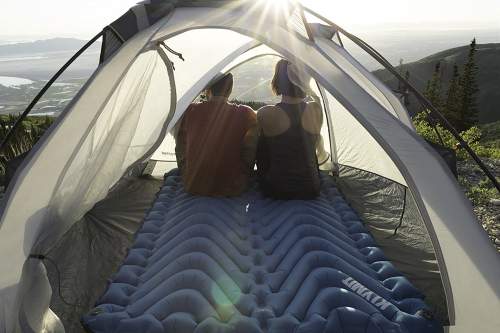 Please see this short video by Klymit which shows the philosophy behind these extraordinary pads they build:
---
Specifications
Weight: 40.5 oz (1.1 kg).
Dimensions: 74 x 47 x 3 in (188 x 119 x 7.6 cm).
Packed size: 9 x 5 in (23 x 12.7 cm).
R-Value: 1.6.
Durable fabric 75D polyester.
Air pump bag included; it doubles as the pad's stuff sack.
Inflation 8-10 Pumps from Stuff Sack.
Dual Flat Valves.
Warranty: Klymit Lifetime.
Patch Kit is included.
Perfect for couples camping.
Colors: 1.
---
Summary, rating, pros & cons
To conclude this Klymit Double V Review by saying that I fully recommend this pad, it is a top-quality, reliable, and really affordable. You will not find something better for the given price. The Klymit brand behind this pad is renown for their extraordinary designs and the quality of their products.
See how I rate this pad:
Note that there exists an insulated version of this great sleeping pad. If you need something bigger, please check this Kelty Tru.Comfort Double Pad and also this incredibly lightweight Exped AirMat HL Duo Inflatable Sleeping Pad. If you still feel you would be doing better with single size pads, please see their Static V pad, and also the Luxe Insulated version as well.
I hope the text has been useful to you. Please share it with others. In the case of questions or comments, please use the comment box below. I wish you a pleasant day.