---
If you need a top quality 3-season inflatable sleeping pad for the best possible price, this Klymit Static V Lightweight Sleeping Pad Review is for you. You will not find a better price-quality combination.
Key features
Incredible price.
Very comfortable.
Very packable.
Quite wide pad.
---
Who is it for  
This pad comes with an incredible price tag, but in the same time, this is a top quality item. Therefore it is equally great for entry level outdoor adventurers and for specialists, and I mean this literally.
It is light enough to be used by backpackers (but there are lighter options available), and it is simply ideal for any other outdoor activity in mild conditions, typically in the summer time.
In view of its low R-value, which is 1.3, this is not a tool for mountaineers or for any use at high altitudes. If you have ever camped above 2000 meters you know this for sure.
With its 72 inches length (183 cm), it is not the best option for tall people, bear this in mind. But they have a Luxe version.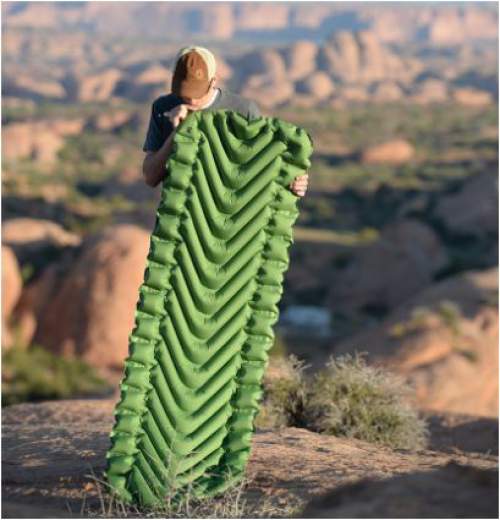 ---
Description
The Klymit Static V pad is a great combination of comfort, packed size, and price. Indeed, its price at the moment of writing this text is below $55, and this in view of all its features is hard to match.
So do not be fooled by such a low price, this is a truly great and reliable tool. You have a very durable 75D polyester material used in its construction, and in spite of this, it is only 18.1 oz (514 g), and it packs to 8 x 3 in (20.3 x 7.6 cm). So I would say, this all is quite extraordinary.
Its great features become obvious when you inflate the pad. You can see its V-shaped baffling structure in the pictures. They claim it is there to limit air flow and to increase insulation, but frankly speaking, I am not so convinced about it; compare it with the Big Agnes Air Core pad in the comparison table below which is with the usual longitudinal baffles and yet it is with a bigger R value.
But there is more in these V-structures. They, in combination with the short horizontal baffles at the edges, are supposed to keep you in place on the pad.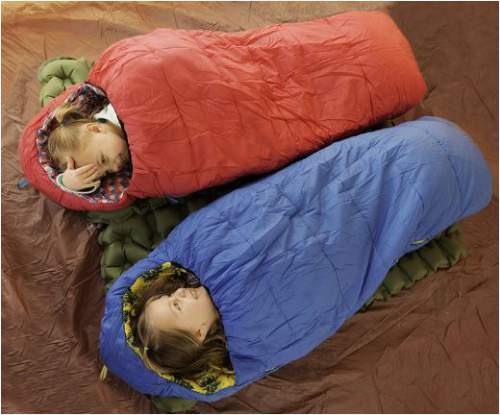 Materials and construction
The pad is described as lightweight, but it is built from a durable 75D polyester; see its competitors in the comparison table below. So this is a puncture and abrasion resistant fabric with a still minimal weight.
So there are lighter pads on the market, but there are good reasons for its weight and I would say that here you have a right balance between the weight and durability of the pad. Inside you have the Anti-Microbial treatment applied to inhibit the growth of microorganisms, fungus, and bacteria that can cause odors and material damage.
You have a single valve here with a Twist-Pull system, secure and simple, so you twist to open and pull and then start blowing the air. This mechanism creates a secure seal and prevents inadvertent opening. Inflation can be done in some 10 – 12 breaths.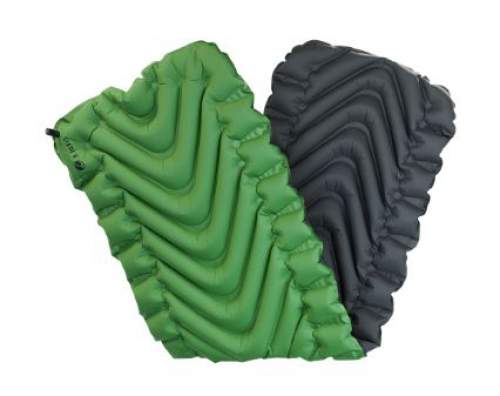 Comfort
This pad uses what they call Body Mapping Technology. This implies that you have more support where your body needs it, while it is reduced where there is no need for it.
The term Static which they use is probably only to make it different from their Inertia Pads where the material is removed from places which are not supposed to touch the body, so you literally have holes in the pad body. You can see some of those in the links on the bottom of this text.
Its 2.5 inches (6.5 cm) of thickness may not look so much but it is doing far better job than you might expect. The pad is great even for side and stomach sleepers, and its side rails contribute a lot to the comfort. They partly prevent air from shifting from one chamber to chamber and this results in a uniform and consistent support at all points of contact. Note also that the rails work well in combination with sleeping bags which have sleeves for pads on the bottom zone.
Normally pads with longitudinal baffles tend to extend when pressed, adding a bit to the length of the pad; the same is with horizontal baffles which add to the width when pressed by the body. Now, the V-shape design gives a bit of both, and this is partly what makes it so special.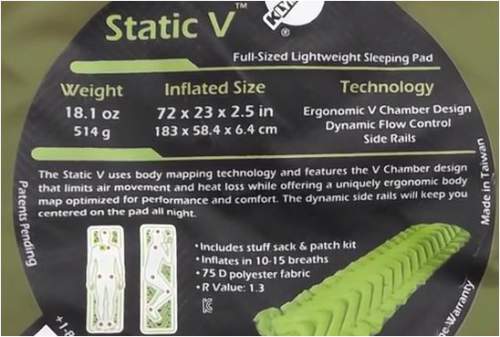 What is included
A nice storage bag is included, and it is with a small pocket where you have repair kit stored, with a patch and a tube of glue. It looks small but the pad fits nicely and easily if you deflate it properly.
See this nice promotion video about the Klymit Static V Pad:
---
Pros & Cons
My short summary is as follows:
  Good

  Less good

Incredible price.
Very durable.
Very comfortable.
Appropriate thickness.

A bit short.
No options to choose the length.
The pad is a bit short, only 183 cm, but this is quite typical; this is definitely good enough for me but not for many others. They do have two different options, Luxe and Junior, and you can see them here. But the Luxe also implies a much wider pad which some would not want as it adds weight, while Junior is simply as its name says, for very small kids, and only 50.4 inches (128 cm) long. So this aspect is not so great, pity for such a great pad. Some of its competitors (like this Big Agnes Air Core) have 5 – 7 different sizes available.
Users' experience & price
There is an incredible amount of customers' reports everywhere on the Internet. Only on Amazon, you have them more than 1860, and the average rating is crazy high, 4.5/5. But this is for all good reasons; you will not find elsewhere such a combination of price and quality. I already pointed out its incredible price, which is below $55. See below how I rank this pad.
My rating breakdown of the Klymit Static V Inflatable sleeping pad
Weight -

9.4/10

Size -

8.8/10

Comfort & features -

8.8/10

R value -

7/10

Packed size -

9.7/10

Price -

9.9/10
---
Specifications
Type: inflatable & rectangular.
3-season pad.
Weight: 18.1 oz (514 g).
Dimensions (L x W x D): 72 x 23 x 2.5 in (183 x 59 x 6.5 cm).
Packed size: 8 x 3 in (20.3 x 7.6 cm).
R-Value: 1.3.
Inflation: 10 – 12 breaths.
Fabric 75D polyester.
Warranty: limited lifetime.
Colors: 5.
Body Mapping Technology.
---
Klymit Static V Inflatable Sleeping Pad compared with other top models
Here I compare the Klymit Static V Inflatable Sleeping Pad with two other top models from other brands, the Exped SynMat UL and Big Agnes Insulated Air Core pads. To see more, please follow the links:
Klymit
Static V Pad
Big Agnes
Air Core*
Exped
SynMat UL**
Weight, oz (g)
18.1 (514)
21 (595)*
16.8 (475)*
Dimensions
72 x 23 x 2.5
(183 x 59 x 6.5)
72 x 20 x 3.25
(183 x 51 x 8.3)
72.1 x 20.5 x 2.8
(183 x 52 x 7)
Packed size

8 x 3




(20.3 x 7.6)

10 x 3.5
(25.4 x 8.9)
9.4  x 3.9
(24 x 10)
R-value
1.3

1.5

3.3**
Insulation

no

no
synthetic
Fabric

75D poly

50D nylon ripstop
20D poly
Available
sizes/shapes
2
6
4
Price $¹
55
133
152
*The comparison is for M or regular size.
**This is an insulated pad.
¹This is at the moment of writing this text, please follow the links to check for updates.
So as always, you can see best when you compare. Now it becomes more clear that it is not so lightweight (as you see, the Exped insulated pad is much lighter). But there are reasons for its weight, and these are the durable and thick material, and the width. Also, the valve system is inferior to the Exped pad which has two valves with a completely different design.
But the Klymit V pad shines in the packed dimensions, and the price is beyond comparison.
---
Summary
To conclude this Klymit Static V Lightweight Sleeping Pad Review, the price is the best feature of this pad, but it is combined with a top quality. So what better one can expect? Well, if you ask about packability, weight, comfort; no issue here as well, the pad is great with respect to all these features. I can warmly recommend it for any outdoor use in 3 seasons. If you need a lighter variant, please check their Static V2 pad. Note also that they have a Double V version for couples.
Addition – January 2018: they have launched a new version, Klymit UltraLite SL pad which is below 12 ounces.
But bear in mind, it is not insulated. So, if you need something with insulation, check this Klymit Static V Luxe Insulated Sleeping Pad from the same brand. See below some great pads from the Klymit brand.
Are you familiar with this brand? Is yes, please share here your experience, there is a comment box below. I wish you a nice day.


---