---
The Klymit Insulated Double V Sleeping Pad is a completely new item launched recently. With the R-value 4.4, this is a double-wide luxury for 4-season insulation and comfort for campers and hikers.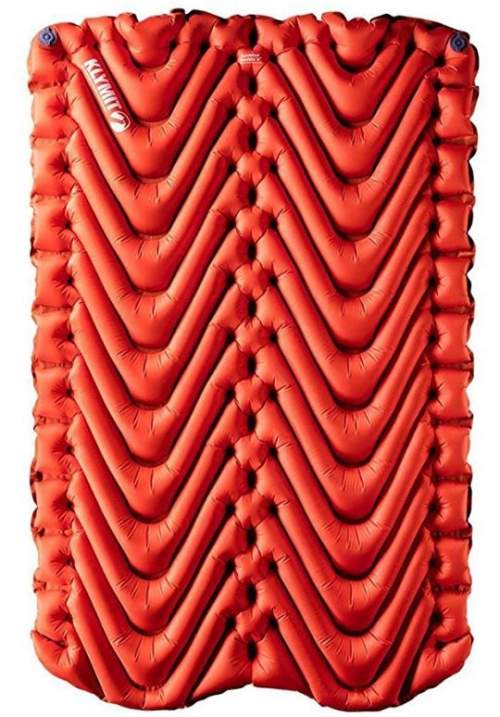 ---
Key features & benefits
Insulated.
R-value 4.4.
Air pump bag included; it doubles as the pad's stuff sack.
Durable.
Advanced design & technology.
---
Who is it for
Obviously, the Klymit Insulated Double V pad is a great tool for couples, but it can be used as a solo pad in any camping place assuming that you have a wide enough tent. It can be combined with double sleeping bags as well. There are bottomless sleeping pads with sleeves where you insert the pad. See some of them here.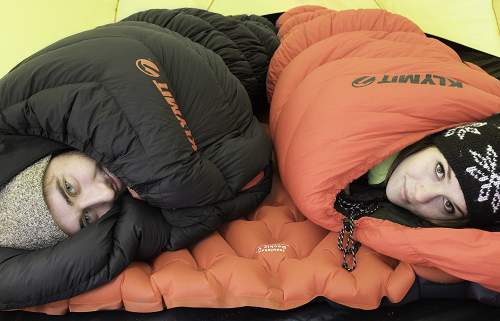 One double pad or two single pads, what is better?
Regarding the price, the Insulated Double V pad costs around $160 at the moment of writing this text. The single Insulated Static V is around $80, so the same price if you buy 2 pads.
The width of the Insulated Double V is 47 inches (119 cm). The single Insulated Static V is 23 inches (58 cm). So again, practically the same for 2 pads.
The weight of the Insulated Double V is 52 oz (1.47 kg), while the weight of the single Insulated Static V is 25 oz (709 g), so multiply by two.
The packed size of the double pad is 12 x 7 in (30.5 x 17.8 cm) which is 1704 cubic cm, while the packed size of the single model is 8 x 5 in (20.3 x 12.7 cm), which for two pads gives 1619 cubic cm. No big difference again.
So this is all the matter of preference; if this is about a couple, then numbers may not be the most important factor.
Can you use it in the summertime?
This is a true 4-season sleeping pad, with 4.4 R-value which is good enough even for winter conditions, but it is also perfect for sleeping at high altitudes in summer in the Alps and similar places.
But how about the summer and relatively warm conditions? I have seen this question being asked for this as well for other insulated pads. So the answer is yes, most definitely so. An insulated pad is not a heater, it is just designed to insulate you from the ground regardless if the ground is cold or warm.
The upper insulation layer in the pad (see more below) will indeed preserve body warmth from losing it to the ground, but you can regulate your body temperature in the usual ways, by unzipping the bag partially or completely, by using a quilt instead of a bag, by using just a blanket, etc.
---
Description
This is an insulated pad with two different colors on the underside and on the upper side. The underside is more rugged while the upper side is more soft and pleasant to touch.
They have added the Klymalite insulation separately on the top and bottom halves of the pad. So the cold air from the ground is isolated on the bottom while at the same time the warm air from the body is not lost to the ground.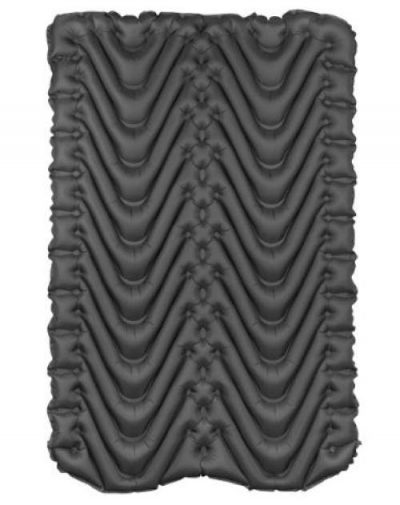 The pad's size is 74 x 47 inches (188 x 119 cm), which is quite enough for two people. The thickness is 3 inches (7.6 cm). You have here the award-winning technology and design represented in so recognizable Klymit's V-shaped baffles, combined with the much shorter horizontal side rails, see the picture above. I just wonder why they did not use the term Klymit W Insulated pad.
This design is here to mitigate air movement and to form a much more stable structure under your body. I guess this is why the word Static is used for the pads of this type. So bouncing of the pad is considerably reduced with this and you are much less disturbed when the person next to you moves on the pad. This is achieved by numerous (5 – 6) channels through which the air moves when you change the pressure on the top of it. You can see this in the picture above.
But let's be realistic, if you are too sensitive better not using such a tool, use two pads instead. There is no way to eliminate all bouncing when the person next to you moves or goes to answer call of nature. You wouldn't sleep well with me on the pad, I do move a lot.
You have what they call the Body Mapping Technology designed to deliver a superior support and comfort at places where it is needed as compared to those where it is not needed. This design and the thickness are suitable for all sorts of sleepers, side, stomach, and back sleepers.
When the central zone is pressed with the body, the side rails tend to kick up a bit and this signals you where you are on the pad during the night; it also cradles you a bit on the pad.
Loft Pockets
The insulation material normally loses its insulating property when compressed. This is simply because it does not contain air.
So in the construction of this pad, they have created voids and deep V welds. The idea behind this is that the loft and the fill of the bag (which is on the pad and under you) expands into these empty channels in the pad, so that the bottom insulation of the bag itself is at least partly retained.
Stuff sack doubles as airbag pump
So yes, this is the same what you have in their ordinary Double V pad, you have the pad's stuff sack that doubles as an air pump. The stuff sack is with a one-way valve which plugs in the inflation flat valve with a gasket on the pad. So you just roll and press the bag which leads to the exchange of air to the pad.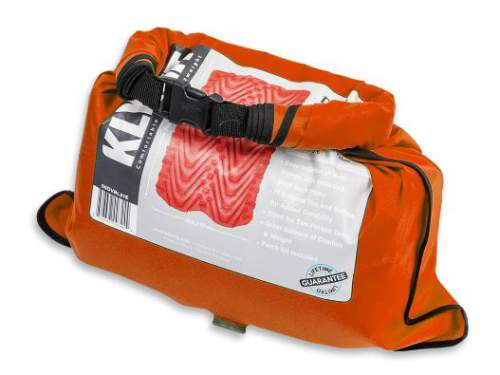 It will take you around 10 volumes of the sack to inflate the pad. This may look annoying but this is far better than using your lungs. If you are at high altitudes you do not have so much air in any case, and also with the airbag you avoid moisture accumulating inside the pad. This moisture results in the pad being heavier, and it can also lead to the development of microorganisms inside the pad. This very short video will show you how to inflate the pad:
The materials
The fabric is lightweight but quite durable, 75D polyester. It is not crunchy like many other pads on the market, so it is comfortable and pleasant to touch. Antimicrobial laminate is inside, to inhibit the growth of microorganisms which can cause odors and material damage.
The R-value is 4.4, and this is due to synthetic insulation inside. There is also a patch kit included for emergency repairs.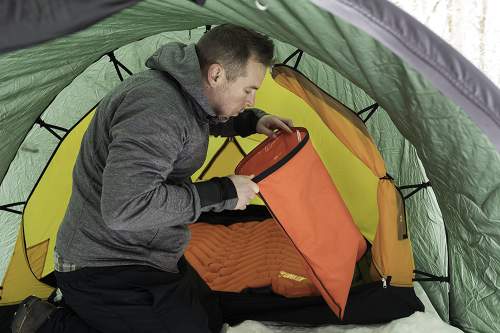 Fitting in the tent
If you have a look at the specifications below, you will realize that this pad easily fits any 2-person tent. If you plan to use it for ordinary camping at any place with a car access, you might consider using it with double wide cots.
The advantage of doing so is that you have two levels, you sleep off the ground and you still have a huge space under the cot to store your gear. Without the cot, the whole floor of the tent is under the pad.
---
Specifications
Weight: 52 oz (1.47 kg).
Dimensions (L x W x D): 74 x 47 x 3 in (188 x 119 x 7.6 cm).
Packed size: 12 x 7 in (30.5 x 17.8 cm).
Insulated.
R-value: 4.4.
Inflation: 20 – 30 breaths, 10 – 12 pumps from stuff sack.
Fabric: 75D polyester.
Warranty: limited lifetime.
Colors: one combination only.
---
Pros & Cons
My short summary is as follows:
  Good

  Less good

Insulated.
Very durable.
Very comfortable.
Appropriate thickness.
Great support.
Efficient dual valve system.
Bonus pump bag.

It may be short for some people.
A bit heavy.
See below how I rate this pad:
My rating breakdown of the Klymit Double V Insulated Sleeping Pad
Weight -

9.2/10

Size -

9/10

Comfort & features -

9.4/10

R value -

8.4/10

Packed size -

9.5/10

Price -

9/10
---
Klymit Insulated Double V vs Klymit Double V pad
If you want to spend less and do not need a 4-season pad, it may be useful to compare the two versions, so have a look in this table:
Klymit




Insulated 




Double V

Klymit
Double V
Weight, oz (g)
52 (1.47)
40.5 (1.1)
Dimensions
74 x 47 x 3
(188 x 119 x 7.6)
74 x 47 x 3
(188 x 119 x 7.6)
Packed size
12 x 7
(30.5 x 17.8)
9 x 5
(23 x 12.7)
R-value
4.4

1.6

Insulation
yes
no
Fabric

75D poly

75D poly
Available
sizes & shapes
1
1
Price $*
160
92
*This is at the moment of writing this text.
---
Summary
So this was my introduction to this new tool, the Klymit Insulated Double V Sleeping Pad For Two People. They have collected all the best from their previous sleeping pads' technology, and this includes:
the Body Mapping,
dual Flat Valve,
the airbag pump,
the Klymalite insulation,
deep V welds and voids.
In view of all this, it is obvious that you have a very advanced piece of equipment, reliable and warm, suitable for all seasons. I can fully recommend this pad.
Nevertheless, if you feel this pad is not what you want, no worry, there are many of them described in the site, so please have a look here. In particular, check this Exped MegaMat Duo 10, which is with the R-value 9.5 and 10 cm thick double wide giant.
Thank you for reading. I hope the text has been useful, and if this is so please share it with others. I love to hear from you, so please let me know what you think and if you have any question, there is a comment box below. Have a nice day.


---