---
This Mountainsmith Morrison Evo 2 Tent review is about a very reliable 3-season freestanding 2-person tent with great features and with a really affordable price.
Key features and benefits
Footprint included.
Ceiling loft included.
A lot of space.
Freestanding.
Fast fly variant.
2 doors.
Very durable materials.
Great price.

---
Description
The Mountainsmith Morrison 2 Evo Tent is a very roomy tool and you will be able to realize this from the comparison table given below. Here to stress that it offers 36 sq ft (3.34 sq m) of the internal floor area, plus 19 sq ft (1.77 sq m) total covered space under the two vestibules. So this is a sort of a backpacking castle.
This is a freestanding tent, and if you are not familiar with the terminology, this implies that you can pitch it on any terrain, and, in principle, no need to anchor it to the ground. So when you set it up, you can move it around if you need a better place. But it comes with stakes and everything you need to secure it in the case of wind.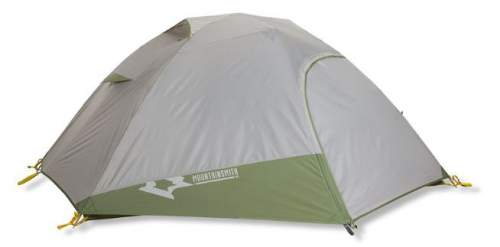 There are two large doors on the sides, and when you unzip them, you can tuck them in the specially designed pockets inside the tent. There are also mesh pockets in the corners for small items, and above your head, you have a removable gear loft which comes as a bonus with this tent.
As mentioned above, the tent comes with the footprint. This is what adds the weight (some 0.46 kg extra weight), but it also adds the value and it further protects the floor of the tent. So you will be safe from ground water, rocks, and from everything else that can be there. Note that such a footprint you would pay extra $25 if you would order it separately. Of course, you can use the tent without the footprint, and such a trail weight is 5 lb 9 oz (2.52 kg). This is still far from ultra lightweight tools.
You have a comfortable tool here, with two side doors, with two side vestibules, quite high at the peak (114 cm), and with a brow pole which makes the sidewalls vertical and effectively increases the living space inside. The guylines are reflective, and this provides visibility for setting the tent after dark. I like the fact that it is completely rectangular, this adds to the versatility and organization, see the picture below.
The ventilation is good; for this, you have mesh construction in the walls of the tent, and also vents in the PU-coated rainfly, one is visible in the picture above. This should provide enough airflow and minimize condensation. The packed size 17 x 8 inches (43 x 20 cm) is quite reasonable, see it packed in the picture below.
The fabric
You have very durable mesh in the doors and 68D polyester fabric everywhere, in the fly, the tent body, and the floor. So as you realize, this is a strong material and the resulting weight of the tent is no surprise. Many lightweight tents on the market are built from the fabric that is half of the value given here, or even thinner.
The floor and the fly are with PU coating, and you have 5000 mm rating for the floor and 2000 mm for the fly. These are very good numbers and you can realize this if you compare it with the numbers for the MSR Elixir 2 tent in the comparison table below. The floor is bathtub-type and all seams are taped, so you can be sure you are protected from the rain. Bear in mind also the waterproof footprint which you have here.
Packed weight vs trail weight vs fast fly weight
Because the tent includes footprint, and it is free standing, it allows for several variants. So you have packed weight 6 lb 9 oz (2.98 kg), trail weight (without footprint) 5 lb 9 oz (2.52 kg), and fast fly weight (without tent body, with footprint) 4 lb (1.81 kg). A bit more about this terminology in general you can see in my another text.
This is definitely not a lightweight tent. But this is a tent for two people which offers a lot of space. So it is worth carrying it; when its elements are shared among the participants, the weight becomes a far less critical issue.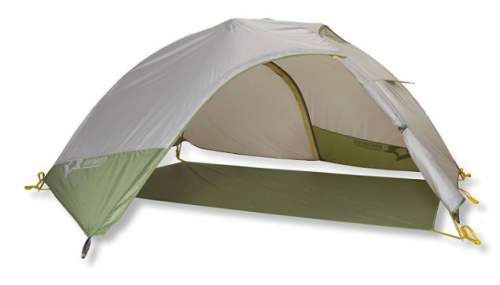 Setup
The structure is based on 2 aluminum 7000 series poles, plus a short brow pole which is there to keep the side walls vertical. Note that this brow pole is a new feature here, as compared with the previous Morrison 2 tent, see more below.
So the setup is simple, there are grommets on each corner where you put pole ends, and then clip the tent body to them. The grommets and the poles together make the tent freestanding when it is attached to the poles.
But you have stakes included, and you can further secure the tent by anchoring it to the ground. Here is a short promotion video by Mountainsmith about their Morrison EVO series, please have a look, you can see the setup and features:
---
Pros & Cons
My short summary is as follows:
  Good

  Less good

Very roomy.
2 doors.
Great price.
Freestanding.
Footprint.
Gear loft.
Various variants of use.
Nice packed size.
Very reliable.
Fly vents.
It is hard to find any objection to this tent, and I must say this is a rare case for me. It is not lightweight, but bear in mind its strong 68D fabric, plus the footprint, two doors, gear loft.
Apart from its total floor surface which I mentioned above, it is important to point out its floor dimensions, in particular, the width. So you have 93 x 56 inches (236 x 142 cm). As you see, even such a large space does not allow for very wide sleeping pads. Some 70 cm per person is maximum. But bear in mind, this is a backpacking tool, and you would not carry exceptionally wide pads in any case.
The situation may be different if you use it as a camping tool, so you would not be able to put two Exped MegaMat pads here. But in this case, use it as a solo tent, you would not carry it around in any case, so this option looks perfect.
Its rating by Amazon customers is exceptionally high, with 4.7/5 average rate. My own rating you can see below:
Rating breakdown of the Mountainsmith Morrison Evo 2 Tent
Weight -

7.3/10

Surface to weight ratio -

8.5/10

Packed size/Area -

8.6/10

Reliability -

9.5/10

Ease of use & features -

9.5/10

Price -

9.3/10
---
 

Specifications
Best use: backpacking, hiking, camping.
2-person tent; 3-season.
Packed weight: 6 lb 9 oz (2.98 kg).
Trail weight (without footprint): 5 lb 9 oz (2.52 kg).
Fast fly weight (without tent body, with footprint): 4 lb (1.81 kg).
Packed size: 17 x 8 in (43 x 20 cm).
Floor dimensions: 93 x 56 in (236 x 142 cm).
Floor area: 36 sq ft (3.34 sq m).
Total vestibules area: 19 sq ft (1.77 sq m).
Peak height: 45 in (114.3 cm).
Freestanding.
Footprint included.
2 doors.
2 vestibules.
Warranty: limited lifetime.
Poles: 2 plus a brow pole, 7000 series aluminum.
Floor: 68D x 190T Poly, 5000 mm.
Fly: 68D x 185T Poly, 2000 mm.
Tent body: 68D x 185T breathable poly.
No-See-Um mesh wall panels.
Taped seams.
Interior storage mesh pockets.
Fly with vents.
Clip-pole attachment.
Reflective guylines with tension lock cord adjustment.
---
Comparison with competitors
In the table below, I compare the Mountainsmith Morrison 2 EVO tent with two top notch tools available on the market, the MSR Elixir 2 tent and the Sierra Design Divine Light 2 FL. They all are 3-season tents, see how they compare:
MSR
Elixir 2
Sierra Designs
Divine Light 2 FL

Mountainsmith Morrison EVO 2

Weight (kg)
2.64

*

1.79
2.98

*

Floor surface (sq m)
2.69
2.72

3.34

Vestibule (sq m)
1.6
0.96
1.77
Height (cm)
102
116

114

Surface/weight
ratio (sq m/kg)
1.02

*

1.52
1.12

*

Free standing
yes
no
yes
Footprint
yes
no
yes
Gear loft
no
no
yes
*Note, this is the packed weight which includes the footprint as well.
The price
At the moment of writing this text, the prices of the tents are, respectively, $250, 350, 160. So the Mountainsmith Morrison EVO 2 tent is clearly without a match here, in particular bearing in mind the footprint and all other features.
---
Mountainsmith Morrison 2 vs Mountainsmith Morrison EVO 2 tent
The award-winning Mountainsmith Morrison 2 is presented in detail in my another text, so just follow the link to see more. Here I give basic differences between the two tents:
Morrison Evo 2

Morrison 2
Weight (kg)
2.98

*

2.5
Surface (sq m)
3.34
3.25
Vestibule surface (sq m)
1.77
1.63
Height (cm)

114

110
Surface/weight
ratio (sq m/kg)
1.12

*

1.33
Footprint

yes

no
Gear loft
yes
yes
Brow pole
yes
no
Price $
160
130
*Note, this is the packed weight with footprint. Without the footprint, their trail weight is the same. The surface to weight ratio is also practically the same without the footprint.
If you deduct the footprint value, the price is the same for both.
Conclusion: if you have the Morrison 2 tent, no need to go for the EVO 2, just add a footprint. But if you do not have it, go for any of them, they are both great, the differences are small. Though the EVO 2 offers more volume inside, the brow pole plays its role there.
---
Summary
To conclude this Mountainsmith Morrison Evo 2 Tent review, what you have here is a truly great backpacking and hiking tool. I would say this is an improved version of the award-winning Morrison 2 tent; the main difference is the brow pole added in the structure, and the tent comes with the footprint.
This tent is definitely a great value for the money. Just see what you have here and the amount of space it offers. I can fully recommend it to anybody. Note that the EVO series includes also the 4-person tent.

You might want to compare this tent with its closest competitor, the Kelty Gunnison 2 With Footprint, the new 2017 version. Check also this dome style Eureka Suite Dream 2 tent which offers a lot of the protected area.
Thank you for reading. Let me know if you have questions or comments, there is a comment box below. I wish you a pleasant day.


---