---
The Exped MegaMat Outfitter 10 LXW sleeping pad presented here is the modified and improved version, self-inflating insulated, 4-season, durable and the most comfortable camping pad presently available on the market.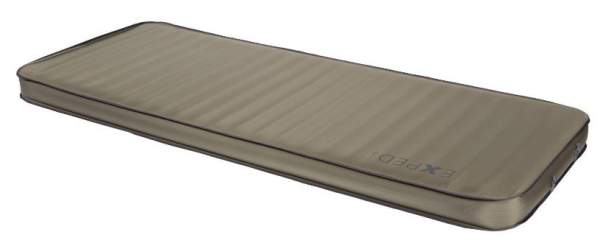 ---
Key benefits & stand out features
Incredibly comfortable. They describe it as more comfortable than your bed at home.
Self-inflating.
Fast deflation.
Great carry bag.
Huge R-value – this is a 4-season tool.
Pump included.
---
What is new in the new MegaMat Outfitter 10 version
If you are already familiar with the version 2016, here are the most important differences introduced in the new model:
The new deflate valve has a larger diameter, so the deflation time and overall packing time is shorter.
There is a new stuff sack which they call Sidewinder Stuff Sack. It opens from the side, so it is far easier to put the rolled pad in the sack, and this is possible even if it is not deflated properly. There is a lot of extra space, so you can add extra stuff there. The side opening can be rolled in, and there is also a strap to carry it on the shoulder.
The fabric is far more durable in the new version, see below.
New color; you have green now.
---
Who is it for
This is a relatively heavy pad, definitely not a backpacking tool. It is best used:
At places with a car or motorbike access. I have included it in my list of best pads for car camping.
At trailhead hotels.
In emergency situations at home or elsewhere.
As a guest bed for overnight guests.
By people in summer camps who spend a lot of time camping.
By lazy "mountaineers" who pay others to carry their stuff and want to have the comfort of the home bed even in high-altitude base camps.

---
What is in the package
You have the following:
The MegaMat pad.
The Mini Pump.
Repair kit.
Sidewinder stuff sack.
---
Description
The letters LXW in the name mean 'long extra wide' so the pad is 77.6 x 30.3 in (197 x 77 cm). It is 10 cm thick so this is an extremely comfortable and durable tool built from an incredible external fabric, 420D polyester. It is soft, stretchy and pleasant to touch, yet very durable and abrasion-resistant, quite unlike other tools of this type on the market. The design includes vertical sidewalls, there is no tapering, so the width is true to the numbers.
The pad is self-inflating, so when you unroll it, just open the inflate valve and within some 10-12 minutes, it will inflate automatically up to some point, roughly 70%. This is due to open-cell PU foam inside of the pad, it sucks the air as the foam expands. For the rest, they include a mini pump so that you inflate it up to the desired level.
You can see in the video how this all works, it shows both inflation and deflation process:
The pad is with two flat valves, one for inflation and one for deflation. This flat valve design is Exped's innovation introduced in 2010 in their other pads. The deflation valve is bigger in this new version, and it deflates very quickly. Everything is simple, quick and efficient. You will see it in another video below.
I already mentioned the Sidewinder Stuff Sack. As the name suggests, its opening is on the side, it is made large and you put the rolled pad inside very easily. It is not a problem if you are in a hurry and you do not squeeze the air properly. The strap is long enough to carry it on the shoulder.
Here is yet another video from Exped about their 2017 MegaMat 10 LXW, so please have a look:
---
Temperature rating – R-value
This pad comes with an incredible R-value, 9.5 to be precise. This is due to foam cushioning inside the mattress.
If you are not familiar with the terminology, the higher the number the better. You can read a lot about this in general on Wikipedia. The R-value describes the sleeping pad's ability to insulate from the cold ground. You can read a bit more in my another text.
The 9.5 given here implies that the Exped MegaMat 10 is very well insulated and it can be used as a winter tool. In practical terms, you can put it on the ice and sleep very comfortably. I am not joking.
---
Specifications
Best use: camping.
Temperature: -48 °C (-54.4 °F).
R-Value: 9.5.
Dimensions 77.6 x 30.3 x 3.9 in (197 x 77 x 9.9 cm).
Weight: 6 lb 15.5 oz (3.16 kg).
Packed volume: 39 l.
Type: self-inflating.
FlatValve inflation and deflation.
Warranty: 5 years.
Material: 420D polyester.
MiniPump included.
---
What is Exped
Exped is a renown Swiss company. They started in the early 80's and from 1997 they began to build their own gear. They have created many highly innovative and award-winning products.
Many of their products are presented in this site, you can see several sleeping bags in this page, and also a couple of backpacks from their Skyline series.
---
Summary, rating, pros & cons
To conclude this Exped MegaMat Outfitter 10 LXW sleeping pad review, this is a great option for anybody sleeping outdoor, in particular for side and stomach sleepers. It is incredibly comfortable and versatile, as I outlined above.
The pad is indeed expensive but in view of its comfort, it is definitely worth the money. I am confident in saying that you will not find anything remotely close to the comfort this pad provides, regardless of where you are using it and in which season.
The previous version of this pad is an award-winning tool, and you can be sure, this new version is even better.
Packed size
The MegaMat Outfitter 10 LXW does not pack small, it is a tube 31.1 x 9.8 inches (79 x 25 cm). However, this is a camping pad and in view of its all features, this packed size is normal. The same is with the weight of the pad. You are not supposed to carry it long distances.
Fitting the pad in the tent
A bit different issue may be its width. So, just make sure that you use it in the tent of a right size, this in particular if this is about two people, two pads of this type would take more than 6o inches (around 160 cm). Compare this with some 2-person tents, like this Sierra Designs Divine Light 2, or Kelty Horizon 2, or Mountainsmith Morrison 2. You will need a 3-person tent.
Ratings by others
This pad has hundreds of ratings on Amazon alone and everywhere around on the Internet, and the ratings are incredibly high. I wonder why I am not surprised. See my rating of this pad:
You might want to compare it with this Therm-a-Rest MondoKing 3D Pad. If you want a double-wide pad with similar features, please check this Exped MegaMat Duo 10 pad. Check also the Exped MegaMat Lite 12 inflatable pad which is a backpack portable item.
If you think this pad is thick, you should see their Exped Synmat Mega 12 presented in my other text. It is much lighter and with a lower R-value. Just to know.
Thank you for reading. If you have any question or comment please use the comment box below. I wish you a nice day.