---
If you are in search for an exceptionally comfortable insulated sleeping pad, this Exped Synmat Mega 12 review is for you. You see the number 12 in the name of this item? Well, this is the thickness of the pad in centimeters. This should be quite enough even for side sleepers. Most certainly you will not find many pads with such a thickness on the market that are suitable for backpackers. This is a great inflatable pad for backpacking, camping and hiking tours.

Key benefits
Insulated pad.
Very large sizes are available.
Exceptionally thick and comfortable.
---
Description
The Exped Synmat Mega 12 comes in 4 different sizes, see more in the specifications below, but they all share some common features. For example, the thickness is the same in all of them, 12 cm. All these pads are inflatable and insulated, suitable for 4 seasons and for very low temperatures.
This pad has an R-value of 5.3. With this, it is in the middle of the scale which typically goes from 1 to 10 (but there are pads with a much higher R-value). In general, it is accepted that R>4 is suitable for all seasons. More about the R-value you can read in my another text about sleeping pads.
Having a good sleeping pad with a high R-value is essential at low temperatures. This is because you lose up to 40 times more heat to a dry soil than to the air and around 55 times more to a rock than to the air.
This pad is suitable for temperatures as low as -4 °F, which corresponds to -20 °C.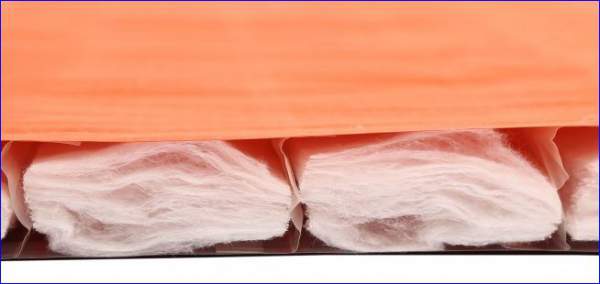 The side walls are vertical and they pretty much determine the exact amount of space you have on this pad, which again makes it different from other pads with tapered edges that effectively reduce the available width. Of course, you definitely have much lighter pads available on the market but bear in mind all that this particular pad offers. On the other hand, if it is about camping only, by all means, this pad should be the first choice.
The material
The materials are quite durable, 75 D polyester both top and bottom. It is made water-resistant due to TPU polyether film laminate. This is a rather soft and comfortable material which does not make noise as you may see in some other pads on the market.
As mentioned above, you have a synthetic insulation inside the pad, shown in the picture above. This adds weight and volume of course but this is what makes it an all-season tool.
The packed size is reasonable in view of all features. The weight is a bit on a heavier side, but I would say worth every effort in particular if you are a side sleeper. You need such a pad if you want to rest properly. Otherwise, you will develop fatigue in time and this will reduce your performance.
Like with all inflatable pads, there are possibilities to get punctured. For such situations you have a repair kit included, together with the user manual.

How to inflate and de-inflate
You have two separate flat valves in place, see the picture below. The pad comes with the Schnozzel pump bag shown below, which is advised to use instead of blowing the air with your breath. This is both easier and better in order to avoid moisture accumulating in the insulation fibers inside the bag.
In the video below you will be able to see how easy it is to inflate the pad, in just 3-4 bags of air.
In this video you can see how easily this large pad is inflated:
---
Specifications
R-value: 5.30.
Several sizes:
– Medium (M): 72 x 20.5 x 4.7 in (183 x 52 x 12 cm).
– Medium/Wide (M/W): 72 x 25.6 x 4.7 in (183 x 65 x 12 cm).
– Long/Wide (L/W): 77.6 x 25.6 x 4.7 in (197 x 65 x 12 cm).
– Long Extra Wide (LXW): 77.6 x 30.3 x 4.7 in (197 x 77 x 12 cm).
Weight:
– M: 33.2 oz (0.94 kg)
– M/W: 40.6 oz (1.15 kg).
– L/W: 42.9 oz (1.22 kg).
– LXW: 49.4 oz (1.4 kg).
Weight packsack for the LXW model: 0.9 oz (25 g).
The lowest temperature range: -4 °F (-20 °C).
Thickness: 4.7 in (11.94 cm).
Rectangular shape.
Packed size:
– Medium (L x D): 9.8 x 6.1 in (25 x 15.5 cm).
– Medium/Wide: 10.6 x 6.5 in (27 x 16.5 cm).
– Long/Wide: 10.6 x 6.7 in (27 x 17 cm).
– LXW model: 12.2 x 6.3 in (31 x 16 cm).
What is in the package:
– Mat.
– Schnozzel pump bag.
– Packsack.
– Repair kit.
– Instruction sheet.
– Repair manual.
Materials:
-Top: 75 D Polyester, TPU Polyether Film Laminate, Hydrolysis resistant, Honeycomb embossed.
– Bottom: 75 D Polyester, TPU Polyether Film Laminate, Hydrolysis resistant
– Insulation: 200 g/m² Texpedloft Microfibre.
Warranty: 5 years.
Color: terracotta.
---
Conclusion, rating, pros & cons
To summarize this Exped Synmat Mega 12 review, what you have here is an exceptionally comfortable and insulated pad suitable for all seasons and for practically any outdoor activity. With the R-value of 5.3 it is definitely suitable for winter conditions. I have included it in my list of best pads for car camping.
Pity they did not plan an extra-wide medium-length pad for shorter people who would like to have more space. If you are around 170 cm or so, with the existing LXW pad you would carry a lot of unnecessary material.
My rating for the Medium-Wide version is as follows:
If this sleeping pad is not what you want, see this list of ultra-lightweight inflatable pads. But if you are more interested in self-inflating pads, here are top 7 models available on the market, have a look. Yet another great is the Exped MegaMat Outfitter 10 LXW, with a much higher R-value, have a look.
Thank you for reading, it will be great to hear from you, so please use the comment box below. I wish you a pleasant day.