---
In this text you have a list of best sleeping pads for car camping, all top-notch, top-rated, and reliable tools from renown brands.
Since this is about transporting a pad in the car, the focus is on comfort instead of weight. So the list includes either very wide pads (some are double) or very thick pads. If you have a car, you will probably have a bigger tent and not some claustrophobic bivy shelter, so such pads will fit well and you will feel comfortable.
---
My list of best car camping sleeping pads
The pads are ordered alphabetically, so this is not a rank list. They all are very different and a direct comparison wouldn't make much sense. This is on purpose, I have picked up the pads to satisfy various needs because the term car camping may imply different things. For example, it may mean: i) sleeping in the car, or ii) just transporting all your gear by car and camping in a tent at a place with a car access.
Clearly, you would need different pads for such two situations, regarding the width and the insulation. I sleep in the car very frequently and I have space for up to 1 meters wide pad. But I use a 2-person tent solo when I sleep outside the car, so I have plenty of space for the biggest double pad.
All pads in the list are 4-season tools, and some are with huge R-values. So you can use them in any environment, but no worry those pads are not heaters, they only insulate your from the surface underneath you, regardless where you sleep and regardless if the surface is warm or cold, you see the point.
About some possible criteria for choosing best car camping mattresses please have a look at my separate text. So here below are the pads, please have a look.
---
1. ALPS Mountaineering Lightweight Self-Inflating Double Air Pad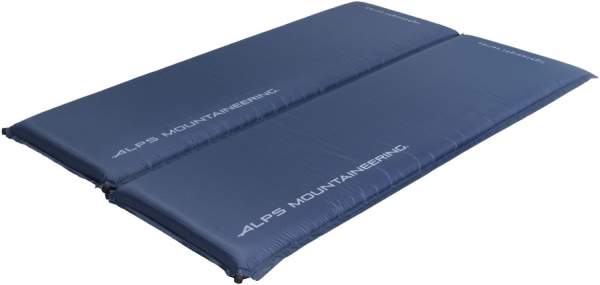 This is a quite unique pad here in the list because it is a double sleeping pad which can be split into two separate single pads, or you can simply fold it and use as a very thick solo pad. This is because of a hook and loop Velcro connection that runs in the middle.
The R-value 6.9 is such that you can use it in all seasons, and when you fold it, the R-value is higher by a factor 2 so you can use it in the harshest conditions. The weight is such that it is most suitable for car camping but if you take the half of it, then it can be carried on shorter overnight hiking tours. The pad weighs 9 lb 7 oz (4.28 kg).
Particular distinction: 2-in-1 pad.

---
2. Big Agnes Hinman Double Wide sleeping pad

Here I present the Hinman Double Wide pad, but you have this model in several sizes, just to know if you buy them for family members. This Double Wide is designed to work with doublewide sleeping bags from the same brand, this may be important to know so that you can order them together. The Hinman Double pad is very stable and it does not shake when you move on it, this makes it a great choice for couples, you will not be disturbed too much when your partner moves on the pads.
The pad is insulated and suitable for all seasons. They do not provide R-value, but they give the temperature rating, see below in the specifications. This makes its R-value roughly in the range 6 – 7, just to know that you can rely on it in any environment.
With its 78 x 50 inches dimensions, this sleeping pad delivers optimal comfort. Its 2.5 inches thickness may not look too much, but this is a high-density solid foam which offers a great insulation and comfort. The exterior is PU-coated polyester for a better water resistance. It is a very quiet material, you might want to know if you are very sensitive.  The weight is 114 oz (3.23 kg).
The pad is with dual valves at the top. Note that it is very compactly packed when it comes from the manufacturer, so it may take much more time to self-inflate than what you may be used to. It is a good idea to inflate it first with some pump so that it can expand properly. Deflate and pack after that and use as you would use any self-inflating pad. Because of such a dense core, the pad comes with two compression straps which you see in the picture above, and there is no stuff sack included.
Particular distinction: high-density core.

---
3. Exped MegaMat Duo 10 Sleeping Pad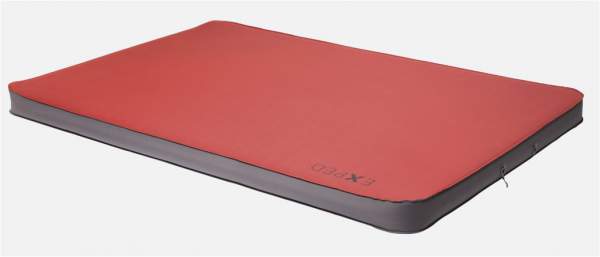 As the name suggests, this is a double-wide pad, so it is suitable for couples, for a mother with a child, or simply for a solo use if you have space and want comfort; a more comfortable you will not find.
But this is also a very thick pad, the number 10 describes its thickness, so you have 10 cm of an open cell PU foam, which is Oekotex 100 certified.
But this is not all, this pad comes with an impressive R-value 9.5, so this is an insulated sleeping pad suitable for the most severe conditions.
They describe it as the closest you can come to sleeping on your home bed, and I am sure this is so. This is the ultimate car camping mattress. You have vertical sidewalls here and an absolutely level sleeping surface.
The materials are all high quality. So you have 50D polyester on the top and 75D on the bottom, TPU polyether film laminate, hydrolysis resistant and honeycomb embossed.
The pad comes packed in a smart-pack sack with a height-adjustable roll-top and with carrying strap so you can carry it also attached to your shoulder. You also have a Mini Pump included. The dual valve system is very efficient, and adjustment of the firmness can be achieved by simply tapping on the one-way flap of the inflation valve.
The thickness is 3.9 inches (9.9 cm) and the weight is 163.3 oz (4.63 kg).
Particular distinction: probably the most comfortable double pad.

---
4. Exped MegaMat Outfitter 10 LXW
This is a new 2017 version of the very popular and award-winning camping pad, a great option for side and stomach sleepers. This is definitely one of the most comfortable pads on the market. It is insulated and its R-value is impressive 9.5, one of the highest in the list. The weight is 6 lb 15.5 oz (3.16 kg).
Particular distinction: comfort. Note that it is 3.9 inches (9.9 cm) thick.

---
5. Exped SynMat Mega 12

This is again an insulated sleeping pad most suitable for car camping but it is lightweight enough to be carried in the backpack for not so long distances. Its R-value is 5.3. The number 12 in the name is the thickness in centimeters, so this is the thickest pad here on the list.
It may be important to stress that this sleeping pad comes in 4 different sizes, so you can choose a proper size for you and your family members or your partner.
The pad is an inflatable type, suitable for 4 seasons and for very low temperatures. As an inflatable pad, it packs to a much smaller size than the other Exped models given here. But note that it has a quite different R-value, which is still good enough for all seasons.
The pad is presented in detail in my separate review so please check the link below for more.
Particular distinction: the thickest of all.

---
6. Klymit Insulated Double V Sleeping Pad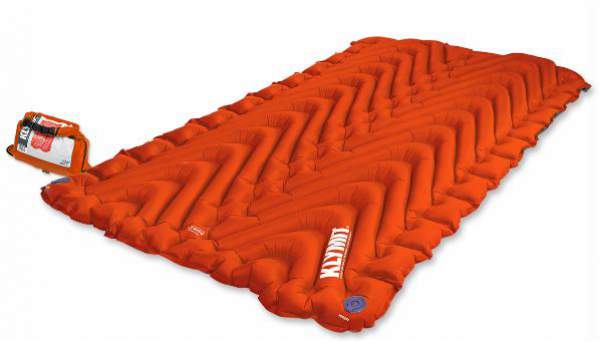 This is one of the celebrated Klymit's sleeping pads with the recognizable V-shaped air chambers. The pad is new, launched in 2017, insulated as the name suggest and with the R-value 4.4. So this is again a 4-season pad with the Klymit's Body Mapping technology, incredibly comfortable and suitable for couples and for solo use as well.
This is an award-winning design and technology so nothing can go wrong with such a tool. It is interesting that its stuff sack doubles as an air pump. It is with an integrated one-way valve which plugs in the inflation flat valve with a gasket on the pad. So you just roll and press the bag and this will inflate the pad. In such a way you avoid moisture accumulating in the pad (which may happen if you blow the air from your lungs).
Note that it is built in one size only, and it is not particularly long, so if you are a tall person, better check some other models. Please check the link below for more, the pad is described in detail in my separate review.
Particular distinction: body mapping.

---
7. Klymit Self-Inflate V Sleeping Pad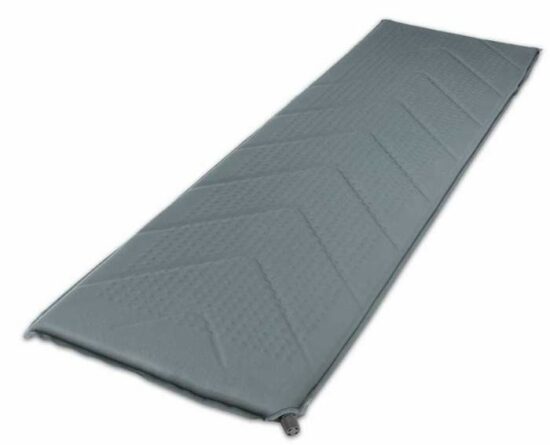 This sleeping pad is new on the market and it is also a new type for this brand which is best known for their iconic inflatable sleeping pads which you have here in the list as well. So here you have a self-inflating pad and it still has their V shape baffles in the design although not as prominent as in their other pads.
The pad is insulated and you have 5.3 R-value which is roughly equivalent to the temperature rating of -4 F (-20 C). So this is a sleeping pad for all seasons. The shell is 30D stretch polyester on the top and 75D polyester on the bottom.
The pad weighs 2.9 lb (1300 g) so it is lightweight for an insulated pad, and this is the reason for adding it here; you can use it also for shorter overnight tours away from your car parking.
Particular distinction: this is a pad with an incredible price.

---
8. Klymit Static V Luxe Insulated Sleeping Pad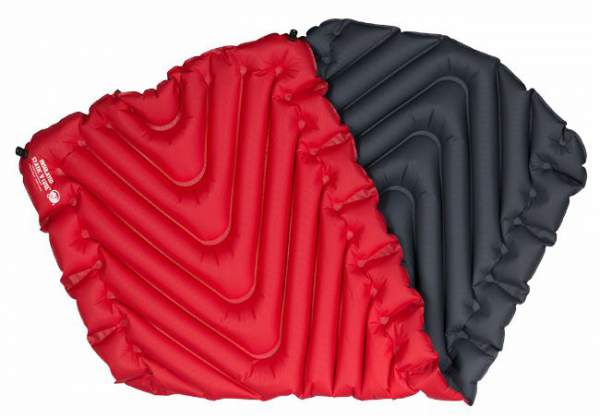 This pad is very similar to the Double model given above, with all advanced features typical for these Klymit pads. So this is a luxurious single pad, insulated and with 4.4 R-value. The insulation is synthetic Primaloft Eco, lightweight and compressible, and it includes 60% of the recycled materials. Such an insulation is known for not absorbing water, it dries quickly and it retains its insulation even if it becomes wet.
The word Luxe in the name describes it great length and width, so if you are a tall guy, this is a pad for you. This is an inflatable pad so its packed size is incredibly small, bear this in mind if this feature is essential to you. Such a design makes it far more versatile than most of the pads on the list. For more info please follow the link to my separate review.
Particular distinction: great packed size.

---
9. NEMO Roamer Self-Inflating Sleeping Pad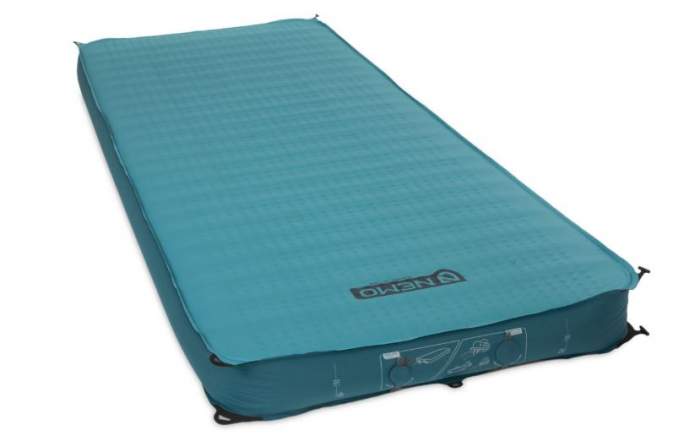 This is a new pad on the market which Nemo launched for the season 2019. They build it in two sizes and they both are 4 inches (10.2 cm) thick. So this is an incredibly comfortable sleeping pad, great even for side sleepers.
The pad is self-inflating with a foam inside which provides insulation, the temperature rating for this pad is -30 F (-34 C) and this is close to 7.5 R-value. So this is a pad for all seasons.
The larger version (XLW) is with the dimensions 80 x 30 inches (203 x 76 cm) so it is suitable even for very tall people. It weighs 5 lb 4 oz (2.38 kg) and it is surprisingly well packable. Please follow the link to my full review.

---
10. Teton Sports Camp Pad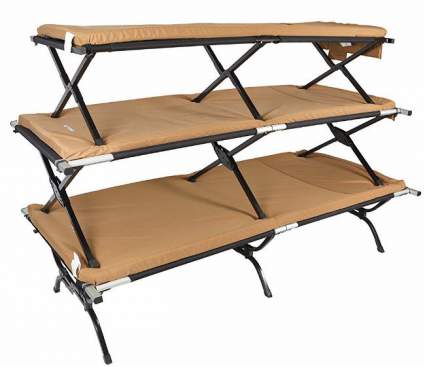 There are several reasons why you might want to consider this pad.
♦ If you are on a budget, this is one of the most affordable options.
♦ This pad comes in three different sizes. This is the longest pad in the list.
♦ All pads are built to fit the Teton Sports cots. So the largest of the pads, Teton Sports Outfitter XXL Camp Pad fits the Teton Sports Outfitter XXL Camping Cot.
♦ On the other hand, this Outfitter Cot is built to be used as a platform for the Teton Sports Outfitter XXL Quick tent, so you have a combination known as tent-cot, with the tent sitting on the cot.
So as you realize, this is a complete sleeping system of a particular type, ideal for car camping. You can see it described in the link below, in my separate review. The largest of the pads in the group is huge, see the dimensions below, though it is not particularly thick. Note also that you have an exceptionally strong fabric here.
There is no declaration about its R-value, but this is a foam pad and it definitely provides some insulation.
Particular distinction: the longest pad.

---
11. Therm-a-Rest BaseCamp Self-Inflating Sleeping Pad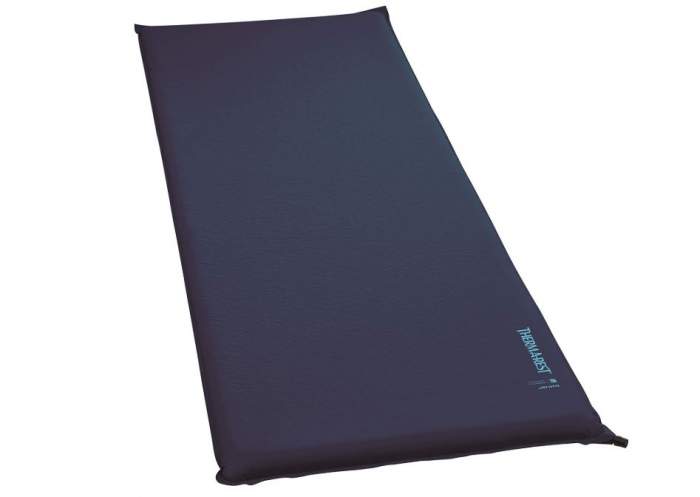 This BaseCamp sleeping pad is light enough to be carried on shorter trails, its R size weighs only 2 lb 8 oz (1.14 kg). So obviously it is much lighter than most of the pads here in the list and this is a versatile pad. The thickness is a bit modest 2 inches (5 cm), but as I said, this is something for both worlds, for car camping and also for hiking.
They build it in three sizes and this is always good to know so you can find your best fit. As the name suggests, this is a self-inflating type, and the open-cell foam inside gives you good insulation with the R-value 5.8. So the pad is suitable for all seasons. You might want to know also that it is very affordable for such a type and for such a top brand.

---
12. Therm-a-Rest DreamTime Mattress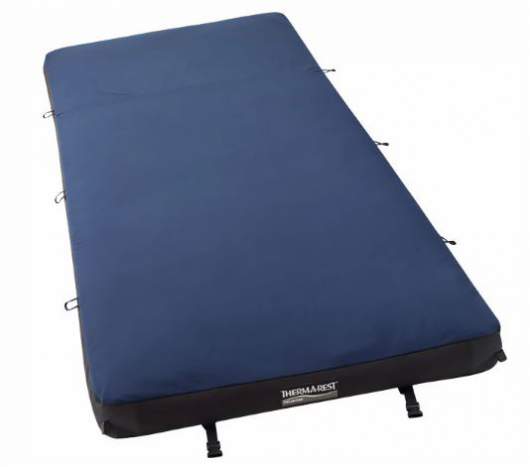 So, what is so special about this pad, and why is it here? There are some unique features here, and you will not find them in other pads. This DreamTime pad is a three-component system which includes the following elements:
A memory foam layer.
A self-inflating core pad.
On the outside, you have a removable and machine-washable microfiber cover.
Connect Two system.
So with these features, this pad stands out. The pad is built in two sizes, and they are both great, Large and Extra Large, see in the Specifications below. But this is not all, its R-value is 10, one of the highest here in the list. So this is an insulated pad for all weather conditions.
The materials are durable, so you have 75D polyester on both sides. The foam is urethane. If you are puzzled by the side straps which you can see in the picture, this is the Connect Two system, to mate it with another DreamTime mattress for a double-wide configuration.
Particular distinction: three-component system.

---
13. Therm-a-Rest Luxury Map sleeping pad
This pad is built in three sizes, R, L, and XL, so you have enough options to choose. It is self-inflating and insulated, with R-value 6.8. So it is in the upper range and a very warm pad for any weather.
The materials are 50D polyester knit on the top and 75D polyester on the bottom. The core foam is urethane. The stand out feature here is the Pressure Mapping system used to provide an optimal support where it is most needed, so something similar to what you have in the Klymit pads.
This means that they measured the pressure created by the body in various sleeping positions, and introduced an innovative die-cut foam to provide comfort and support at the right places. As a result, you have a more even and supportive sleep surface. This is probably the origin of the word Map in the name of this pad.
Particular distinction: pressure mapping for optimal comfort.

---
14. Therm-a-Rest MondoKing 3D Self-Inflating Foam Camping Air Mattress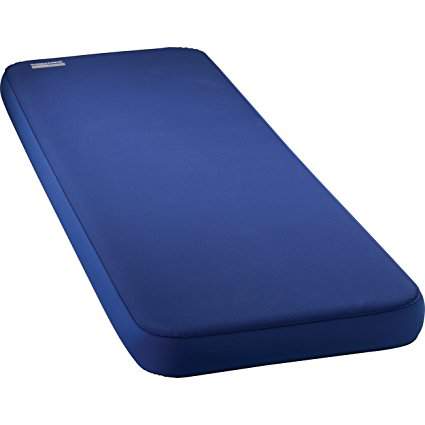 This is an insulated sleeping pad suitable for all seasons, and with an impressive R-value 11.4, the highest of all pads here on the list. It is built in two sizes and they both are big.
The fabric is a very soft and pleasant 75D reverse diamond polyester on the top and the same durability polyester is on the bottom. The inside foam is urethane, and you might want to know that the pad is built in the USA. Much more is available in my separate review, please follow the link below.
Particular distinction: one of the most insulated pads.

---
How to choose
So you have plenty of options here, and they all are great. In my view, those are the best sleeping pads for car camping currently on the market.
Nothing can go wrong with such quality tools, except that they can get punctured of course. If this is your concern, then go for the Teton Sports pad, this is a great foam pad which will last forever.
But how to choose really? First, check your budget. The prices are very different here, you have them in the range $25 – 370.
Next, you might want to think about versatility. All of them are relatively heavy and bulky, but some are still nicely packable and lightweight enough to be carried in the pack. Those are mainly the inflatable pads in the text above, both Klymit pads and the Exped SynMat. But regarding the versatility, the Alps Mountaineering Double pad is clearly without a match because of its 2-in-1 feature.
As for the comfort, the thicker and the wider the better, as simple as that. I love to use double pads solo. But I have yet another reason, I feel claustrophobic in a sleeping bag, so I use either a double bag solo, or I unzip one of my rectangular bags completely and use it as an ordinary blanket. In such an arrangement, a double pad comes really good. This works fine if it is not cold too much (but it is usually, I mostly sleep at very high elevations well above 2000 meters in the Alps).
Note that this is not a sponsored text and I am not paid by any of the brands represented here in the list. Thank you for reading. Please let me know if you want to add something here or if you have a question, there is a comment box below. I wish you a nice day.
---