---
This ALPS Mountaineering Vertex Air Bed Queen Sleeping Pad Review is about a huge and very supportive sleeping pad with a coil structure. It comes with a rechargeable pump included, and with a great price tag.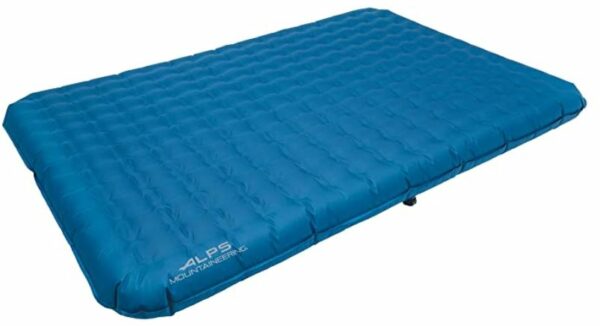 ---
Key features & benefits
Huge size.
Incredibly thick.
Inflatable pad.
Very stable and supportive.
Great price.
---
What type of a sleeping bag is this
This ALPS Mountaineering Vertex Air Bed is the larger in the series that includes also a twin size pad. You have a very durable yet lightweight and completely PVC-free TPU coated nylon fabric.
This is an inflatable sleeping pad, just to know in which category to put it. As you can realize from the pictures, it is with inner coils that make it a very stable, solid, and comfortable sleeping surface.
Such designs are great because bouncing is reduced to a minimum, and this is typically a problem with inflatable pads with long baffles. This is even more important in this case because this is a pad designed for two people, so the movements of the partner will not disturb you much.
The pump
This inflatable pad is huge and it is best to use a pump, so they have included it in the package. It has its own internal rechargeable battery, and it can also be plugged into a wall power source or you can use the car charger. The pad can be inflated by the pump within 3-4 minutes.
You can use the pump to deflate the pad, and it will take you around a minute or so. See how the pump looks: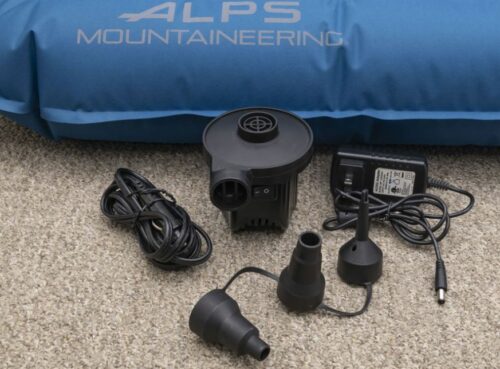 The valve is on the side, a bit unusual position, and it is designed to fit the attachment elements shown in the picture above. See how it looks:
---
Who is this pad for
Size-wise, the dimensions of this ALPS Mountaineering Vertex Air Bed Queen pad are great and it is definitely large enough for two people. It measures 80 x 56 inches (203 x 142 cm). But the best feature is its enormous thickness of 6 inches (15 cm). So this is a pad suitable for any type of sleepers, side sleepers included.

In view of its width, it may not be suitable for just any 2-person tent. But with such a size it fits their Alps Mountaineering Lynx 2 Person Tent with its floor that measures 229 x 152 cm.
Note also that they give the weight capacity, this is rare to see. So here you have 500 lb (227 kg), and this is enough even for the heaviest wrestlers from the Japanese top sumo division.
If you sleep on a double cot without its own pad, this pad is perfect for this purpose. The reason is that such cots usually have a central longitudinal bar, and such a thick pad will eliminate the pressure zone which the bar creates.
Weight-wise, in view of its 4 lb 12 oz (2.15 kg) this is not a pad to carry in the pack. It is best suited for places with a motorized access, and I have included it in my list of best car camping sleeping pads. If you need something of this type to carry on the trail, check the Big Agnes SLX Tent Floor Pad that weighs only half the weight of this Vertex pad.
The packed dimensions are almost excellent for a queen-size pad, it measures 18.5 x 8.5 inches (47 x 22 cm), see the picture how it looks.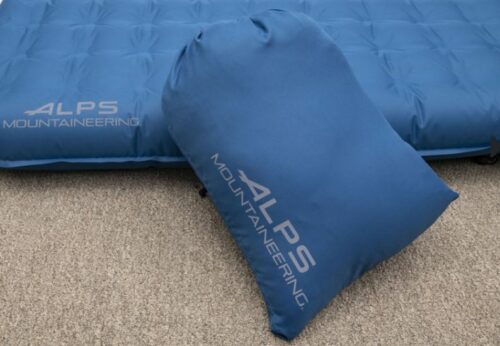 Seasons-wise, this is a pad for the warmer part of the year, there is no insulation and they do not mention anything about its R-value. You only have air underneath, though a lot of it, but do not expect more than 0.5-0.8 R-value.
---
Specifications
Weight: 4 lb 12 oz (2.15 kg).
Weight capacity: 500 lb (227 kg).
Dimensions: 80 x 56 in (203 x 142 cm).
Thickness: 6 in (15 cm).
Packed size: 18.5 x 8.5 in (47 x 22 cm).
Warranty: limited lifetime warranty.
---
Final thoughts, rating, pros & cons
In the summary of this ALPS Mountaineering Vertex Air Bed Queen review, it is best to see the thickness and the size of this pad to realize what you have here. You will not find many pads on the market that can match the level of comfort you have here, and just see the price and the brand behind this pad. Fully recommended.
Here is the summary of my rating, and pros & cons. I use the same criteria for all the pads for easy comparison:
Please check under the category Sleeping Pads if you need more options. Bookmark this site and visit again, we add texts here regularly. Thank you for reading and have a nice day.