---
Alps Mountaineering Lynx 2 Person Tent has been on the market for many years already. This is a simple, easy to use, and reliable freestanding structure with a great packed size and an incredible price. 
---
Key features & benefits
Incredible price.
Quite a large tent.
Easy setup.
Freestanding.
Full coverage fly.
Gear loft included.
2 doors & 2 vestibules.
Fly windows.
---
Where to buy
Check on Amazon, this is what they call the Amazon's Choice item. This implies "highly rated, well-priced products available to ship immediately." They normally have the best prices and the best shipping conditions.
You will find it also at Walmart.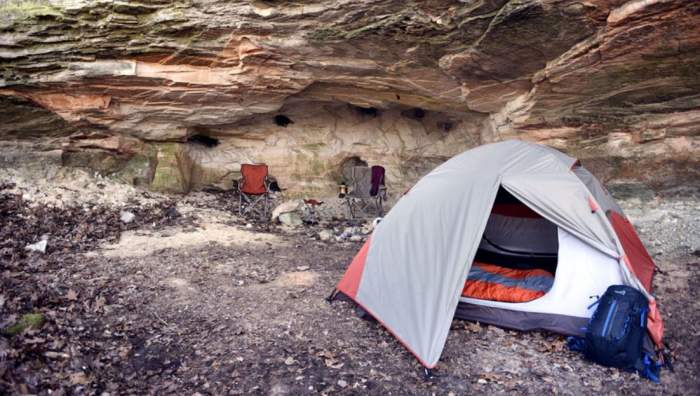 ---
What type of tent is this
The Lynx 2 has been on the market for at least 6 – 7 years already and it is still popular as it has always been. No surprise when you see its price. This is a freestanding, two-layer, full-coverage fly tent with two doors and two vestibules. The fly attaches to its corners so you can set this tent up anywhere, but if you want to have functional vestibules, they must be staked down.
The number 2 in the name indicates that this is a 2-person dome tent, but they also have a solo version as well. For such a type and for the price (more below) it is very roomy.
The tent is with windows on the fly, so this combined with the generous space make it a very pleasant and comfortable tent. The windows are narrow, a sort of plastic, so you have a bit of view around, and you do not sacrifice your privacy too much, I like this feature. Not many dome-style tents of this type have such a feature. One of them is visible in the picture, this is the lense-shaped opening under the vent on the right: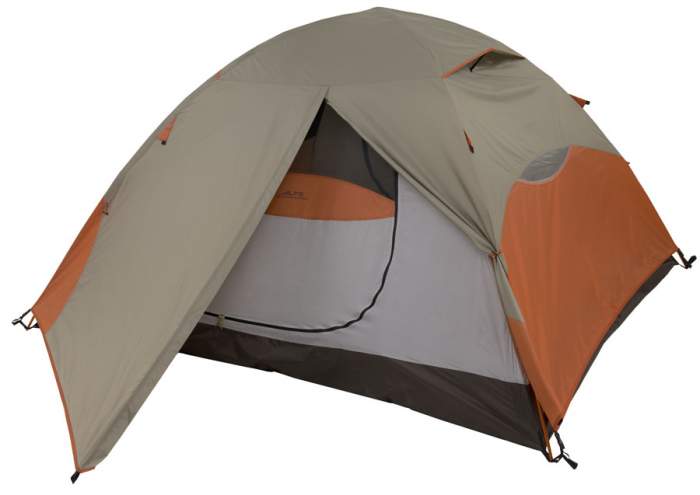 ---
Who is it for
Size-wise, this tent offers the inner area of 37.5 ft² (3.48 m²) plus the area under two vestibules, 20 ft² (1.9 m²) in total. This means that you have 28.8 ft² (2.6 m²) total protected area per person, and I find this really remarkable for such a type, see the floor plan below. Observe also that it is quite wide with its 5 ft (152 cm), very similar to the Crua Duo Tent.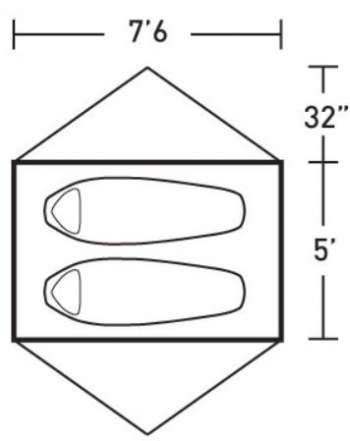 So this tent offers lots of space for two campers. Such an organization allows you also to use one vestibule as a storage area only, so just keep it closed and store all your gear there and keep the other side only for an easy entry.
Weight-wise, with its 5 lb 15 oz (2.69 kg), this is not a tent to carry in the pack, although this is doable if the pieces are shared. But there are far lighter options available and you can see some in my list of best 2-person backpacking tents. So I see it better suited for places where you would not have to carry it yourself, like places with a motorized access, for cyclists, kayakers, and anything similar.
Therefore I have added it into my list of best 2-person tents for camping but this primarily because of its price and the ease of use. So this is for occasional campers who are on a budget.
Note that they give the minimum weight as well, 5 lb 4 oz (2.38 kg), but such a terminology is usually not clear unless the manufacturer describes what it really means. I discussed this issue in my separate text. In this case, it appears that this implies the tent with the poles and the fly only.
The packed size is really good, it reduces to 20 x 6 inches (51 x 15 cm); you will be able to compare this with some of its competitors below.
Seasons-wise & climate-wise, I would say this is a 3-season tent, but it is better suited for a warmer environment because of its large mesh sections. If you need something for a cooler climate, better check these winter camping tents. The poles are aluminum, the structure is aerodynamic, the waterproof rating is quite moderate but completely enough. So I would not go to extremes with this tent but it is indeed decently built and totally worth the money.

---
Materials & other stuff
The poles, stakes, & zippers
There are only 2 poles here, so more simple it cannot be. This is 7000 series aluminum with 8.5 mm in the diameter. The stakes are 7075 aluminum, and the zippers are large #8. For a tent with such a price, those are excellent features, see the picture.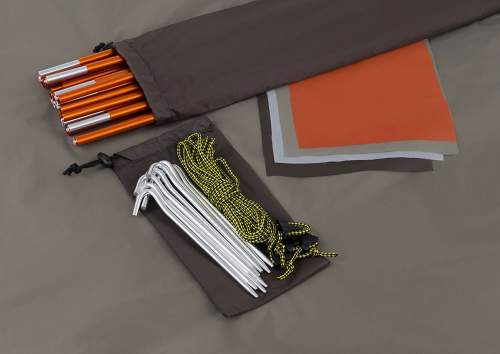 The fabric
Both the fly and the floor are the same 75D 185T polyester but the fly is with 1500 mm coating designed to resist UV damages and stays taut, while the floor is with 2000 mm coating. All seams are factory-sealed.
Ventilation
There is nothing one could object here, the tent is with two roof vents equipped with Velcro tabs. This combined with the mesh on the inner tent below will provide an excellent airflow. You have vestibules so the inner doors can be kept open for some extra air if needed.
But do not think you will never have condensation here, especially in cool and damp situations, this can hardly be avoided in any tent out there, it all depends on the weather conditions and the temperature.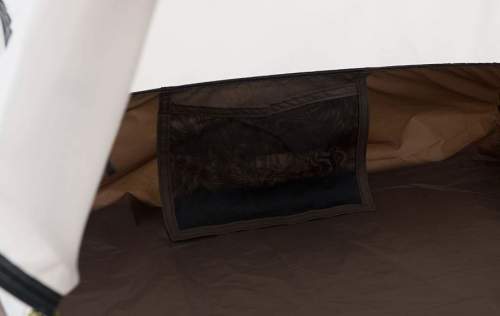 Other features
The tent has two small interior pockets.
A detachable large gear loft is included, see the picture.
Assembly is easy with pole clips.
4 guylines are in the package.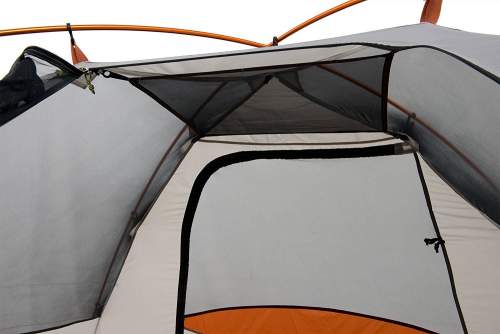 You can see more in this video, all the procedure is shown for setting it up and taking it down, please have a look:
---
Specifications
Type: freestanding dome tent.
Capacity: 2 people.
Weight: 5 lb 15 oz (5.94 lb; 2.69 kg).
Minimum weight: 5 lb 4 oz (2.38 kg).
Dimensions: 90 x 60 in (229 x 152 cm).
Inner area: 37.5 ft² (3.48 m²).
Inner area per person: 18.8 ft² (1.7 m²).
Vestibules area: 20 ft² (1.9 m²).
Total area per person: 28.8 ft² (2.6 m²).
Peak height: 46 in (117 cm).
Packed size: 20 x 6 in (51 x 15 cm).
Pole diameter: 8.5 mm.
---
Alps Mountaineering Lynx 2 tent vs Competitors
I have decided to show you two different options. The Mountainsmith Morrison 2 tent is very similar and incredibly popular, so this was an obvious choice for comparison. But the Big Agnes C Bar tent is in the category of backpacking tents, though not among the lightest of course, and it has a different design with a single door and a single vestibule.
The Lynx 2 is heavier, but it is bigger, taller, and its price is without a match. So I hope this will help in making the right choice. Note that all three are reliable tents from the top brands. For more details please follow the links in the table.
---
Final thoughts, rating, pros & cons
In the summary of this Alps Mountaineering Lynx 2 Person Tent review, I can only stress again the incredible price-value combination which you have here. There are really good reasons why this tent has been so long around, always popular since the moment it appeared on the market. But I noticed that the price on the EU market is considerably higher, just to know if the links redirect you to your closest EU Amazon store.
There are hundreds of reports by customers on Amazon alone, and many are available at other places on the web. The average rating is very high. See how I rate it by using the same criteria applied to all other tents here in the site, this makes it easy to compare various tents:
Note that there are several other tents from this brand here in the site, the Meramac 2, Mystique 1, Lynx 1, Meramac 3 Outfitter, Meramac 4 ZF, and also the Camp Creek 4 which is a cabin-style tent.
If you need more options to consider, please visit my page with tents, you will find them in hundreds, all described in separate reviews. Need something ultra-lightweight for backpacking? If so then check this Big Agnes Tiger Wall UL2 Tent.
Note that I am not paid by the brand or related in any sense, so this is NOT a sponsored text. I only give my unbiased view of the tent.
Thank you for reading. Do you have any experience with this tent? If so, please share it here, there is a comment box below.