---
In this Alps Mountaineering Mystique 1 Tent review, I present a great entry-level hiking and mountaineering tent, with an incredible price tag and plenty of space for you and your equipment.

---
Key features and bonuses
Lots of space.
Incredibly great price, below $70 at the moment of writing this text.
2 vestibules.
2 doors.
---
Mystique 1.0 tent – description
There is a lot of confusion in the descriptions of this tent, and this is even on the site of the Alps Mountaineering brand. Some even describe it as an ultra-lightweight tent, which is definitely not so in view of its 4 lb 6 oz (1.98 kg), but yeah, various numbers are available around.
This all is partly due to several possible versions, old and new, the tent has been around for many years, and it has been completely redesigned, instead of the front door you have side doors, etc. Also, right now there exists the Alps Mountaineering Mystique 1.5 tent, see more below, which only adds to the mess.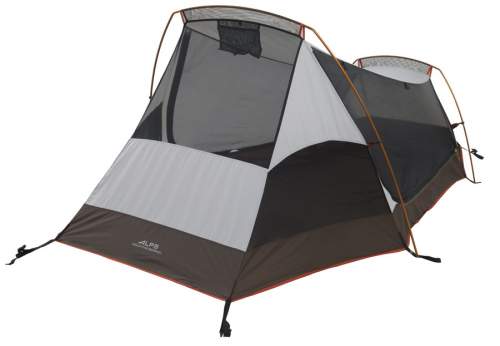 This is a non-freestanding tent. If you are not familiar with the terminology, this means you have to anchor it down in order to set it up. But this also implies that this cannot be done on every terrain like rock, gravel, sand, frozen ground, or concrete. So just bear this in mind when you plan your trips.
The Mystique 1.0 tent is a standard 3-season tent. So again, this terminology is explained in my separate text. Here just to stress that it is good for all conditions except for a lot of snowfall on its roof, and for exceptionally strong winds. The tent is a double-wall type, which is typical for 3-season tents. This means that you have the main tent body which is largely a mesh, plus a rain fly.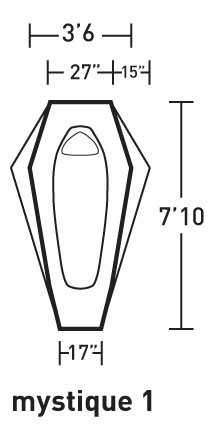 The protected space
The tent provides a lot of useful space for a solo user, no less than 21 sq ft (1.95 sq m). It is quite long, 2.39 m, so there is some extra space for you and gear inside. But as mentioned in the key features above, it also comes with two vestibules, each with 0.88 square meters surface, so there is plenty of space for the equipment. The doors are really large so you have an easy access.
Inside the tent, you have a couple of mesh pockets for storage, and the mesh doors are with very good zippers and they open wide. One interesting detail is a small plastic window on the head side, in the shape of the letter A, useful to have in any case. But such plastic windows are usually weak points in the rain fly.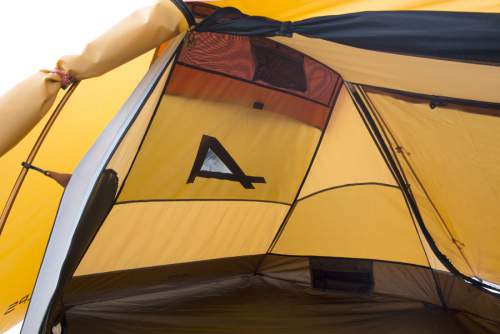 The materials
This tent is quite heavy and this is partly due to durable materials. So you have 75D 185T polyester both on the fly and the floor. The big part of the body is a mesh, but there are no indications about its denier value and tenacity.
The fly: Here you have a great structure, with 2 side vestibules (you might want to see my separate text about vestibules in general), and with a vent on the head side. The fly provides a full coverage of the main tent body, it is completely waterproof and seam-sealed. There are storm flaps above the long zippers, so you have extra protection here as well. Guy out points are around so you can fix it in the case of winds.
The floor: It is of the same strength and thickness as the fly, good enough but to extend its life you can use it with a footprint that can be ordered separately, see the links below. Similar to the fly, all seams are sealed here.
The poles: Here you have aluminum, 7.9 mm & 8.5 mm for the bottom and front poles, respectively.

Ventilation
The tent body is with large sections of mesh, so the ventilation is not an issue at all. The mesh is on the doors as well, and there is a vent on the fly, see the picture below. If this is not enough you can always roll up one vestibule for extra ventilation.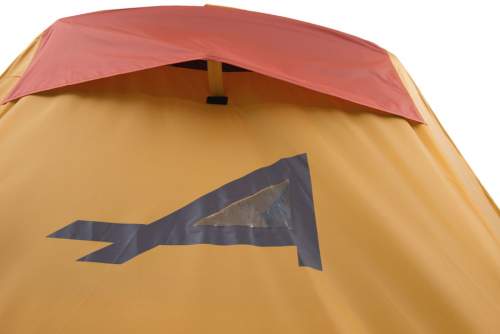 Waterproofness
You have a 1500 mm rating for the fly and 3000 mm for the floor. These are reasonable numbers, you can compare them with 1200 and 3000 which you have in a winter tent by MSR, their new Access 1 tent. The meaning of these numbers is that the fly and the floor can withstand the indicated number of millimeters water column for more than one minute before a single drop appears through the fabric.
Here is a short video about the Mystique 1 tent, please have a look:
---
Specifications & summary of features
Type: solo, 3-season, non-freestanding tent.
Total weight: 4 lb 6 oz (1.98 kg).
Tent and fly weight: 3 lb. 14 oz (1.76 kg).
Tent size: 21 sq ft (1.95 sq m).
Packed size: 6 x 16 inches (15.2 x 40.6 cm).
Doors: 2.
Vestibules: 2.
Vestibule size: 9.5 sq ft (0.88 sq m).
Vestibule depth: 15 inches (38 cm).
Center height: 3 ft (91 cm).
Base size: 3'6 x 7'10 (1.07 x 2.39 m).
2 Poles: 7.9 mm & 8.5 mm.
Fly vent.
Materials:
– Poles: 7000 series aluminum.
– Fly: 75D 185T polyester with 1500 mm coating.
– Floor: 75D 185T poly taffeta with 3000 mm coating.
Coating resists UV damage.
Sealed fly and floor seams.
Extra large #8 zippers on doors and vestibules.
Easy entry with two mesh doors.
Fly vent can be kept open or closed.
---
Who is it for
There are several different things to consider.
First about its technical side. I see the Mystique 1 tent as a great tool for overnight and weekend hiking and mountaineering tours. Why not for backpacking? Well, as I said a few times, it is not freestanding and it takes a bit of time to set it up, so it may become annoying on very extended trips.
On the other hand, it is too heavy for such long excursions which normally imply a lot of stuff carrying for days on your back. But for short quick tours, this tent is great.
Now about the price. This pack has all you need, and the price is simply incredible. So if you are a beginner, and you do not really know if sleeping outdoor is for you, or you do it only occasionally, then you would not want to invest a huge amount of money in an expensive tool. This is where the Mystique 1 tent comes, its price and quality combination is almost impossible to match. This is the reason why I describe it as a great entry-level tool, but it is definitely more than that of course.
Note again, this is not a winter tent. For such a purpose, you would have to spend much more, perhaps 5-10 times more, see more here.
---
What is in the package
This is a complete set, so you have all you need to set this tent up. This means:
The tent body.
The fly.
The two sets of poles, one short and one long.
Stakes with tie-downs.
A few patches for field repairs.
There is no footprint included, you definitely can manage without it, and the tent is already heavy enough.
---
About Alps Mountaineering Mystique series
There are three tents in the Mystique series, see their basic features:
| | | |
| --- | --- | --- |
| | Weight (kg) | Surface (sq m) |
| Mystique 1.0  | 1.98 | 1.95 |
| Mystique 1.5 | 2.18 | 2.32 |
| Mystique 2.0 | 2.44 | 2.97 |
The prices of all tent are really great, see the links below. Clearly, all of them provide a lot of space for one person or for two. But they are not so lightweight. The Mystique 2.0 is a great option for two people who would share the weight of it.
The Mystique 1.5 is also a solo tent, but it offers more space for you and your gear. You can eventually also share it with your dog. See how the two solo tents compare:
| | | |
| --- | --- | --- |
| | Mystique 1.0 | Mystique 1.5 |
| Weight, kg | 1.98 | 2.18 |
| Surface, sq m | 1.95 | 2.32 |
| Surface to weight ratio | 0.98 | 1.06 |
| Vestibule depth, cm | 38 | 51 |
| Packed size, cm | 15.2 x 40.6 | 14 x 46 |
| Length, cm | 239 | 244 |
---
Summary, rating, pros & cons
In the conclusion of this Alps Mountaineering Mystique 1 Tent review, there are many solo tents available on the market and it may be hard to choose, but if you are a beginner and do not want to spend much, this is a tool I warmly recommend to you. After posting the link of this text to a Facebook group, I received this comment: "Love mine. Simple and bulletproof." I think this describes the tent nicely.
Being non-freestanding implies that you have to plan where to pitch this tent. I have one tent of this type which I used in the Alps and had problems to find a proper place far above the tree line, close to 3000 meters of altitude.
Yet another issue is its weight. It is interesting that the Lynx 1 tent from the same brand is practically the same weight. The rating by Amazon customers is exceptionally high. My own rating of the Mystique is affected by the fact that it is not freestanding, see the breakdown:
If you need something ultra-lightweight, please see this text with a long list of such solo tents. Much more you can see in this page about tents. Check this unique RhinoWolf All-In-One Tent with a pad and blanket included.
Thank you for reading. Let me know what you think and do not hesitate to ask questions, there is a comment box below. I wish you a pleasant day.