---
MSR Access tents are a new winter series and this MSR Access 1 Tent review is about the smallest of them, the solo tent which is a lightweight winter tent.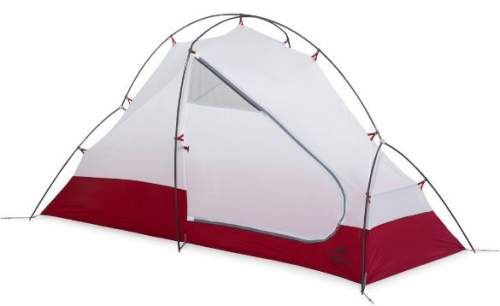 ---
Standout features and benefits
Very lightweight for a winter tent.
Multipurpose: many features of a backpacking or hiking tent.
Crossed poles construction able to withstand overnight snow.
---
MSR Access 1 – description
Winter tents (or 4-season tents) are designed to withstand high winds and snow in harsh conditions which a standard backpacking tent cannot survive. In my text about winter tents, I have outlined the main differences between such winter tents and ordinary 3-season tents, so please have a look.
The MSR Access tent is somewhere in between the two groups. It is lightweight, very much suitable for skiers and snowshoers. You will notice that its 1.6 kg packaged weight is something you would not expect from a winter tent. So it is lighter than most of the mountaineering tents but in the same time warmer than a three-season tent.
The weight is due to the ultra-lightweight fabric used in the construction, which is only 20D, 20D, 10D, and 30D for the fly, canopy, mesh, and floor, respectively. On the other hand, this tent comes with double walls just like a standard 3-season tent, and this is generally a more pleasant option than a single wall tent. What you have here is DuraShield-coated fabrics and taped bathtub floor.
The tent is with one side-door, and inside you have internal pockets at both ends. You also have multiple loops on the ceiling to hang things around. The peak height is 101 cm and this is high enough even if you have a rather thick pad or a backpacking cot under you.
Multiple guy-out points outside on the fly allowing you to secure the tent against winds. The only mesh you have is a small triangular part (or window) on the top of the door, so all the rest is a 20D canopy. This, together with the extra cross pole is one of the features that makes it quite different from an ordinary backpacking tent.
The canopy of this type can make a huge difference with respect to the temperature retention. The double-wall structure will allow you to sleep warm in a winter environment. But these two elements make it also heavier than a standard backpacking tent.

What is in the package
The tent comes in its own sack with two compression straps with buckles, so it is nicely packed and can be attached to the backpack. The stakes are 3-sided MSR stakes, packed in their own sack, designed to have a good holding power in any ground. The poles are in their own sack, all is orange color here. Then you have the rain fly and the tent body.
Poles
There are two of them, incredibly flexible and durable. They describe them as the most resilient tent poles ever made. They are able to take a strong beating and to return to their original shape, something you would not have with aluminum or carbon poles. This type of poles are now standardly used in MSR's winter and mountaineering tents.
The main pole splits into 2 branches on both ends and these V-shape profiles alone are what makes the tent freestanding, you can see them in the first picture above. So this part is somewhat similar to the MSR's Huba Huba tent. But the cross pole is here to add extra stability and support, and it also pulls the walls up adding more volume in the tent. You will notice that it is designed with the highest part almost flat, without the curvature, this is to add the volume at the head zone.
Such a frame is strong enough to withstand overnight snow loading, but this tent should not be used in the harshest winter conditions.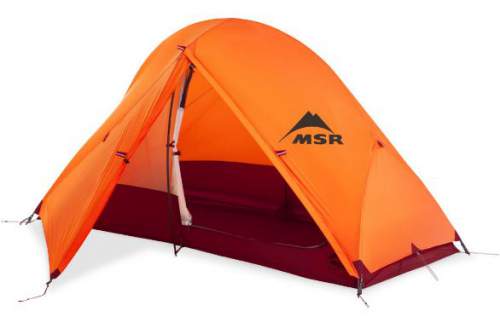 The weight terminology – packaged vs minimum
In the specifications below you will see different weight options, so a few words about this issue.
The packaged weight includes the total weight of the packaged contents off the shelf. In this particular case, you should count this weight only, such a winter tent you will not be using in any other configuration.
The minimum weight is the combined weight of the tent body, rain fly, and tent poles. So it does not include tent stakes, guy cords, stuff sack, etc.
There are some other terms used as well, you can see more in my separate text.
Waterproofness
The rain fly and the floor are with polyurethane coatings and the seams have been factory-taped. So you have 1200 and 3000 mm for the fly and the floor respectively. This means that they will withstand the indicated number of millimeters water column for more than one minute before a single drop appears through the fabric. The numbers may look small, but this is enough even for a hurricane-force storm.
Here is a nice video by MSR where you can see how to set up these Access tents on a surface with snow, how to anchor it, and how to organize the camp:
---
Specifications & summary of features
Type: 1 person 4-season freestanding tent.
Best use: for ski touring and snowshoeing in relatively protected zones near the tree-line.
Minimum weight: 3 lb 0 oz (1.37 kg).
Packed weight: 3 lb 8 oz (1.6 kg).
Floor surface: 19 sq ft (1.76 sq m).
Vestibule surface: 9 sq ft (0.84 sq m).
Tent volume: 32 cu ft (906 liters).
Vestibule volume: 8.5 cu ft (241 liters).
Interior peak height: 40 in (101 cm).
Packed size: 18 x 6 in (46 x 15 cm).
Doors: 1.
Poles: 2 Easton Syclone.
Rainfly: 20D ripstop nylon 1200 mm Durashield polyurethane & silicone.
Canopy: 20D ripstop nylon & DWR.
Mesh type: 10D polyester micro-mesh.
Floor: 30D ripstop nylon 3000 mm Durashield polyurethane & DWR.
Color: orange.
Limited mesh on the tent body keeps in the warmth.
Robust frame.
Very quick setup, as needed for cold environments.
DuraShield-coated fabrics.
---
Please see one more video by MSR about this series:
---
Summary, rating, pros & cons
To conclude this MSR Access 1 Tent review, this tent is designed for relatively protected winter conditions close to the tree-line, and it should not be used in the harshest conditions at even higher altitudes. So if you see some criticizing the tent for not performing well, bear in mind that this tent should be used for conditions which it was designed for.
The tent is with all features of a backpacking or hiking tents and I have seen people using it in the Alps as a 3-season tent. But this is also a hybrid, with a lot of features of a mountaineering tent, and I think it nicely fills the gap between the two groups. After all, this was its main purpose.
Please see how I rate it:
Note that the Access series includes this solo tent, and the tents for 2 and 3 people.
Thank you for reading. I hope the text has been useful to you. Please let me know if you have any question or comment, there is a comment box below.