---
ALPS Mountaineering Meramac 3 Outfitter Tent is an upgraded version in the Meramac series, with aluminum poles, very thick floor, and strong zippers. This is a freestanding and very reliable tent.
---
Key features & benefits
Fully freestanding.
Aluminum poles.
Very thick floor.
Strong zippers.
Gear loft included.

---
What this is about – what is in the name
The Meramac series includes freestanding tents with partial coverage fly (see the picture below). But within this series you have 3 sub-types:
The classic Meramac with fiberglass poles, a relatively thin floor, and zippers #8. You can see this Meramac 2-person tent as an example.
The upgraded Meramac series with the same fiberglass poles but with a stronger zipper #10 and a much thicker floor. Those are the tents with ZF in the name. One example of this sub-type is this ALPS Mountaineering Meramac 4 ZF tent.
They have now upgraded the tents even further, and this Meramac Outfitter 3 tent which you have here is with aluminum poles, and it also includes the best features from the ZF series. Hence, you have a very thick floor and strong #10 zippers.
So now you have a more clear picture. Just to add that this Meramac Outfitter series includes the tents for 3 people and for 4 people.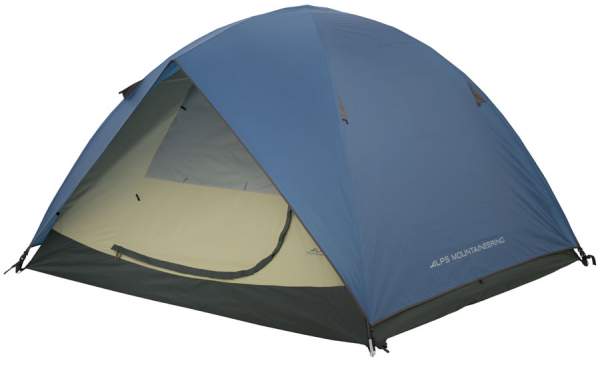 ---
Who is it for
Space-wise, the tent is with 49 ft² (4.5 m²) floor area, and this means 16.3 ft² (1.5 m²) per person. But bear in mind that you have no vestibules here, so there is no storage area for boots and packs. So in my view, this is suitable for maximum two people.
Seasons-wise, the tent is with a decent waterproof rating (more below), the poles are strong, and although it is not a full-coverage fly, it will protect you in most situations which you may have in a 3-season use.
Climate-wise, the tent has less mesh than other tents of this type. But you still have it enough so it is suitable for a warmer climate. I would not use it in a cold environment. If you need something for such a use, better check this Vango Venture 350 tent with solid windows and without mesh.
Weight-wise, with its 8.37 lb (3.8 kg), the tent is portable if the users share its elements, but it is on the heavier side. So it is better suited for camping at places where you would not have to carry it in the backpack. If you need such a 3-person tent on the trail, rather check this Big Agnes Van Camp SL 3 or much lighter Big Agnes Copper Hotel HV UL 3 tent.
But the packed size is not bad and you can transport it even on a bicycle. You have it packed into (L x D) 23 x 7 inches (58 x 18 cm).
---
Construction & materials
The mentioned freestanding feature here is because of two reasons, i) there are no vestibules, and ii) the fly attaches to the corners. Obviously, vestibules would add value, extra storage space is always useful. But with such a design you can pitch this tent on any surface. The tent is freestanding as soon as you fix the poles in the corners and clip the inner tent to the structure which they create. There are no sleeves and there is no hub element here.
Adding the fly is easy because it is not so large. So even after you put the fly, you can still move the tent around. But 8 inches steel stakes are included as well as the guylines, see the picture below, and do not miss to stake the text if this is possible.
The poles
This is a system with 2 main poles plus a short ridge poles that creates small brims above the two doors, all are shown above. These are quality 9.5 mm diameter 7000 series shock-corded aluminum poles.
The fabric
The fly is reasonably durable 75D 185T polyester. Surprisingly, they do not provide the waterproof rating, this is missing even on the site of the brand. But this is clearly the same as in other tents form the Meramac series, so I would expect 1500 mm here as well. The exposed sections on the doors are waterproof.
The floor is a very durable, 210D 110T nylon oxford with 1500 mm coating. The seams on the fly and the floor are all factory sealed.
The doors & windows
There are two doors on the opposite sides. The access is easy in view of those small awnings. This same design allows for the windows which you have on the doors; the upper sections of the doors are double layers, so you have panels and mesh. The small awnings protect them so you can keep the mesh only most of the time.
Ventilation
There are no vents on the fly, but you really do not need them with such a design. On the other hand, there are two mesh sections on the top of the inner tent, and two much larger mesh sections are on the two sides, plus the mentioned windows. So ventilation in this tent should not be an issue, you can always create enough cross flow.
Other features
Extra large #10 zippers.
Mesh storage pockets.
Gear loft is included (shown in the picture).
Carry bag is included.
---
Good and less good features
Here is my short summary:

Very durable floor.
Quality materials.
Easy setup.
Good packed size.
Very reliable tent.
Windows.

Small inner area for the declared capacity.
No vestibules.
The price & rating
As of the moment of writing this text, the Amazon price for this tent is around $234. I think this is almost a reasonable price, the tent is of a high quality. But it is more expensive than the other tents from the Meramac sub-types, and there are more affordable tents from other brands, you will see an alternative in the comparison table below. Please see how I rate this tent for several parameters:
My rating breakdown of the ALPS Mountaineering Meramac 3 Outfitter Tent
Area per person -

7.9/10

Area/Weight ratio -

8.4/10

Packed size/Area ratio -

8.0/10

Reliability & protection -

9.3/10

Ease of use & features -

9.2/10

Price -

8.8/10
---
Specifications
Capacity: 3 people.
Type: freestanding dome tent.
Weight: 8 lb 6 oz (8.37 lb; 3.8 kg).
Minimum weight: 7 lb 9 oz (3.43 kg)
Dimensions: 7.5 x 6.5 ft (229 x 198 cm).
Area: 49 ft² (4.5 m²).
Area per person: 16.3 ft² (1.5 m²).
Peak height: 52 in (132 cm).
Packed size: 23 x 7 in (58 x 18 cm).
---
ALPS Mountaineering Meramac 3 Outfitter vs Competitors
Here I show the Outfitter 3 tent side by side with two other tents of the same size range. It is bigger and it is also taller, but the other two tents have vestibules. I chose one super light tent and the other on the heavier side to get some idea about its weight, so you realize that the Outfitter 3 is heavier than both of them in spite of its partial fly; the reason for this is its very strong floor of course. Please follow the links to read more.
ALPS M. Meramac
Outfitter 3
Sierra Designs
Sweet Suite 3
---
Final thoughts
So as you realize, the ALPS Mountaineering Meramac 3 Outfitter Tent is the best in the Meramac series, it incorporates all the best features from the other sub-types plus the aluminum poles which you have only in the Outfitter tents. But this is still a very simple construction without vestibules, so if you plan a cruise tour or any other trip where you change the place frequently with your car or motorbike, this is a tent to consider.

Thank you for reading. If you still want to see more options, please visit my page with tents, you will find them in sizes 1 – 4 people. If you need a lighter tent, check this Mountainsmith Vasquez Peak 3 person tent with footprint. For much larger tents, please check here. Please use the comment box below in the case of questions or comments. Have a nice day. 

---