---
This Vango Mistral 300 review is about a 3-season tent with impressive features: incredible waterproof rating, solid windows, many entry points, many vents, and a great price tag.
---
Key features & benefits
Impressive waterproof rating.
2 solid windows.
4 entry points.
4 vents.
2 vestibules.
Great price.

---
Mistral 300 – what this is about
The Vango Mistral 300 is from the renown European brand, in fact from Scotland, and this is why it comes with such an incredible waterproof rating which is not so frequent in tents on the US market. The tent has been on the EU market for several years and there seem to be differences in poles and weight, so do not get confused with various descriptions. This version on Amazon-US is with aluminum poles.
The tent is a two-layer type, with the inner tent plus the full coverage fly. It is a dome style tent and it is freestanding, but here I would make the usual comment that vestibules must be staked out to have them fully functional. More about this terminology you can see in my separate text.
---
Who is it for
Spacewise, the tent is with the declared capacity of 3 people. So let's see what it offers. The inner area is quite modest as you can see from the picture below. You have only 43 ft² (4 m²), and this means 14.3 ft² (1.3 m²) per person. The tent is narrow so you can put only very narrow pads.
But see also the two vestibules, each with 1 square meter of area. When you add this, you get 64.6 ft² (6 m²) and this yields 21.5 ft² (2 m²) per person. So this is a lot of protected space, enough for three people. But if you use it for extended camping, I would say this is for two people maximum, and it is great for solo use as well.
Seasons-wise, the tent is with an incredibly waterproof fabric, with aluminum poles, low profile and aerodynamic. So it can withstand a lot of pressure from any side and this is a true 3-season tent, and perhaps even a bit more than that.
Climate-wise, the tent is with lots of mesh so you should not plan to use it in a cold environment. If you need something for such a use, better check some other tents from Vango, those that are fully enclosed and without mesh, like Vango Omega 350, Vango Venture 350, and also Eurohike Avon DLX 3 tent.
But if you use it in a warmer climate, it will be a great choice with so much mesh and many vents.
Weight-wise, from the comparison table below you will realize that if you want to carry such a 3-person tent in the pack, you have much lighter options. So this is a camping tool to be used at places with a motorized access, but indeed it is also light enough and definitely portable. Note that its packed size is great, 20 x 7 inches (51 x 18 cm), so you can transport it even on a bicycle.
---
Materials & construction
There are so many great features in this tent and I have mentioned a few above but there is much more to it.
The poles
As a dome tent, the structure is simple and similar to many other tents on the market. So you have 4 aluminum 7001 poles, and they are color coded. Two poles create the dome and two shorter are brow poles that cross the dome and lift the sides where you have the doors. This makes the doors completely vertical and adds lots of headroom, see the picture.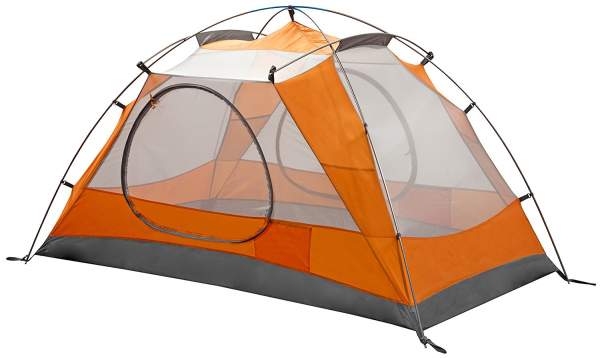 The fabric
Here you have some really great stuff. First about the fly. They call it ProTex flysheet and this is a durable 70D polyester with the waterproof rating of 5000 mm. You will never need more, this is far more than you have in most of the winter tents.
Note that you have two welded TPU windows on the two vestibules. I guess some will claim that such windows are usually weak points on any tent, but Vango has a long tradition with such windows and most of their tents have them, some are really huge. To realize what I am talking about, just have a look here, you will be surprised when you see their designs. So I would trust that they know what they are doing here. On the other hand, the windows are on vestibules so the waterproofness of the inner tent cannot be compromised in any case.
The floor is also 70D polyester with 6000 mm hydrostatic head so you can be sure it will keep you dry. They could have built it stronger but they wanted a tent that can be carried on the trail so it makes sense, and by the durability, this is still similar to many other tents on the market. But not many tents have such a waterproof rating.
Note also that some sellers in EU display the floor rating of 10000 mm but with the floor built from polyethylene, so there may be differences and I am not sure about what versions really exist on various markets. The version presented here is what you have on the US market.
The inner tent is mostly a very fine mesh and taffeta. This is again a very breathable polyester.
Note that Vango's materials are normally always tested by independent test centers to comply with EN5912 EU laws regarding waterproofness and fire retardance.
The doors
The inner tent is with two doors on the opposite sides. You get there through vestibules, and they have made in a clever way. The central section of a vestibule can be staked down and you have entrances (rather narrow though) from two side as you can realize from the floor plan above. So you effectively have 4 external entry points. This is a clever design, you can always zip some of them and store those parts for storage.
Ventilation
With such a design and materials, I think this is as much of ventilation as you could possibly have in a tent. I already mentioned the mesh, and you also have the two vestibules for the cross flow. But the fly is with no less than 4 vents, this is not so frequent and I am really impressed with this design. So I would say that the ventilation is the best you can have.
Other features
You have very useful mesh pockets in every corner, and at the apex there is a ring to hang a lantern (why not a hook I wonder, it would be much more functional).
---
Please see a bit more in this video by Vango where they present Sirocco and Mistral tents (the latter is in the second half of the video). These guys know how to choose the mountains for their videos, this seems to be filmed in the Italian Alps, the area where I normally go, now you can see why, but follow the link to see some of my stories.
---
Good and less good features
Here is my short summary:

Great ventilation.
Great waterproof rating.
Solid windows.
Easy setup.
Great packed size.
Very reliable tent.
Great price.

Small inner area for the declared capacity.
The doors are a bit small.
The price & rating
The Amazon price for this tent at the moment of writing this text is $190. I find this quite incredible for a tent with such features.
There is only a limited number of customer's reports, the tent has been on the Amazon-US for only a few months now, but it has scored a perfect rating so far; the average rating at the moment of writing this text is 5.0/5. Now, this is truly rare. See how I rate it:
My rating breakdown of the Vango Mistral 300 tent
Area per person -

8.1/10

Area/Weight ratio -

8.4/10

Packed size -

9.0/10

Reliability & protection -

9.8/10

Ease of use & features -

9.7/10

Price -

9.8/10
---
Specifications
Type: 3-season dome, freestanding tent.
Capacity: 3 people.
Weight: 8.05 lb (3.65 kg).
Dimensions: 133.8 x 90.6 in (340 x 230 cm).
Inner area: 43 ft² (4 m²).
Inner area per person: 14.3 ft² (1.3 m²).
Vestibules area: 10.8 + 10.8 ft² (1 + 1 m²).
Total protected area: 64.6 ft² (6 m²).
Total area per person: 21.5 ft² (2 m²).
Peak height: 49 in (125 cm).
Packed size: 20 x 7 in (51 x 18 cm).
Pitching time: 15 minutes.
Reflective guylines.
---
Vango Mistral 300 tent vs Competitors
In the table below I give the Mistral 300 side by side with one true backpacking 3-person tent, and the Marmot's tent which is between the camping and backpacking tents by its weight. So you realize that Mistral offers more inner area, but it is also far heavier.
Note that it is also far more affordable than the other two tents, please follow the links to see yourself.
Sierra Designs
Sweet Suite 3
---
Final thoughts
So in the summary of this Vango Mistral 300 review, I can only stress again that I am truly impressed with all the features of this tent. It is rare that I feel that the tent is underpriced, but this is how I see this case.
Note that I have no relation with Vango, so there is no bias in these statements, except for the fact that I am an active mountaineer and have been going into mountains in the past 30 years, and I can see when something is properly done. They have simply built a great tent and if you are familiar with this industry, you will realize this yourself. The tent speaks for itself.


I already gave some other options in the comparison table above, and you have many more in my page with tents, so please have a look if you need something different. Check this nicely built ALPS Mountaineering Meramac 3 Outfitter Tent with aluminum poles and thick floor. If you need a lighter tent to carry on the trail, check this Mountainsmith Vasquez Peak 3 person tent with footprint.
There is a comment box below, so let me know if you have any question or comment. I wish you a nice day.

---