---
The Marmot Crane Creek Tent is built in two sizes for 2 and 3 people and by the weight it is somewhere in between the backpacking and camping tents, so it is very versatile and suitable for both worlds.
---
Key features & benefits
Very reliable tent.
Two sizes to choose from.
Versatile tent.
Very good price.

---
What is in the name – what type is this
The Marmot Crane Creek is a new tent on the market launched a few months ago for the season 2018. They built it in two sizes, for 2 and 3 people. Here is the summary of the basic data for both of them so you can compare:
Weight per person, lb (kg)
Note that the inner area here corresponds to the dimensions they give, and this is smaller than what you can see on Amazon. So you realize that these tents do not provide much inner space, but they have two symmetric vestibules where you can store all your gear. Those are tools designed for backpacking as well and such a design is typical. The vestibules are almost the same size, but the three-person version offers far less inner area per person than the two-person tent.
This is a freestanding dome design and you can pitch it on any terrain and move and rotate after that, but do not miss to stake it down. The tent is a two-layer type, with an inner tent and a full-coverage fly which you can see below.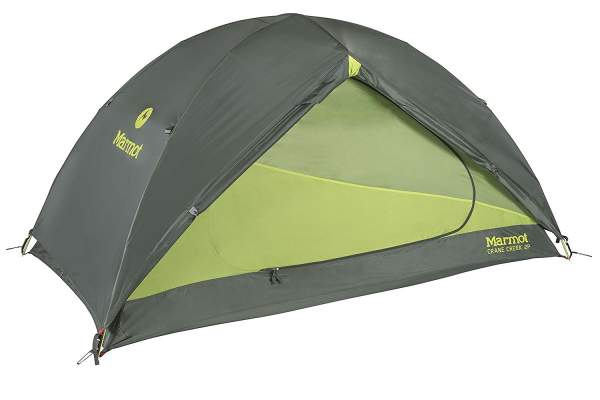 ---
Who is it for
Weight-wise, those are versatile tents, somewhere in between the ordinary camping and backpacking tents. You will see below how the Crane Creek 3 compares with backpacking and camping tents. So I have included the 3-person version in my backpacking 3-person tents list as well as in the 3-person camping tents.
Seasons-wise and climate-wise, I would say this is a 2-season tent, for summer, late spring, and early autumn. This is because of so much mesh which will not keep the warmth if you use it in a cold environment, and the fact that they do not provide any information about its waterproof rating.
---
Materials & construction
This tent looks nicely built and this impression you have wherever you look. It is with two mesh doors with long zippers and you can roll them to the side where you can fix them with toggles. Two vestibules are with central zippers so you can roll them to the sides. You can also roll only one flap on a vestibule and keep the other as a windbreaker as shown in the picture; this may be suitable when you are cooking.
The poles
The poles are aluminum 7000 series and you have them three. Two main poles create the usual X-shape self-supporting dome structure. One short brow pole crosses them and you attach the inner tent to it so that the doors become completely vertical. This also adds lots of headroom in the tent.
The structure becomes freestanding as soon as you attach the poles in the four corners. After that you can move it around to get the best position and orientation in the camp. Note that there are no sleeves here, just clips to attach the inner tent to the poles.
The fabric
It is quite disappointing for such a renown brand that they do not provide any information about materials and waterproof rating. The tent has been on the market for several months already and such an information is missing even on Marmot's site. I asked them about it and have not received any reply yet, shall add more info here if I hear from them.
On Amazon, there is only a statement that it is fully waterproof and that the seams are sealed. But every material is waterproof only up to some point, so it would be good to have exact values and to compare with other tents.
They did not provide pitching instructions in the package. I have seen that some people need it. Very bad job indeed.
Ventilation
There should be no issues with ventilation when you have so much mesh in the inner tent. In addition, you also have vents in the vestibules equipped with Velcro stiffeners and you can keep them open all the time. You can also at least partly unzip any of the vestibules and have more air flow when needed.
---
Good and less good features
Here is my short summary:

High quality.
Good ventilation.
Fair price.

A bit small area.
Poor description.
The price & rating
As of the moment of writing this text, the price for the 3-person tent is $230 and the 2-person version is $180. So this is quite a difference and it makes sense to check carefully which of them you really need.
Amazon customers have rated this tent very high, and the average rating is 4.3/5. In fact, it is hard to rate it properly because it does not fit completely in any of the groups, it is not fully backpacking (a bit too heavy for such a purpose) and it is a bit too small for a regular camping tent. Anyhow, see my attempt at rating it:
My rating breakdown of the Marmot Crane Creek Backpacking and Camping Tent
Area per person -

7.9/10

Area/Weight ratio -

8.7/10

Reliability & protection -

9.3/10

Ease of use & features -

9.2/10

Price -

9.5/10
---
Marmot Crane Creek 3 Tent vs Competitors
In the table below I give the Crane Creek 3 side by side with two tents from other top brands. So one of them is a true backpacking tent, the Sierra Designs' tent, and the Kelty's tent is in the category of camping tents. All are built in the same style as dome tents with a full-coverage fly.
Strictly speaking, those are not competitors because they are from different groups, but I do this comparison on purpose. As you realize, the Marmot's tent fills the gap between the two and I think it does it nicely. This is what makes it a versatile tent.
I have chosen the 3-person version here, but if you check the 2-person tent and compare it with other 2-person tents from my tents page you will get the same feeling, this is an intermediate model.
Sierra Designs
Sweet Suite 3
---
Final thoughts
In the summary of this Marmot Crane Creek Tent review, I would stress that the tent looks very reliable and strongly built, workmanship looks at the level of such a renown brand. But the description and specifications of this tent are really disappointing. The price appears to be fair for such a tent and brand.
There are several tents from this brand described here in the site so check in my page with tents if you need something different. You might want to check this Big Agnes Copper Hotel HV UL3 Tent and UL2 Tent which are much lighter and it offers far more protected area. Yet another option in a similar style is this Big Agnes Van Camp SL 3 tent. See also this Vango Mistral 300 with its incredible waterproof rating.

Thank you for reading. Please use the comment box below if you have questions or comments. Have a nice day. 

---