---
The Sierra Designs Sweet Suite 3 Tent is a part of a completely new lightweight series launched recently. This is a 3-season 3-person tent with 2 doors. Find out more in the text below.
---
Key features & benefits
Lightweight tent.
Two-door & two-vestibules.
Unique prebent pole geometry for extra interior space and volume.
Great packed size.
Y-pole configuration.
Dual stargazing configuration with the fly.
---
What is this about
I mentioned that the Sweet Suite 3 is a part of a completely new series launched recently (September 2017) for the season 2018. The smaller tent from the series is presented in my another post.
This is a lightweight tent in the true sense, with a packed weight of 4 lb 4 oz (1.93 kg). This is also a 3-season two-layer tent, as typical for this type. They have made quite a confusion by describing it as semi-freestanding. In fact, this is a tripod Y-shaped hubbed pole geometry, perfectly freestanding on any terrain. But if you are not familiar with this terminology, please read more in my separate text.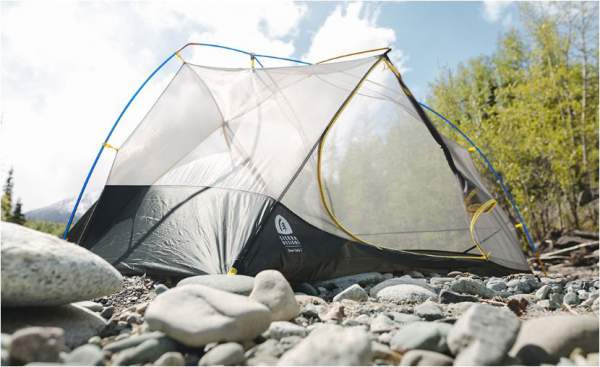 ---
Specific features
They have made poles prebent; the one on the back is so much curved that it makes the back wall almost vertical as you can see from the pictures. Those on the front are less pre-bent, but you have the same feature there as well. In addition, you also have a brow pole shown below, which makes the side walls vertical. So livability in this tent is improved with all this; it is not all about the floor surface.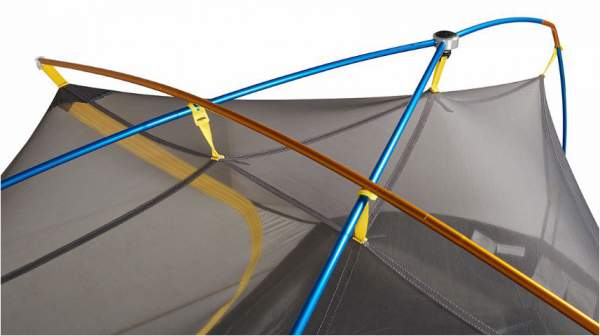 The Y-shaped pole system is already used in many tents on the market. So what you have here is not unique but they have brought it to perfection.

The fly is designed with stargazing features shown below, which means that you can roll it up from any of the two sides and fix, and you can deploy it easily in the case of sudden rain. This is introduced also in their another new series launched parallel with this series, i.e., in the Meteor 2 and Meteor 3 tents.
With all new tents you get a newly designed 'burrito' style carry bag which you can see in this video:
---
Best use & users
Now, in view of all these features, a few words about the best use and users of this tent. If the weight is shared among the users, then it is light enough for backpackers. This also implies that it is great for many other outdoor activities, regardless if it is carried in the backpack or on some vehicle like a motorbike, a bicycle, a kayak, or a car.
Below you can see its dimensions and the floor plan; it is not completely rectangular, and the width of the narrower feet zone is only 170 cm. So this is enough space for three narrow pads, but ideally, I would use it for two people only.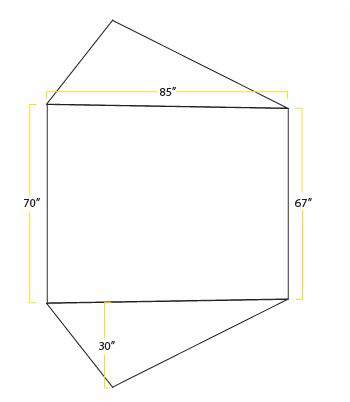 In the case of two users, you can combine it with 2 lightweight cots and you will have some extra storage space under the cots, even a dog may fit inside the tent in such an arrangement. See some nice cots here.
---
Materials
All materials used in the construction are lightweight; this is a polite expression for saying very thin. So the fly is 20D nylon ripstop, and the floor is 30D nylon ripstop. The main inner tent is all 15D nylon No-See-Um mesh.
They have shed the weight in poles by applying the mentioned Y-structure and also by using the DAC Featherlite aluminum. Here, DAC means Dongah Aluminum Corporation, a well-known pole manufacturer from South Korea. You can see at some places the letters FL in the name, this is from the Featherlite poles.
---
Waterproofing
The fly and the floor are with a 1200 mm rating achieved by a Silicone coating, the materials are with the notation FR CPAI84 both in the fly and in the floor. Here, FR CPAI84 means Fire Retardant by the standards of CPAI (Canvas Products Association International).
All seams are taped, and the fly is full-coverage, so you will surely be protected. With the fly on, the tent reminds me of my Petzl helmet, see the picture below:
See more about this brand new series in this short video by Sierra Designs:
---
Specifications
Type: semi-freestanding, 3-season, 3-people tent.
Minimum weight: 3 lb 12 oz (1.7 kg).
Packaged weight: 4 lb 4 oz (1.93 kg).
Dimensions (L x W): 85 x 70/67 inches head/foot (216 x 178/170 cm head/foot).
Peak height: 43 in (109 cm).
Floor area: 40.4 ft² (3.75 m²).
Vestibule area: 8.9 ft² + 8.9 ft² (0.83 m² + 0.83 m²).
Packed size (L x W): 17 x 6.75 in (43 cm x 17 cm).
Doors: 2.
Vestibules: 2.
Guylines: 4.
Stakes: 10.
Poles: Y-shaped 3 poles hubbed together + 1 ridge pole.
Pole material: DAC Featherlite aluminum.
Fly: 20D Nylon Ripstop, Silicone 1200 mm PeU, FR CPAI84.
Floor: 30D Nylon Ripstop, Silicone 1200 mm PeU, FR CPAI84.
Body: 15D Nylon No-See-Um mesh.
---
Footprint
This tent comes without a footprint, it is not compulsory but you might want to order it; if so please check here. Its specifications are as follows:
Weight: 9.3 oz (264 g).
Dimensions: 81 x 66/62 in (head/foot) (205.7 x 168/157 cm (head/foot).
Storage bag size: 10 x 7 x 0.8 in (25.4 x 18 x 2 cm).
Storage bag weight: 0.4 oz (12 g).
Fabric: 68D Polyester Taffeta, WR/PU 1800 mm, FR.
As you see this is a much stronger material than the tent, and waterproofing is also much stronger. It is not expensive, so it may make sense using it. It will protect this expensive tent from sharp objects on the ground and extend its lifetime. I love the carry bag, it is very nicely designed, have a look: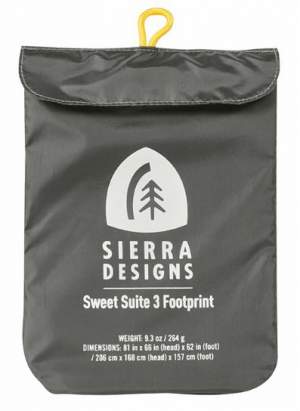 ---
Summary, rating, pros & cons
In the conclusion of this Sierra Designs Sweet Suite 3 Tent review, to stress again its very specific features, its great weight, but also its price which is very steep. But this is a reliable and versatile tent which will give you all protection from the elements. As always, I stress that I trust the brand behind this tent and I can fully recommend it. This tent is on the list of my best backpacking tents for 3 people.
Please see how I rate this tent:
I have already mentioned a few news tents launched by this brand for the season 2018, so you can see them all in my page about tents and shelters. Check also this Big Agnes Copper Hotel HV UL3 Tent which offers much more protected area under its porch and vestibule. If you need a basecamp-type 3-person tent, check this Vango 350 tent with 2 rooms.
Thank you for reading. Please use the comment box below in the case of any comment or question. I wish you a nice day.