---
This Vango Omega 350 review is about a 2-room basecamp-type award-winning tent which offers lots of space for three people and a full weather protection with its impressive waterproof rating. It comes with the tensioned band system which will ensure that it performs well in adverse conditions.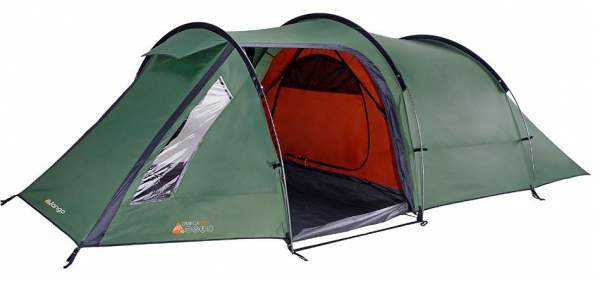 ---
Key features & benefits
2 rooms.
2 doors.
Huge area for 3 people.
Impressive waterproof rating.
PVC windows.
Very good price.
Easy setup.
---
What type of tent is this – what's in the name
The Omega 350 is a 3-person tent and the number 350 in the name indicates the fact that it has quite some extra space, so they want to tell you that this is basically a 3.5-person tent.
By the structure, the tent is a tunnel-type, so the setup is easy and simple with all color-coded poles, but you will need some 10 – 12 minutes for sure. This is also a tent with 2 separate rooms, so this is a bit unusual for a 3-person tent. In view of its structure, the tent is not freestanding, so plan where you are going to camp with it, you will have to stake it down properly.
The tent is a hybrid single-double layer type. This means that you have the inner tent for sleeping attached to the shell structure. The living area is a single layer zone.
Note that the tent has been around at least since 2011, and it has received the DofE Award (i.e, the Duke of Edinburgh Award). I have included it in my list of the best 3-person camping tents.
Please see more about the Omega series in this short video by Vango:
---
Who is it for
Capacity-wise, the tent is as mentioned above, for 3 people, but let's see what it offers. They do not provide the exact data for the tent's area, but my estimate based on the floor plan shown below is 97 ft² (9 m²). So this is around 32.3 ft² (3 m²) per person, and this is really a generous area. You will not find many tents with such a luxury.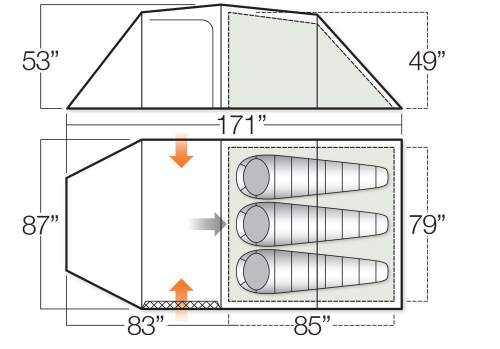 Note that the sleeping room is a tent within the tent and there is a gap between the two, which is good for ventilation but it takes a bit of space on the three sides. So the sleeping area is 215 x 200 cm which is enough for three pads on the floor but this is quite narrow.
Seasons-wise, this tent comes with a very high waterproof rating (more below) so it is definitely suitable for any weather conditions in a 3-season use. Note that the tent is designed in Scotland, the Vango is a Scottish brand so they should know how to deal with the rain.
Did you know that the name Vango comes from Govan, which is the place in Scotland where the brand originated several decades ago by one single person?
Weight-wise, with its 11 lb (5.0 kg) this is hardly a tent to carry around. But they give the trail weight which is 9.37 lb (4.25 kg). The meaning of these terms is explained in detail in my separate text. Observe that its packed size is exceptionally good, it packs to its carry bag which is only (L x D) 19.3 x 7.9 inches (49 x 20 cm) so you can transport it in various ways, even on a bicycle.

---
Materials & construction
The fabric
The tent has two separate units. The living area is with a linked-in floor, this means that you have buckles to attach it to the shell. So this is both good and bad. The good is that it is removable and you can clean it easily. As it is, it provides a clean area where you can sit during the day and store all your stuff. The bad is that it is not sealed to the shell, although the groundsheet is waterproof itself. This means that wind gets in when the weather is nasty, so you will not avoid draughts, and it is also open for crawling insects.
But the inner tent is with its own bathtub floor so you have a full protection from the ground. Note also that the inner doors is a taffeta and also with a mesh section on the top for ventilation.
The materials are weather tested beyond the European standard EN5912 by a certified test center, and it is also fire retardant fabric that exceeds European EN5912 safety standard.
Waterproof rating
It is impressive, to say the least. The shell is Vango's Protex 70D polyester with a 5000 mm hydrostatic head. So this is a really high waterproof rating. This value corresponds to 7.11 PSI, if you are not familiar with this terminology please check here.
The mentioned groundsheet and the floor are 70D, 6000 mm polyester, so again a very high rating. You will not find many tents on the market with such numbers, in particular with such a price tag. Note also that everything is factory taped so the seams will not leak.
The doors & windows
There are two very large entry doors on the opposite sides. You should know that only one is equipped with a mesh as the second layer. Pity they did not add it to the second door too, but this is a kind of a budget tent, at least for Vango's standards.
The inner door is O-shaped and it is with mesh in the upper area for ventilation.
The windows are solid PVC material, so this is a fully enclosed shell design; you have shutters from inside to reduce glare and for privacy.
The poles
There are three of them, they are color-coded and this is Vango's PowerLite 7001-T6 aluminum alloy, thin but reasonably durable. Have seen somebody camping in a strong storm and one of them became damaged.
TBS system
This TBS system it is used in all Vango's tunnel tents. This includes tensioned bands inside the tent, they are attached to the sides and you have separate pockets to store them when not in use. But when it is windy, you clip them with buckles on the highest point on the poles, this creates a very stable triangular structure which adds a lot of stability with respect to the lateral movement of this tunnel structure.
Note that you also have numerous guylines, so stake them properly and you will be fine with this tent regardless of the weather conditions.
Ventilation
There are no floor vents in place here, but you have high vents, one on the front and one on the back. In combination with the mesh doors, this should work well at least as long as the weather is fine.
Pockets
There are series of pockets on both sides in the sleeping room, so you have quite some space to keep your small items off the floor.
Using cots & chairs inside
If you prefer sleeping off the ground, there are very low cots that will fit in this tent nicely. Some of them are ultra-lightweight and you can see them here. Some of them are only 6 inches (15 cm) tall so they will fit even in this relatively low tent with the ceiling of some 135 cm (53 in).
If used by a couple, you can also fit any queen size air bed inside, or you can use some double sleeping pad.
The living area is high enough to use some of those low camping chairs, like this Big Agnes Helinox Ground chair.
Setting the tent up
In the video, you can see how it is done. Please note that they attach the inner tent separately. In fact, you can keep it attached all the time and save time.
---
Specifications
Type: tunnel tent, non-freestanding.
Capacity: 3 people.
Weight: 11.35 lb (5.15 kg).
Trail weight: 9.37 lb (4.25 kg).
Dimensions: 171 x 87 in (435 x 220 cm).
Area: 97 ft² (9 m²).
Area per person: 32.3 ft² (3 m²).
Peak height: 53 in (135 cm).
Packed size (L x D): 19.3 x 7.9 in (49 x 20 cm).
Pitching time: 12 minutes.
---
Vango Omega 350 tent vs Competitors
Here I give the Omega 350 side by side with two other tents from the same or similar size range, though they are quite different in many ways. So the idea is to show you some other options available on the market and to see what you can expect from a tent in this size range. Note that the Snugpak tent is officially for 4 people but it is too small for such a number of people. Please follow the links in the table to read more.
33 x 24 x 19
(85 x 61 x 48)
---
Final thoughts, rating, pros & cons
In the summary of this Vango Omega 350 review, I would stress that my average rating for this tent is surprisingly high, but I use the same criteria for all these tents and the result is what you see. If you check every parameter separately you realize that the average rating is justified. But bear in mind some objections I gave above, the tent is not perfect.
The area per person is huge and the tent is surprisingly lightweight for such a size. The packed size is simply incredible and the price is more than appropriate. With such a waterproof number, it would deserve an even higher rating, but I reduced it due to the fact that the living room is not with a sewn-in floor. In any case, I have added it to my list of best 3 person tunnel tents for camping.
Please see how I rate this tent:
Note that you also have the Vango Omega 250 and Vango Omega 500 XL in this series. If you need something portable from the same brand, check this Vango Banshee 300 tent. You might want to check also the Vango Beta 450XL with 2 rooms.
If you need something different please check my page with tents. Check this Coleman Oak Canyon 4 with 3 rooms and blackout design. For much larger tents, with a capacity 6 people and more, check here.
Thank you for reading. Please use the comment box below in case of questions or comments. Have a nice day.