---
Crua Tri 3 Person Thermo Insulated Waterproof Family Tent is a completely unique system with its inner tent with the R-value 4. This is a true 4-season tent, sturdy and reliable, and with an excellent ventilation system.
---
Key features & benefits
Completely unique design.
True 4-season tent.
Thermally insulated.
R-value 4.
Sound insulation.
Waterproof but breathable materials used in the construction.
Dark rest tent.
Wheelchair accessible.
---
What kind of tent is this – what is in the name
♦ This tent is also known under the name Mark 3 tent.
♦ Technically, this is a double-layer tent, but of a kind which you have probably never seen before. So you have an outer waterproof and breathable rain shell tent which includes everything from the fly to the floor, and inside you have a cocoon – an insulated inner tent which you attach to the frame from inside. The only tent on the market with a similar design is its bigger cousin from the same brand, the Crua Loj 6 tent.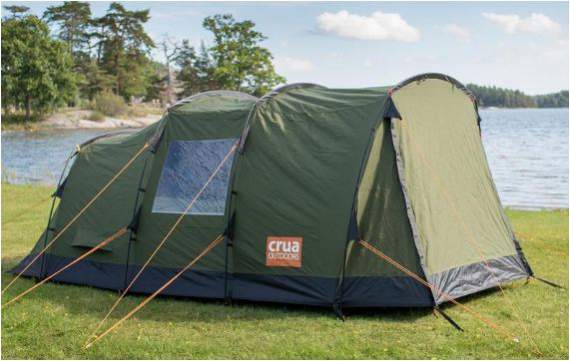 ♦ The tent is a tunnel-type, with 4 sets of poles that support its elongated structure, see the picture above. The tent is not freestanding, so it needs to be staked down. In view of its weight and the packed size, this is a car camping tent, so not something to carry around, more about this below.
♦ The tent is a single room, but you have a porch without a floor. The porch is a big space and of the same height as the rest of the tent, fully enclosed and protected, and it looks almost like another room.
♦ There is a trend now of building dark rest tents (or dark room tents). If you are not familiar with the terminology, please see more here where you will find some great examples. So the idea is to have the sleeping area dark so that the glow is reduced and you can sleep longer in the morning, or take a nap during the day.
So this Crua Tri 3 tent is a great example of this sort, I am sure a tent cannot be darker than this, and you will realize this from the pictures and videos below.
♦ Related to this "darkness" is also its sound insulation. The inner cocoon is with the insulation which drastically reduces sounds from outside, so you have a quiet place to sleep. All these features are summarized in these graphics: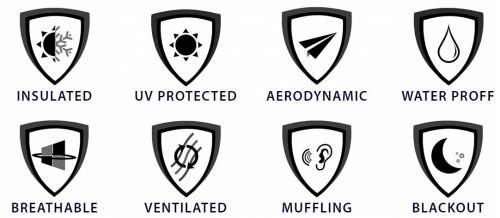 ---
Who is it for
Capacity
The official capacity of this tent is 3-person. With its 68.5 ft² (6.36 m²) of the floor area, this tent provides 2.12 square meters of space per person, which is more than enough, and you will not find many tents on the market that would match this.
However, the sleeping area is only around 4.6 m² and the remaining 19.5 ft² (1.8 m²) is the porch with the front vestibule, see the proportions and the dimensions in the picture. Also, the inner cocoon walls take a few centimeters on all sides, and it is also separated from the shell tent, which reduces the actual width to some 170 cm only.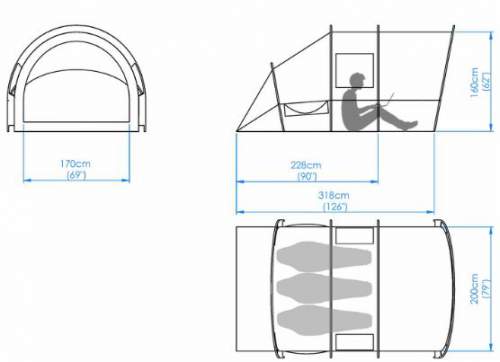 But this inner cocoon zone is for sleeping only and this in very cold situations, so you wouldn't want too much space around, a smaller space in the cocoon will make you warmer. See below about the temperature testing.
You have plenty of space for sitting on the porch where you can also cook and store your gear. The front panel is with two long parallel zippers, so the porch area is completely protected and you can also create an awning.
So this is a tent for parents and one small kid, or for a group of three campers, or ideally just for a couple who wants more comfort.
Weight and packed size
Everything here is built to last, with strong and durable materials, so the tent is heavy. You have 48 lb (22 kg) of the total weight (these data are from the brand's site directly, different from those on Amazon). Therefore you need a car for transportation, and the tent can be used at places with a motorized access.
The packed size is also big because of the bulky inner cocoon tent and you have 33 x 24 x 19 inches (85 x 61 x 48 cm). So again, you need a car to transport it.
True 4-season tent
Yet another feature makes this tent different from all other 4-season tents currently on the market. Namely, if you plan to use it in a warmer environment, you can leave the insulated inner tent at home and use the outer tent alone (though they recommend using both throughout the year, this I have been told after contacting the brand). The tent is designed properly, with lots of ventilation so that you can use it anywhere in a warmer environment. Without the cocoon, the inner area is larger.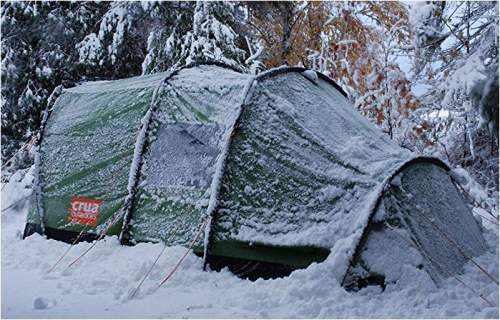 But for a cold environment and in real winter, you will certainly use it with the inner cocoon, and you will have one of the warmest winter tents that exist.
You realize how different this is in comparison with the usual so-called 4-season tents, which are essentially winter tents and not particularly pleasant for use in other seasons, mainly because of ventilation issues. So this is a tent for all seasons, literally, and I have included it in my list of best winter camping tents. More about ventilation below.

In this video you can see a few more features, please have a look:
---
Setup
One person can set this tent up very easily in some 15 – 20 minutes. It is best that you see this detailed video by the people from Crua Outdoors who built this tent, so please have a look:
---
Materials
Poles
You have them 4, all shock-corded strong aluminum poles, plus 2 shorter poles which you add inside to keep the cocoon in place, you have seen this in the video.
Fabric
Here you have something specific, a mixture of cotton and polyester, known as poly-cotton. The inner tent fabric is poly-cotton 65/35, and the outer shell material is laminated poly-cotton 80/20. A bit more about tent materials please see here.
So all materials are breathable and the external layer is also waterproof. This is their own Dura-Breathe system. The insulation layer is a hollow fiber material. See the cross-section through all the layers: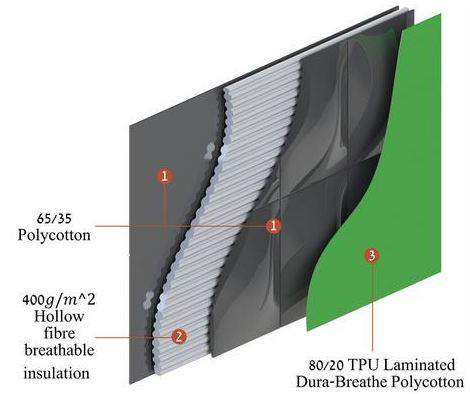 The tent is with two windows where you have PVC panels. They claim they tested it at temperatures down to -25 C (-13 F) and they were performing great.
---
Waterproofness
This tent comes with an exceptionally high waterproofness rating, no less than 5000 mm Hydrostatic Head. You might want to compare this with some other winter tents presented in the site to realize how exceptional this number is.
This is achieved by the lamination layer on the underside of the tent fabric, so the material is both breathable and highly waterproof. But this all is what makes it so heavy, and as you realize there are good reasons behind such a weight.
---
Wind resistance
The tent is quite aerodynamic so position it properly when you set it up. The back is streamlined and low, so it will perform well in the wind. Numerous guylines are available, and they include a reflective material. The tent comes with excellent aluminum stakes, you have seen them in the video above.
---
Ventilation and breathability
All the materials used here are breathable, both the outer shell waterproof tent and the inner cocoon tent. But in addition to this, you have the following elements which help air circulation:
There are three separate wents, all equipped with dual stiffeners and Velcro tabs so you can keep them open as you wish even when it is raining. Two vents are on the fly outside, and one is above the entrance door so it is deep under the porch. In combination with the other two vents which are much lower, you have a good vertical air circulations. Note that the vents have mosquito mesh so you are safe there.
The huge door is with mesh. Note that this door is also deep under the porch, and you can keep it with mesh even when it is raining, so you have a great air flow from this side.
The inner cocoon tent is with two large inner windows with insulated flaps which you can roll up and fix with toggles and get fresh air through the outer vents on the fly, or you can close them when it is cold.
All these features are a guarantee that you can always have an airflow, so ventilation cannot be an issue in this tent regardless of where you use it.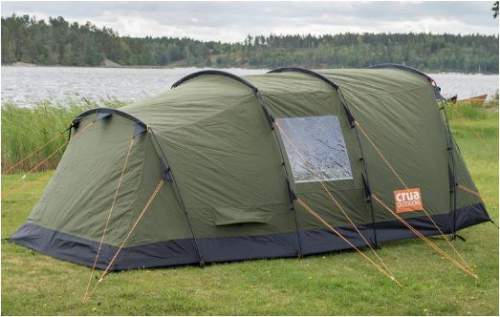 ---
Thermal insulation
The inner cocoon is with an effective insulation R-value of 4. So if you are familiar with ordinary insulated sleeping pads, you realize that this tent itself is in the insulation range of a top-quality winter pad like this Klymit Insulated V Ultralite SL.
On the other hand, the poly-cotton fabric itself is such that it makes the tent cooler in a warm environment and this is one of the reasons for making such a combination. The lamination used in the shell tent also adds to this effect, so this is an environment which is far more pleasant than any synthetic material. The tent is included in the list of insulated tents for camping.
Testing
They have performed testing by using a small heater which would simulate the warmth released by bodies of 2-3 users. So they were monitoring the inner temperature in the cocoon tent and compared with some standard tents, and the results are impressive, have a look in this video:
All materials used here are high quality and robust, and this is behind the weight of the tent. So this is not necessarily a bad feature, you will need a car for transportation in any case. It is very bulky because of the thick material of the insulating inner tent. So again, this is not a bad feature in general; perhaps you will not use the cocoon in the usual 3-season environment.
---
Specifications
Total weight: 48 lb (22 kg).
The tent weight without the inner cocoon tent: 30 lb (13.6 kg).
Dimensions: 126 x 79 in (318 x 200 cm).
Total floor area with the porch: 68.5 ft² (6.36 m²).
Inner floor area: 50 ft² (4.6 m²).
Area per person: 16.7 ft² (1.53 m²).
Total area per person: 22.8 ft² (2.12 m²).
Porch: 6.5 x 3 ft (198 x 91 cm).
Porch area: 19.5 ft² (1.8 m²).
Peak height: 62 in (160 cm).
Packed size: 33 x 24 x 19 in (85 x 61 x 48 cm).
Two-year warranty.
---
Crua Tri 3 tent vs competitors
Here I give the Crua Tri tent side by side with two tents from other brands, all for car camping and in a similar size range, but completely different in style. Note that the floor size here only includes the inner flor area, the vestibule (porch) is extra.
You will notice that the Browning tent offers far more space, but only the Crua Tri is the insulated tent here. On the other hand, the Crua Tri is much heavier and this is partly because of the insulation tent. Without it, the shell tent is around 30 lb (13.6 kg). So it is still heavier than other tents, but remember that here you have a completely different tent fabric with cotton, and with lamination. To see more please follow the links in the table.
33 x 24 x 19
(85 x 61 x 48)
---
Final thoughts, rating, pros & cons
So, after reading this Crua Tri 3 Person Thermo Insulated Waterproof Family Tent review, I hope you are equally impressed as I am. This is something unusual and original. This is an expensive product but worth every penny, and you will not find anything that can match their features. I have added this tent to my list of best small canvas camping tents.
Note that they also have the Crua Cocoon Insulated Dome Tent which can be used in their Crua Dome Duo tent or on its own, with R-value 9.
See below how I rate it. You might just ignore the weight; it plays no big role here because you will not carry this tent.
You might want to check also this Vango 350 which is for 3 people but has 2 rooms. If you need something different for car camping, please check this text with a long list of such tents; in particular check this Vango Capri 4 tent which offers more than 13 square meters of space in its 3 rooms. Check also this Coleman Oak Canyon 4 with 3 rooms and blackout design. For winter tents, but of the 'standard type' please check in this text.
Note that I am not paid by the brand or related in any sense, so this is NOT a sponsored text. I only give my unbiased view of the tent.
Thank you for reading. In the case of question and comment, please use the comment box below. I wish you a nice day.