---
Klymit Insulated V Ultralite SL Inflatable Sleeping Pad is the new 2018 model, the lightest insulated sleeping pad they have ever built. Read more here.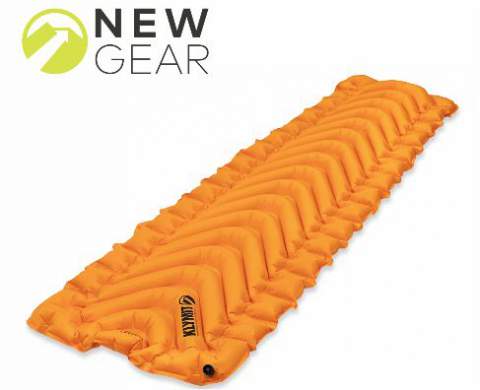 ---
Key features
Incredible weight.
Insulated.
Great R-value.
Great price.
Body mapping technology.
Very comfortable V-chamber design.
---
What is in the name
If you feel lost with so many variants of the Klymit's pads, I can understand you completely. So to make things clear, this is a new 2018 version, the lightest they have ever made, hence the word Ultralite in the name.
This is an insulated sleeping pad with around 113 grams of synthetic insulation, this is my estimate by comparing it with the non-insulated version. This new insulated model differs from the previous Static V Insulated pad in the following:
New Klymit Insulated V Ultralite SL
Weight: 15.9 (450 g).
Size: 72 x 20 in (183 x 51 cm).
Fabric: 20D.
Shape: tapered to 18 inches.
Previous Klymit Insulated
Weight: 19.6 oz (556 g).
Size: 72 x 23 in (183 x 58.4 cm).
Fabric: 30D.
Shape: rectangular.
So they have reduced the width, the shape, and the fabric thickness, hence the difference in the weight.
Note that this insulated pad is the same size and shape as the non-insulated version which they launched parallel with this one, and you can see it here. The difference is only in the weight, which is due to the added insulation.
As the name suggests, this is an inflatable pad and it inflates in some 10 – 15 breaths, dependent on your lungs capacity of course.
---
Who is it for
This pad is an ultimate tool for backpackers in their winter adventures or for mountaineers and hikers who camp at high elevations in summer. But this also implies that it is suitable for any outdoor activity in a cold environment, regardless if you are a professional or beginner.
Note however that the pad is relatively short, only 72 inches (183 cm), so definitely not for very tall guys, and it is built in one size only. This is a pity and this is what makes it inferior to some other pads on the market that are built in several sizes.
---
Insulation
The R-value is 4.4, so this makes it a winter pad. If you are not familiar with this terminology, the line between the 3-season and winter pads is roughly around the R-value 3 (not everybody will agree with this). The insulation of this pad makes it suitable for the temperatures of 15 F (-9 C), but this is very much individual. In any case, this value here is achieved by the Klymalite lofted synthetic insulation.
Its actual R-value might be even bigger because of its V-chambers and the space between them. Namely, the loft from the sleeping pad may partly fill these wide spaces, and it is then less pressed by the body. In such a state it preserves more of its own insulation, adding to the total insulation from the ground.
---
Body mapping technology
This is something specific for this brand in the way they use it here, but such a body mapping is used also by some other brands, like Sea to Summit.
They use this Body mapping system to focus the padding and support the critical areas where more weight is expected. With this, they are able to achieve maximum comfort and insulation with a minimal weight.
A part of this design is the famous V-shape chambers structure which you see in pictures, used in combination with the lateral side rails. This is introduced to trap the air at least partly and to prevent shifting, so you have a uniform and consistent support; with these side rails, you are better situated on your pad at night.
---
Other features
Chambers are filled with loft Klymit synthetic insulation which taps the body heat to keep you comfortable. Such a material preserves its insulation properties even if it becomes wet.
Rugged 20D polyester is used in the construction to ensure maximum durability, this is their statement. In reality, take care of this stuff, it is very fragile.
This is a compact design.
One you deflate it, it will fit snugly into its stuff sack.
You have a tapered design for weight savings; from 20" on the head area to 17" on the feet area.
---
Specifications
Type: inflatable pad.
Weight: 15.9 oz (450 g).
Dimensions (L x W x H): 72 x 20 x 2.5 in (183 x 51 x 6.5 cm).
R-value: 4.4.
Packed size: 7 x 4.5 in (17.8 x 11.4 cm).
Inflation: 10 – 15 breaths.
Klymalite lofted synthetic insulation.
Fabric: 20D durable polyester.
Warranty: Klymit lifetime.
Stuff sack included.
Patch kit included.
---
Klymit Insulated V Ultralite SL vs competitors
Here is the Klymit pad side by side with two of its competitors. As the numbers show, its features are a bit better, but the other two pads are also great, see the R-values. To see more please follow the links in the table.
Klymit Insulated
V Ultralite SL
---
Final thoughts & rating
So in the conclusion of this Klymit Insulated V Ultralite SL Inflatable Sleeping Pad review, one must admit they have made it lightweight, but this is on the account of comfort, their previous insulated pad was wider. However, they have managed to keep the price low, and this you realize if you compare it with the other two pads in the table above.
See how I rate it:
Note that this pad is still not the lightest insulated pad on the market, you can realize this if you have a look at my another text. See also my comparison text Therm-a-Rest NeoAir XTherm vs Klymit Insulated V Ultralite SL Pad. 
Thank you for reading, if this pad is not for you or you need something bigger, please have a look at my page with pads, there are many great models described there. You might want to check the Armored pad from the same brand, launched for the year 2018. In the case of questions or comments, please use the comment box below. Have a nice day.