---
Klymit Armored V Inflatable Sleeping Pad comes with rugged 300000 precisely positioned armored SuperFabric scales which cover the entire underside, creating a barrier that protects it from puncture, abrasion, slashing and moisture.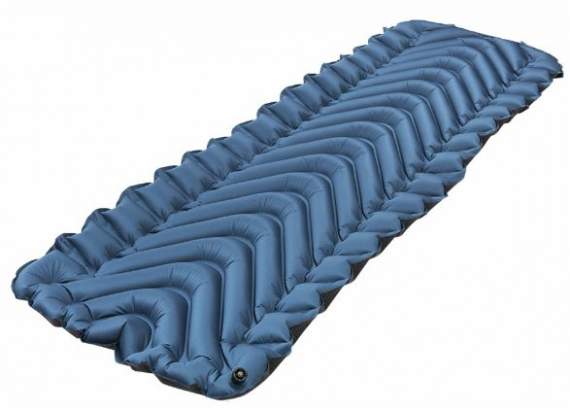 ---
Key features & benefits
Completely unique armored pad.
The toughest pad on the market.
300000 pieces of armored SuperFabric scales on the bottom.
V-chambers design which reduces the air needed to inflate the pad.
Very efficient valve system.
Rectangular design.
---
What this is about
This is the third sleeping pad they launched for the season 2018, after the Klymit V Ultralite SL and Klymit Insulated V Ultralite SL pads. But contrary to the other two pads, this one is again rectangular as the older models from Klymit. Above all, what you have in this Armored sleeping pad is unseen anywhere, a totally unique system.
The armor
So what you have is a fish scale-like structure on the bottom part of the pad, 300000 pieces of what they call SuperFabric scales. Those are tiny guard plates firmly attached to the fabric. There are gaps between these plates and they make the structure flexible, see the picture above. This is a structure that will stand up against anything you can have on the trail.
The material is incredibly strong and it can resist puncture, slashing (you will see this in the video below), and abrasion. See this video, the guy is slushing this pad with a sharp knife. It is in German but you need no words here, just watch for 4 minutes or so:
Durable fabric
The fabric itself is very durable, unlike anything they used in the other two new pads mentioned above. So you have 100D nylon on the bottom and 50D stretch polyester on the upper part of the pad.
In spite of such an armor and the durable fabric, you can still fold it and roll into to a small and compact package of only 9 x 5.5 inches (22.8 x 14 cm).
All this comes at a price of course, in terms of money and weight. So the pad is expensive and its weight is 2.4 lb (1.1 kg), not everybody will like to hear this.
R-value
The Armored V sleeping pad is not meant to be a winter tool, but it has some moderate R-value of 1.6, which makes it suitable for chili nights in 3-season use.
Note that this is the Klymit's classic V-chamber design, so you have the usual features that come with this. Namely, the channels between the air baffles are wide and they may be partly filled by the loft of the bag, which may a bit increase the insulation due to the fact that this loft is less pressed by the body. So the pad may be warmer than you would expect.
V-chambers
The same technology is here as in other Klymit pads, so the recognizable V-shaped chambers are together with lateral short air-rails. This is all designed to cradle you on the pad and to expand the pad under the body pressure both longitudinally and laterally.
I have not seen any statement about the body mapping technology used in all their pads, but I guess nothing is changed and you have it here as well.
Inflating and deflating
This is the same valve system used in all their previous pads, nothing is new here, all reliable and easy to use, a single valve system. You can inflate it with 10-15 breaths, the V-chambers play their usual role in this.
---
Who is it for
Regarding its toughness, I am sure everybody would love to have this pad, who wouldn't really. But see the weight, it is 3.3 times heavier than the Klymit Ultralite SL pad they just launched. So perhaps ounce-counting backpackers might not think about this pad as their first choice. But if you are not in a situation to carry it really long distances, then this is the tool. The more durable pad you will not find.
Sizewise, it is far from impressive. You have only 72 x 23 inches (183 x 58.4 cm) here. So the length is the same as in the other two new pads, but the width is much better here. In any case, bear in mind its length if you are a tall guy.
Pricewise, you will see the number below, this is an expensive tool, with all the good reasons for sure, but not for everybody's pocket.
---
Good and less good features & rating
Here is my short summary:

Great quality.
Completely unique.
Very durable & tough materials.
Not bad R-value.

Short.
What if it gets punctured?
Expensive.
Heavy.
The toughness of the materials used here cannot be questioned. This is the most durable pad ever built. But eventually, every material gets punctured. If this happens on the armored part of this pad, I do not see any way to seal it.
As for the weight, it is natural in view of all its armor and the durable fabric, so this is not necessarily a bad feature, but it may reduce the number of potential users.
The price & rating
As of the moment of writing this text, the Amazon price for this pad is $200. So this is an expensive piece, but totally worth the money if you can afford it. See how I rate it:
My rating breakdown of the Klymit Armored V pad
Weight -

8.9/10

Size -

8.8/10

Comfort & features -

9.9/10

R-value -

7/10

Packed size -

9.4/10

Price -

7.5/10
---
Specifications
Weight: 2.4 lb (1.1 kg).
Dimensions (L x W x H): 72 x 23 x 2.5 in (183 x 58.4 x 6.4 cm).
R-Value: 1.6.
Inflation: 10-15 breaths.
Packed size: 9 x 5.5 in (22.8 x 14 cm).
Fabric: 50D Stretch top & 100D Armored Nylon Superfabric bottom.
Warranty: Klymit Lifetime.
---
Comparison with other pads
Currently, this Armored pad has no competitors, it is totally unique, nothing even remotely close to its features. Therefore, instead of competitors, here I give it side by side with the mentioned two new ultralight pads from the same brand. Those are built from thin yet tough materials, and the differences in the R-values are considerable.
Klymit Inuslated
V Ultralite SL
---
Final thoughts
In the summary of this Klymit Armored V Inflatable Sleeping Pad review, I would stress that it is so easy to get impressed with this pad. What you have here is not available on any other pad on the market, this is a totally unique and technologically very advanced design. But this all makes the pad heavy and pricy, and this is behind my relatively low average rating.
Obviously, it can withstand a lot so if you can afford it, no need to think twice, you will not find anything similar to this. My rating for its durability is the highest I have ever given to any pad.
The problem I have with this pad is that I cannot find the best use for it. It is too heavy to use as a backpacking tool, and if this is about car camping you would have better options without such an armor; see my list of best pads for car camping. But it may be light enough for short hiking, mountaineering, and climbing tours, in particular if you want to avoid unpleasant surprises and need a truly reliable pad.
Thank you for reading. If you need something different, please have a look at my page with pads, there are many great models described there. In the case of questions or comments, please use the comment box below. Have a nice day.

---