---
Klymit V Ultralite SL Sleeping Pad is a new item on the market introduced by Klymit in 2017 as the lightest in their Static Series line. It weighs only 11.9 oz (337 g).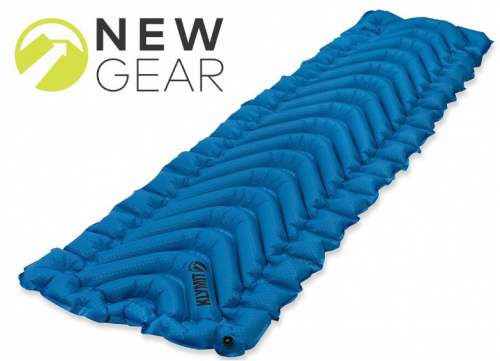 ---
Key features
Ultra-lightweight.
Incredibly packable to the size of a water bottle.
Inflates in 10-15 breaths.
Body mapping technology.
---
What type sleeping pad is this
No doubt they modeled this pad after their famous Static V pad (see in the comparison table below). But this is the lightest Static V pad they have ever made. So this is an inflatable, uninsulated sleeping pad, and you have the well-known V shape profile in its air chambers. Such a design is there to limit air movement and heat loss.
The V chambers combined with much shorter lateral chambers are designed so that you are cradled on the pad; with this, it is less likely that you roll off. Yet another reason is that when pressed by the body, the pad extends evenly in both directions, longitudinal and lateral.
On the other hand, the space between the baffles reduces the amount of air needed to inflate, while at the same time they are also at least partly filled by the loft of the bag, which should increase the insulation (because this loft is then less pressed by the body). So these are all the great reason for this recognizable Klymit's design.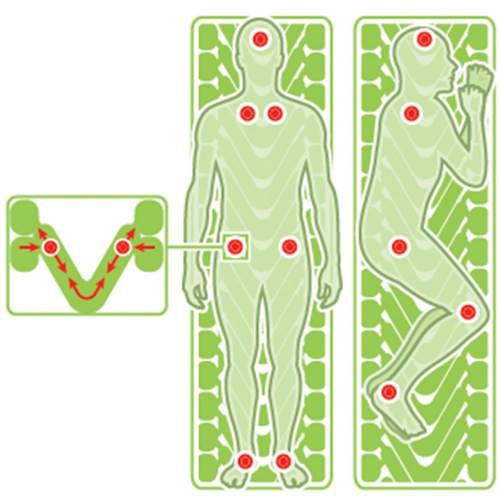 The pad is built from a 20D ripstop polyester to deliver the perfect balance of weight and durability. It comes with the Klymit's body mapping technology. This means you get an optimal contoured support at places where it is most needed as depicted in the illustration above. This increases the comfort and reduces the weight. The same technology is used in some other pads from this brand, see for example this Klymit Static V2 and  Klymit Static Insulated V Luxe pad.
The feet section is tapered to reduce the weight. So you have 20 inches on one end and 18 inches on the other. The packed size is incredible, only 6.5 x 2.5 inches (16.5 x 6.4 cm), and you can realize this from the picture below.
---
Who is it for
In view of its size and weight, they obviously built it with backpackers in mind. But if good for such an activity then it is perfect for any other outdoor activity where you would carry it in the backpack. Its packed size is such that it stores easily regardless how you transport it.
Sizewise, the pad is rather small and narrow. You have 72 x 20 inches (183 x 51 cm), so if you are a tall person you will have to try something else. Though the width is nothing unusual for ounce-counting users.
Seasons-wise, this is a pad for warm weather and for summer use. It has some small insulation properties and you have 1.3 R-value here, but for a cold environment you should use some insulated pad; note that there is an insulated version of this same pad launched parallel with the present one.
---
Good and less good features & rating
Here is my short summary:

Great quality.
Ultra lightweight.
Great packed size.

A bit expensive.
Short and narrow.
Very thin fabric.
The price & rating
As of the moment of writing this text, the Amazon price of this pad is roughly $100, the links below will show the daily updated price. For ounce-counters, this will be a reasonable price but not for everybody.

On the other hand, when you see the comparison table below, you will realize that they made it small and narrow, and they used a very thin material. So you will have to be careful in handling the pad, it is indeed rather fragile. These are the factors behind its incredible weight and packed size. But if the price is an issue, you will see that there are some other options available as well. My rating of this pad is as follows:
My rating breakdown of the Klymit V Ultralite SL Inflatable Sleeping Pad
Weight -

9.8/10

Size -

8.4/10

Comfort & features -

8.2/10

R-value -

7/10

Packed size -

9.8/10

Price -

7.5/10
---
Specifications
Weight 11.9 oz (337 g).
R-value: 1.3.
Size (L x W x H): 72 x 20 x 2.5 in (183 x 51 x 6.5 cm).
Packed size: 6.5 x 2.5 in (16.5 x 6.4 cm).
Fabric: 20D polyester.
Warranty: limited lifetime.
Stuff sack and patch kit included.
---
Klymit V Ultralite SL pad vs competitors
Here I give this SL version together with the Static pad from the same brand on purpose, to see what differences they introduced here; so this is not a competitor in the strict sense. But the Sea to Summit pad is indeed a great competitor, to see more please follow the links:
---
Final words
I am really impressed with the Klymit V Ultralite SL Sleeping Pad, it is incredible how packable it is and how super light it is. It is as comfortable as any of the pads from the Static series, the V-baffles, and the lateral baffles work as expected. But bear in mind its size and the thin fabric and look for an alternative if you are a tall person, this pad is built in one size only.
I already gave a few links above, in the case you need something different, but much more is available in my page with sleeping pads. Check the Armored pad from the same brand, launched for the year 2018. Thank you for reading and please use the comment box below in the case of questions or comments. Have a nice day.
---