---
This Sea to Summit UltraLight Mat review is about an ultra-lightweight award-winning sleeping pad, an ultra-packable tool suitable for backpackers and hikers.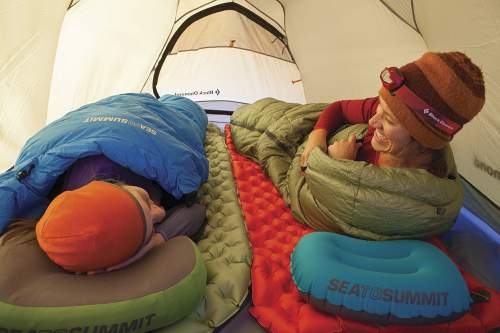 ---
Standout features & benefits
Ultra-lightweight.
Ultra packable.
Very easy to inflate and deflate.
---
Sea to Summit UltraLight Mat – description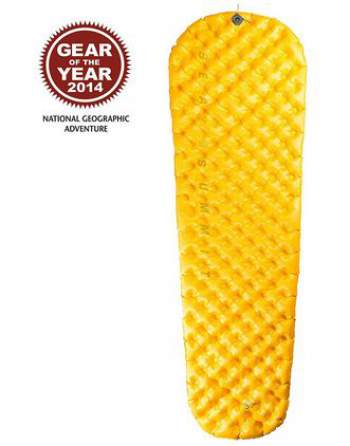 As the name suggests, this is an ultra-lightweight tool, with 345, 395, and 495 grams for the three sizes S, R, L. The technology you have here is the medium resolution Air Sprung Cells which give the lightest and smallest packed-volume mat without compromising comfort. From the specifications below, you will see that the number of cells varies, dependent on the size.
About Air Sprung Cells
This technology has been used in many sleeping pads of this brand. So, instead of the usual baffles, Sea to Summit sleeping mats are constructed using a dot-weld pattern to create a high surface area matrix of interconnected chambers, and this is what they call the Air Sprung Cells, patented technology of the brand.
These Air Sprung Cells operate in such a way that each of them deforms independently so the mattress conforms to your body shape and to the ground as well, and it feels really soft and comfortable. So you have more body contact area and even dispersion of pressure.
Due to such a construction, this mat is very flexible. I would say, with this technology they have made a true improvement in this industry.
I warmly recommend seeing this video by Sea to Summit, about their Air Sprung Cells technology:
Other features
Obviously, this mat is multipurpose, and it is ideal for ounce-counting backpackers, and when you want to go light and fast in general.
The mat comes with a quality stuff sack, with a repair kit containing six self-adhesive patches for repairing eventual punctures in the field, and with a spare silicone one-way valve flap.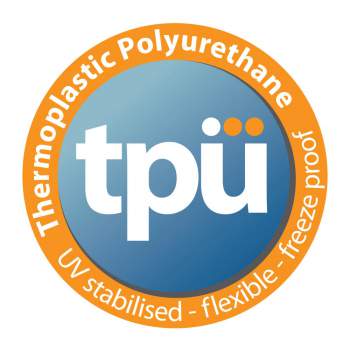 The fabric is 40D ripstop nylon, very lightweight and with ample durability. With 5 cm of thickness, it offers enough comfort in particular for back sleepers. In combination with an inflatable pillow from the same brand, this becomes a much more comfortable tool for side-sleepers like me.
You have internal extrusion-laminated TPU coating with an antimicrobial treatment which prevents the moisture from causing deterioration. To avoid this moisture, it is advised not to inflate by mouth, and to use the Jetstream Pump Sack and the Air Stream Pump Dry Sack which can be ordered separately.
The mat is equipped with a multi-function low-profile valve, so you have fast and easy inflation, deflation, and fine-tuning of air pressure.
The R-value
The R-value is quite low, 0.7 only, so bear this in mind when you plan to use this mat, this is not a winter tool. Note however, that this brand has an insulated version with a considerably higher R-value 3.3.
Yet another insulated pad with R = 4.2 from the same brand is presented in my another text.
The shape & size
This is a mummy-shape pad, and it comes in three different sizes, all this is to cut down on weight. I find it great that you can choose an appropriate size to avoid carrying extra length and bulk without reason. In fact, you will notice in specifications that there is a difference of 140 grams between the S and the L sizes, and the packed sizes are different as well.

Inflation & deflation
Mouth inflation requires only 8 – 12 full breaths. You do this when the outer cap is open; it is designed so that the air can go in but it can not get out. The process is much faster with their Dry Sack Pump, see below.
Deflation takes only seconds, and this happens when the inner cap is opened. So you do need to roll it up in order to force the air out.
---
Specifications
Type: inflatable pad.
Sizes: small (S), regular (R), large (L).
Best use: backpacking, hiking, travel.
Weight:
– S: 345 g (12.1 oz).
– R: 395 g (13.9 oz).
– L: 495 g (17.4 oz).
Size (l x w):
– S: 168 x 55 cm (66 x 21.5 in).
– R: 183 x 55 cm (72 x 21.5 in).
– L: 198 x 64 cm (78 x 25 in).
Rolled size:
– S, R: 7.5 x 17 cm (3 x 6.5 in).
– L: 7.5 x 20 cm (3 x 8 in).
Thickness (all sizes): 5 cm (2 in).
Air Sprung Cells number:
– S: 174.
– R: 181.
– L: 225.
Construction: single layer.
Shape: mummy only.
R value: 0.7.
Stuff sack and repair kit included.
40D rip-stop nylon face fabric.
---
Sea to Summit Air Stream Dry Sack Pump
This is a very useful tool that makes life easier and with this, you avoid moisture accumulation in the pad. Inflating the mat with this pump takes between 30 and 60 seconds. Please see this short video to realize how simple to use this AirStream Dry Sack Pump is:
---
Summary, rating, pros & cons
To conclude this Sea to Summit UltraLight Mat review, this pad has several great features and there are reasons for its award. But its weight and packability are due to its relatively thin material, its single-layer construction, and the absence of any insulation. So clearly it has a purpose as an ultra-lightweight tool, and it will perform great in a proper environment, but it has its limits as well.
This pad makes a bit of noise, you should know this if you are very sensitive. But the low R-value is probably more of a concern, something to bear in mind if you camp in a cool environment. This pad is ideal to use in combination with some camping cots, or in a relatively warm environment in general, ideally in the summertime only.
The Sea to Summit UltraLight Mat has received an exceptionally high rating on Amazon. See how I rate it:
This is an inflatable pad, so it has its pros and cons regarding this feature. To see a bit more about this issue, please visit my page about sleeping pads.
Thank you for reading. I shall be happy to hear from you, so please use the comment box below. Have a nice day.