---
This Exped DownMat UL Winter Sleeping Pad review is about a new inflatable insulated rectangular pad with an R-value of 5.9, ideal for backpackers and hikers. Rated for temperatures as low as -11.2 °F (-24 °C) it provides warmth and comfort in all seasons.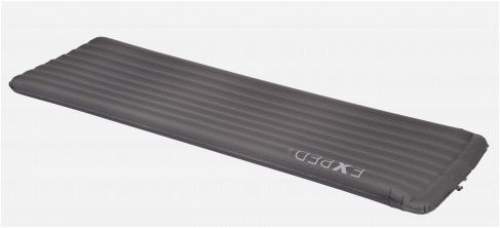 Key benefits
Insulated winter tool.
Excellent goose down and very compressible insulation.
High R-value.
Very efficient dual flat valves system.
---
Description
Exped puts a lot of research in their pads, and this Downmat UL Winter pad is one of their best tools, with several great features. So you have next-to-skin comfort and anti-slip GripSkin honeycomb-pattern coating which gives some stickiness. The two outer baffles are wider, and this is to keep you on the pad during the night. With all this, the chances are a bit reduced for sliding off the pad on an uneven terrain.

The pad is rectangular and with longitudinal beam baffles, 2.8 inches (7 cm) thick. It is built in two sizes, medium (M) and long/wide (LW), see more about the numbers in the specifications below. There are both good and bad sides in any baffle design, so these longitudinal baffles spread a bit when you are on the pad, and this gives you a bit of space. This is different with pads with horizontal baffles that lengthen the pad. In fact, probably the best is the diagonal pattern which you have in the Klymit pad, but this all issue is not so simple to discuss here.
The pad is also thick enough so that you have enough cushion which will absorb every unevenness of the ground. They describe it as the ultra-light pad with an unmatched packed size and weight, so indeed with 20.5 oz (581 g) for the M size it is ultra-light, but there are pads from other brands with quite similar features.
You have Exped's proprietary fabric lamination which prevents moisture and bacteria from building up in the pad, and those are known for eventually destroying the glues inside a pad.

Inflating and deflating the pad
The inflation is quick and easy and you have a separate valve for this. They include the Schnozzel Pumpbag that doubles also as a waterproof compression bag for a sleeping bag or for anything else. It works well at any temperature and you can inflate the pad in a couple of minutes.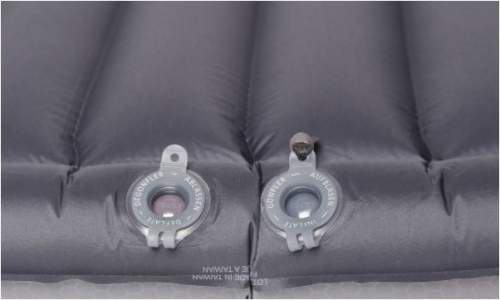 Of course, you can inflate the pad by mouth, but the Schnozzel Pumpbag saves you from a hard work especially if you are at high altitudes where the air is thin in any case. It also keeps moisture away from the pad's interior. Note that you can take a break in the process of inflating, with the valve open, and the air will not get out.
A separate flat deflation valve with one way flap enables quick deflation. All you have to do is to open it and the pad will deflate itself so you do not need to wrestle with it.
These valves are the part of Exped's FlatValve technology used in their other pads as well, you can see them also in their Exped MegaMat Outfitter 10 LXW sleeping pad. This is a very durable and effective flat valve construction without sharp edges.
See here how effective the Schnozzel Pumpbag is:
---
Materials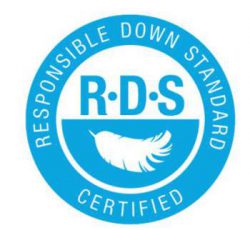 Both on the top and on the bottom you have 20 D Polyester, TPU polyether film laminate. It is hydrolysis resistant, Honeycomb Gripskin coated, Oeko-Tex 100 certified. So, teh fabric is not particularly durable if you ask me, and this is partly behind the weight of this pad.
The insulation is a quality 700 fill power goose down, tested according to IDFB standards, and certified by RDS, (Exped is RDS certified since 2016). So you have a stringent animal welfare standard applied here.
---
Temperature rating
The R-value 5.9 is high enough for very cold winter conditions. This is due to its warm layer of 700-fill goose down insulation which is laminated to the bottom and top of the baffles so that you have no cold spots. When you inflate the pad, the down expands and it keeps the air close to it and this is the basic of the insulation.
The down fill is known for its excellent insulation, in fact, it has the best warmth-to-weight ratio among all insulation materials. This also implies that the pad is very compressible, so in the packed state, it is only 9.1 x 4.3 inches (23 x 11 cm), not much bigger than a water bottle.
Can you use it in all seasons
Definitely so, it is better warmer than colder. The eventual body warmth can easily be regulated by your sleeping bag or whatever you use. This insulated pad is ultra-lightweight in spite of the insulation, to realize this you can compare it with Sea to Summit UltraLight Mat which is a three-season pad with 395 g (13.9 oz) and as its name says it is ultra-light (note that most of the pads on the market are typically heavier). So a few grams extra if you use the Exped pad as a 3-season tool is not a big deal.
What is 700-fill
You can read more in my separate text.  Here only to say that this number describes the compressibility of the fill, more precisely, it gives the measure of the volume which the fill retains after being pressed with a standard weight used in testing. Typically you will see numbers in the range 600 – 800, so this 700 number tells you this fill is in the medium range.
---
What is in the package
The pad.
Stuff sack.
Repair kit.
Instruction sheet.
Repair manual.
---
Specifications
Best use: backpacking, hiking, camping.
Type: inflatable & rectangular.
R-value: 5.9.
Temperature rating: -11.2 °F (-24 °C).
Weight:
– Medium (M): 20.5 oz (581 g).
– Long/Wide (LW): 26.8 oz (760 g).
Dimensions:
– M: 72.1 x 20.5 x 2.8 in (183 x 52 x 7 cm).
– L/W: 77.6 x 25.6 x 2.8 in (197 x 65 x 7 cm).
Packed size:
– M: 9.1 x 4.3 in (23 x 11 cm).
– LW: 10.6 x 4.3 in (27 x 11 cm).
Weight stuff sack: 0.6 oz (17 g).
Warranty: 2 years.
Anti-slip GripSkin coating.
700-fill power goose down insulation.
Inflation and deflation valves.
Stable baffle construction.
---
Summary, rating, pros & cons
To conclude this Exped DownMat UL Winter Sleeping Pad review, what you have here is a new sleeping tool from a very reliable brand that is on the forefront in this industry. They have applied their all tested technology in this new pad. It is expensive but it is worth the investment if you can afford it. This is an ultra-lightweight and highly compressible tool ideal for backpackers and for ounce-counting outdoor adventurers, and I can fully recommend it.
There are only two sizes available so you cannot do much if you want to avoid the unnecessary weight. Here is my rating please have a look:
Note that many great sleeping pads are presented in my separate page, so please have a look here. One quite similar is this Exped SynMat UL Sleeping Pad. But if you want something completely different for camping only, check their incredible Exped MegaMat Outfitter 10 LXW sleeping pad which is 10 inches thick.
Thank you for reading. In the case of comments and questions, please use the comment box below. I wish you a pleasant day.