---
If you are looking for a do-it-all mat that can serve you well in all seasons, this Exped SynMat UL Sleeping Pad Review is for you. This is an ultra-lightweight insulated 4-season pad built in four different sizes.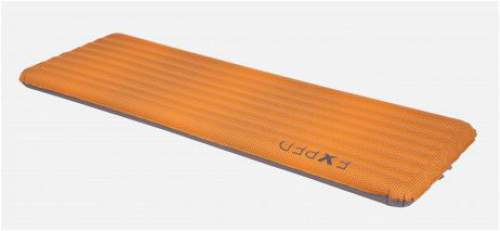 Key features & benefits
4 Different sizes to choose from.
Insulated.
Good R-value.
Included Schnozzel Pumpbag doubles as a waterproof stuff sack.
Great and efficient dual flat valves system.
---
Exped SynMat UL Inflatable Sleeping Pad – Who is it for
In view of its weight, which goes from 14.6 oz (415 g) to 21 oz (595 g), dependent on the size, the Exped SynMat UL Sleeping Pad is clearly a great backpacking tool. This is even more so in view of the possibility to choose your size and to avoid carrying extra weight. More about the sizes you can see in the specifications below.
It packs so nicely, 9.4 x 3.9 in (24 x 10 cm) for the M size, and it is only 1.7 liters of volume in such a packed state, so it does not take much space in the backpack.
So, if great for backpackers, it is then perfect for practically any other outdoor activity, like hiking, mountaineering, kayaking, etc.

---
Temperature rating and insulation
The R-value 3.3 is good enough even for winter conditions but not for extremely low temperatures. The official temperature rating is – 4 °C (25 °F). Realistically, I would add 10 degrees F here to be safe. This is a pad you would want to have even in summer at high altitude in the Alps or in any similar environment. You would not want to go there with a pad without insulation, so this pad looks just right for this.
The insulation is synthetic Texpedloft Microfibre, Bluesign certified, and you have it 60 g/m². It is laminated to the top and to the bottom, so with air inside, the insulation pops out evenly and it expands trapping the air in it, and in such a way you avoid cold spots, see it in the picture below. The fabric lamination is Expeds' proprietary, it prevents moisture and bacteria from building up in the pad.
In general, synthetic insulation is less sensitive to moisture than down, and it keeps its insulation property even when it gets wet.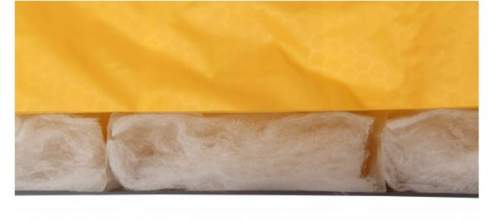 ---
The external materials, construction, and valve system
The external fabric is 20D Polyester, and the top side is Honeycomb Gripskin coated, so it is not slippery and it is supposed to help you stay on the pad during the night. The baffles are longitudinal, and those on the sides are a bit higher, this is done on purpose to keep you on the center of the pad. Note that the materials used here are Oeko-Tex 100 certified.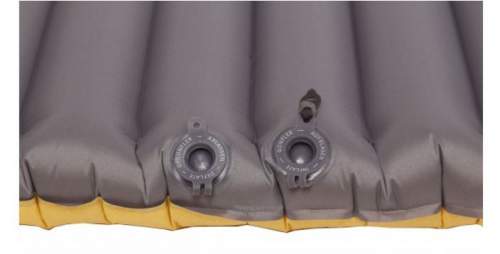 There are two separate valves for inflation and deflation, this is a very advanced Exped's FlatValve technology, without any stiff edges, low profile and very durable. The inflation valve is one-way, so you can take breaks in the process, the air will not be coming back. To reduce the pressure, just press the valve quickly and it is done. See this in the video:
You can inflate the pad by mouth, which can be a task at high altitudes with thin air; so they include the Schnozzel Pumpbag which is very effective and it doubles as a waterproof stuff sack. The Pumpbag has a simple clip that connects it to the pad. See how it is used:
---
What is included
Mat.
Schnozzel Pumpbag.
Packsack.
Repair kit.
Instruction sheet.
Repair manual.
---
Specifications
Best use: backpacking, hiking, mountaineering, kayaking, camping, hunting.
Type: inflatable, insulated & rectangular.
Microfiber synthetic insulation.
R-value: 3.3.
Temperature rate: – 4 °C (25 °F).
Sizes: 4, Small (S), Medium (M), Medium/Wide (MW), Long/Wide (LW).
Weight:
– S: 14.6 oz (415 g).
– M: 16.8 oz (475 g).
– MW: 19.9 oz (565 g).
– LW: 21 oz (595 g).
Dimensions:
– S: 64.1  x 20.5  x 2.8 in (163 x 52 x 7 cm).
– M: 72.1 x 20.5 x 2.8 in (183 x 52 x 7 cm).
– MW: 72.1 x 25.6 x 2.8 in (183 x 65 x 7 cm).
– LW: 77.6 x 25.6 x 2.8 in (197 x 65 x 7 cm).
Packed size:
– S: 9.4  x 3.5 in (24 x 9 cm).
– M: 9.4  x 3.9 in (24 x 10 cm).
– MW: 10.6  x 3.9 in (27 x 10 cm).
– LW: 10.6  x 4.3 in (27 x 11 cm).
Packed volume:
– S: 1.5 l.
– M: 1.7 l.
– MW: 1.9 l.
– LW: 2.6 l.
Weight Pumpbag: 60 g.
Weight Packsack: 9 g.
Materials:
– Top: 20 D Polyester, TPU polyether film laminate, hydrolysis resistant, Honeycomb Gripskin coated, Oeko-Tex 100 certified.
– Bottom: 20 D Polyester, TPU polyether film laminate, Hydrolysis resistant, Oeko-Tex 100 certified.
– Insulation: 60 g/m² Texpedloft Microfibre.
Warranty: 2 years.
Anti-slip GripSkin coating.
Separate inflation and deflation valves.
Stable baffle construction.
---
Summary, rating, pros & cons
So to conclude this Exped SynMat UL Sleeping Pad Review, this is the latest product from this renown brand, in fact, this is a complete series as it includes 4 sizes, and they are all with the same thickness and R-value. No doubt, these pads are excellent, multipurpose and versatile, and I can warmly recommend them if the price is not an issue for you.
I like the fact that you can choose from different sizes. Its thickness is just right, good enough even for side sleepers. The R-value is not so high, so bear this in mind. The valve system is among the best on the market, and perhaps the best, very quick and efficient. See below how I rate this pad:
Exped is world-famous for its sleeping pads, several of them are presented in the site, and you can see a few of them also in the links below. You might also want to compare this pad with yet another great tool with similar features, the Klymit Static V Luxe Insulated Sleeping Pad.
Thank you for reading. In the case of comments and questions, please use the comment box below.