---
This Sierra Designs Backcountry Bed review is about a revolutionary and innovative award-winning sleeping bag design. In this text, I first present what is new in this series and what makes it so different from any other sleeping bags. After that, I give some details about a few specific models.
Typically, in these sleeping bags, you have polyester material outside and taffeta inside the bag. The fill is DryDown duck down type or synthetic insulation. I give both kinds in the text below. One bag with the with down fill you may see here on the right.
The reason for using DryDown system is to improve the features of the bag with respect to water resistance, see more below in the text.
Sierra Designs Backcountry Bed bags are without zippers and velcro cords. Instead, you only have a big opening in the upper part, and an added blanket 'comforter', which you may see in pictures here. The comforter has integrated hand-warmer pockets, which you also use to pull it around your body.
The advantage of this design is that you can get arm(s) out easily, which increases comfort in the bag. These bags have a sort of hood but it is different from the usual hoods which you may see in mummy-type bags.


The bags come with a foot vent in the foot area (shown above). It is without a zipper but it is cleverly designed to close nicely when you are not using it, and you can easily get your foot out. Backcountry Bed sleeping bags come with an integrated sleeve for a sleeping pad.
---
Sierra Designs Backcountry Bed duo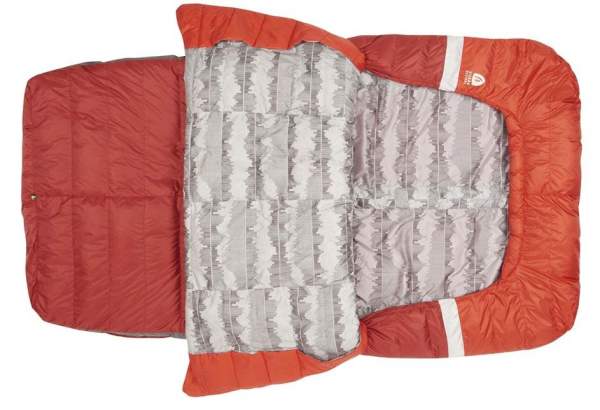 This is a model for 2 people, for temperature regime down to 20 degrees F (-7 C). You have a patent-pending zipperless design for maximum comfort. It is equipped with insulated hand/arm pockets to seal out drafts. Yet another patented feature is its self-sealing foot vent for fast and easy ventilation.
Other features include a stretch cord closure system that helps to seal out drafts, and you have a sleeping pad sleeve on the underside which keeps pad in place. It fits two pads of 20 inches (51 cm) or 25 inches (64 cm).
Here are some specifications:
Insulation: 700FP PFC-Free DriDown.
Shell: 20D polyester ripstop.
Liner: 20D polyester taffeta.
Temp. rating: 20 F (-7 C).
Fill weight: 37 oz (1050 g).
Weight: 4 lb 10 oz (2110 g).
Fits up to: 6′ 4″ (193 cm).
Length: 84 in (213 cm).
Circumference (shoulder/hip/footbox): 107/105/92 in (272/267/234 cm).
Storage bag size (L x D): 26 x 13 (66 x 33 cm).
Stuff sack size (L x D): 17 x 11 (43 x 28 cm).

---
Sierra Designs Backcountry Bed 700

All the general features here are the same, so this is again a patent-pending zipperless design but for one person. The insulated hand/arm pockets are in places as well as the patented self-sealing foot vent and the stretch cord closure system and the sleeping pad sleeve.
The same materials are used as above and they build it in two sizes. See some specifications for regular (R) and long (L) version:
EN Limit Temp Rating: 16 F (-9 C).
EN Comfort Temp Rating: 28 F (-2 C).
Fill weight:
– R: 22.4 oz (634 g).
– L: 24.6 oz (696 g).
Weight:
– R: 2 lb 8 oz (1.14 kg).
– L: 2 lb 11 oz (1.24 kg).
Sleeping Pad Sleeve Circumference:
– R: 45.5 in (115.6 cm).
– L: 55.5 in (141 cm).
Fits Sleeping Pad (WxH):
– R: 20 x 2.5 in (51 x 6.4 cm).
– L: 25 x 2.5 in (64 x 6.4 cm).
Fits Up To:
– R: 6′ (183 cm).
– L: 6′ 6″ (198 cm).
Length:
– R: 80 in (203 cm).
– L: 86 in (218 cm).
Shoulder/Hip/Footbox Circumference:
– R: 61/60/41 in (155/152/104 cm).
– L: 64/63/43 in (163/160/109 cm).
Mesh Storage Bag Size (L x D): 20 x 12 in (51 x 31 cm).
Stuff Sack Size (L x D): 16 x 8.5 in (41 x 22 cm).

Regarding temperature specifications, I warmly recommend you to have a look into my other text within this site. About this backcountry bed concept please see in the video:
---
About Sierra Designs company
Sierra Designs was established in 1965 and they have been at the forefront of the outdoor industry with numerous innovations, with the Backcountry bed-type award-winning sleeping bag being just one out of many innovative products. They have been creating outdoor solutions based on common sense and uncommon thinking. One great example of this you can see in the present text.
---
Differences between 700 fill down and 600 fill down
You will see numbers like 600 fill and 700 fill in the descriptions of some sleeping bags, so let me give you some information about this. This is a measure of compressibility of the down. The higher the number the less compressible it is. It is important to stress that insulating materials lose its insulation properties when compressed.
This means that a backcountry bed 700 sleeping bag will perform better than a backcountry bed 600. To achieve the same insulation with 600 fill, you will have to have more down in the bag, which will make it heavier of course.
So again: can you have the same temperature rating with 700 fill and 600 fill? The answer is yes. But this will imply that the bag with 600 fill will be heavier and with more fill; 800 fill bag will be more expensive because of the quality of the fill.
Here is a video from Sierra Designs, explaining the meaning of the fill in more detail, please have a look:
---
What is DryDown technology
DryDown technology was started by Sierra Designs in 2012. The idea is to make down hydrophobic. With natural down you have moisture from your body or from the air absorbed, the bag becomes heavier and its insulating properties become reduced.
In DryDown technology, down is treated with a molecular level polymer, creating a hydrophobic finish on individual down plumes. As a result, down stays dry longer and it dries faster than a regular down.
The reason for all this is that wet plumes of regular down collapse and reduce insulating efficiency. With DriDown technology the water tolerance of plumes is improved. They stay dry 7 times longer in the same weather conditions as compared to natural untreated down.
According to the video below from Sierra Designs, with DryDown you have 98% loft retention, and your bag will feel 15 degrees warmer. Have a look:
---
Conclusion
I hope this Sierra Designs Backcountry Bed review has been useful to you. If you have ever spent a night somewhere outdoor in a sleeping bag, then you will surely be able to appreciate the advantages of this new design.
Thank you for reading. For updates about the price for these sleeping bags please follow the links given above. I hope you find this text useful. If so please share it with others. I shall be happy to see some comments from you in the comment box below.