---
Crua Duo Dome Tent is a versatile 2-person freestanding tent with a huge waterproof rating, suitable for all seasons on its own or in combination with Crua Cocoon and Crua Clan tents.
---
Key features & benefits
Two-person tent.
Freestanding.
Can be used on its own or in the Crua Clan configuration.
Designed to accommodate Crua Cocoon insulated tent.
Aluminum poles.
Huge waterproof rating.
Reasonable price.
---
Where to buy
Check on Amazon, they have around 15 stores globally and usually have the best prices and shipping conditions.
---
What this is about
This Crua Duo is what its name says, a really great 2-person freestanding tent. This is a single-layer structure so the setup is easy and simple.
This tent is designed to be attached to the Crua Core tent, and this configuration is shown in the picture. It has a front zipper so attaching it is easy. Three Duo tents can be attached from three sides, and this structure is what they call the Crua Clan.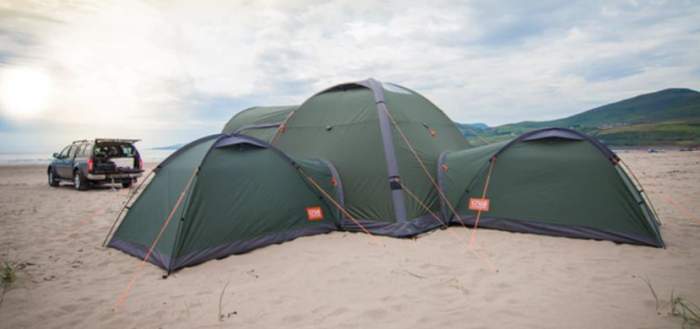 But this tent is also built so that you can put the insulated Crua Cocoon tent inside. Note that the Cocoon has the R-value 9, so in such a combination you can use it in any weather conditions. See how it looks, the picture shows the Duo as transparent and the Cocoon inside:
---
Who is it for
Space-wise, with its dimensions of 9.8 x 4.9 ft (299 x 149 cm), those include the front porch as well, this tent offers lots of space for two users. Not many tents on the market offer such a comfort, they are usually very narrow. The front porch is large enough to put your boots and packs. But this is the only entrance, and this is for two people, so the stuff will be on your way. Nevertheless, I have included it in my list of 2-person tents for camping.
Note also that this is a very tall tent for such a type, with a peak height of 4.1 ft (125 cm). It is taller than most of its competitors.

Weight-wise, they describe it as lightweight, but with its 5 lb (2.2 kg) of weight, this Duo tent is a bit heavy for summer hiking and backpacking. So I see it better used as a camping tent at places where you would not carry it yourself. This can be car camping, cycling, motorbike tours, kayaking, etc.
But the weight and features are indeed in the range of cold-weather backpacking and hiking tents, and I have included it in my list of 4-season backpacking tents. If you need something lighter check this Klymit Maxfield 2 Tent.
Seasons-wise & climate-wise, I see it better suited for a cooler than for a warmer climate. So it is perfect for early spring and late autumn, but you can use it in all seasons either on its own or together with the Cocoon. It is very enclosed and with just a few mesh areas (that can be closed) and therefore good for a cold environment.
The number of stake points and guylines is quite moderate, 12 in total, so I am convinced it can withstand lots of pressure. They did not provide any info about wind testing. Though the official waterproof rating is huge, and the structure is aerodynamic although tall as mentioned above.
But it is also properly designed for ventilation with floor and ceiling vents and this makes it good enough for a warmer environment.
---
Materials & other features
The poles & pegs
The main part is supported by two poles only which you pass through the sleeves on the upper part of the tent, and there are 4 clips in the lover sections. The third shorter pole is for the vestibule. These are 8.5 mm aluminum poles. You also have 13 aluminum stakes in the package, 7 inches (18 cm) long.
The fabric
I find the description by the manufacturer quite confusing because of the statement that the tent is a "breathable polyester material with a water-resistant outer layer HH 5000 mm". With such a rating I would call it a highly waterproof material, and cannot imagine how it can be breathable if it is coated as it seems to be, there is no waterproof membrane here. Also, there is no outer layer here, this is a single layer structure. I asked but have not received a reply yet, shall update the text if I have any extra info.
But the tent is really well made and with all seams sealed, there is not much one could object to the craftsmanship of this tent. The inner door is a dual-layer structure with a mesh and a waterproof panel, so even if you do not use the vestibule, the tent is fully protected. The vestibule door is with dual parallel zippers so you can roll it up and fix above the door. Note it is designed with the pole that makes the loop, and this is to attach it to the Core 6 tent in the Clan configuration.
Here is this tent used in real camping so have a look:
Ventilation
This tent is properly designed, so ventilation should not be an issue. There is a small back vent above the floor and you have two roof vents as well. The large entry door is deep under the vestibule and it is with mesh and panels so you can keep it with mesh all the time if needed and you will have an excellent crossflow.
But this is a single-layer tent, condensation can never be avoided in any case, and you will surely have it here, dependent on weather conditions, the draft in the tent, and the number of occupants; two people can exhale almost one liter of vapor/water during the night.
Other features
There are 2 dual pockets on the opposite sides, in the middle of the tent.
One hook for the lantern is under the ceiling.
The zippers are inverted T-shape and well made.
Several large Velcro tabs are on the front, do not get confused, those are in use only when you combine this Duo in the Clan configuration. As mentioned above, the same holds for the oval zipper that runs along the perimeter of the porch.
Please see a bit more in this video by Crua Outdoors:
---
Specifications
Capacity: 2 people.
Weight: 5 lb (2.2 kg).
Total dimensions: 9.8 x 4.9 ft (299 x 149 cm).
Inner dimensions: 86.6 x 58.7 in (220 x 149 cm).
Inner area: 35.5 ft² (3.3 m²).
Total area: 48 ft² (4.45 m²).
Total area per person: 24 ft² (2.2 m²).
Peak height: 4.1 ft (125 cm).
Packed size (L x D): 21 x 6 in (53 x 15 cm).
---
Crua Duo Dome Tent vs Competitors
I have decided to show you two very different options to compare with this tent, but both are 4-season tents. So the Slumberjack is a 2-layer luxurious tent with many features and this is reflected in its weight. The Big Agnes tent is a minimalist design for backpackers. You see how this Crua Duo fits in between. Please follow the links to check for the updated prices.
---
Final thoughts, rating, pros & cons
In the summary of this Crua Duo Dome Tent review, I am quite impressed with this tent and with the whole Clan concept where it fits. But even if you put the Clan idea aside, this is a nicely built 2-person tent which is pretty much suitable for all seasons. This is a new brand but all they have built so far is completely unique. But note that they also have the Crua Duo Cocoon Maxx Combo Tent for 3 people.
The price is fair for such a tent even without all its versatility. But with all those options of using it with the Cocoon and in the Clan configuration, I see it as a real bargain. Please see how I rate it:
If you have missed them, check their Crua Tri and Crua Loj tents, those are currently the only insulated tents on the market, apart from the Cocoon which is not waterproof and is supposed to be used inside this Crua Duo Dome tent.
Thank you for reading. If you need to see more 2-person or other tents, please visit my page with tents, you have them in great numbers, all models from the top brands.
Note that I am not paid by the brand or related in any sense, so this is NOT a sponsored text. I only give my unbiased view of the tent.
Please use the comment box below in the case of questions or comments. I wish you a nice day.