---
This Klymit Maxfield 2 Tent review is about a lightweight and reliable 3-person tunnel-type shelter with aluminum poles and quality fabric.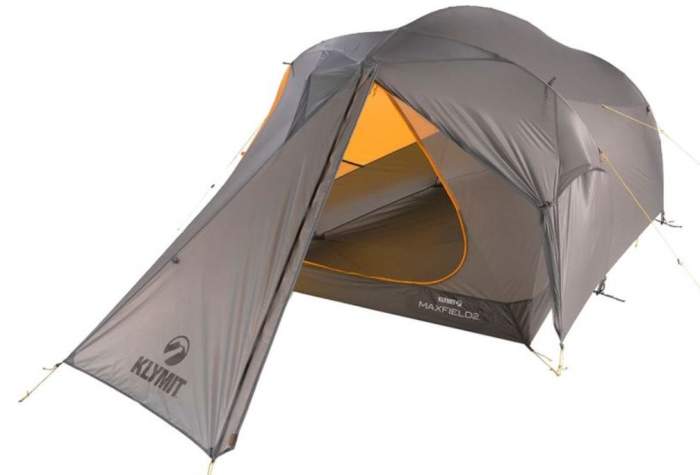 ---
Key features & benefits
Tunnel-type tent
Full-coverage fly.
Aluminum poles.
One door.
Nicely ventilated.
---
What this is about
This Maxfield 2 Tent is smaller in the mini-series of Klymit that includes also a larger Maxfield 4-person tent. As far as I know, this is the first tent from this brand, they are globally known for their excellent sleeping pads. So this is a tunnel-type construction with two loops plus one ridge pole that connects the loops.
When you put the poles in place and attach the tent to it, the structure is more or less freestanding because of the tension in the canopy. But the full-coverage fly has a large vestibule on the front so you have to stake it properly. This is why all in all the tent is not freestanding.
So use the stakes that are in the package and secure it properly. There are 8 places along the perimeter to stake the base of the tent. You will see 10 stakes included in the package.
The picture below shows the tent from the front without the fly, so you realize that the side walls are vertical and there is lots of headspace inside.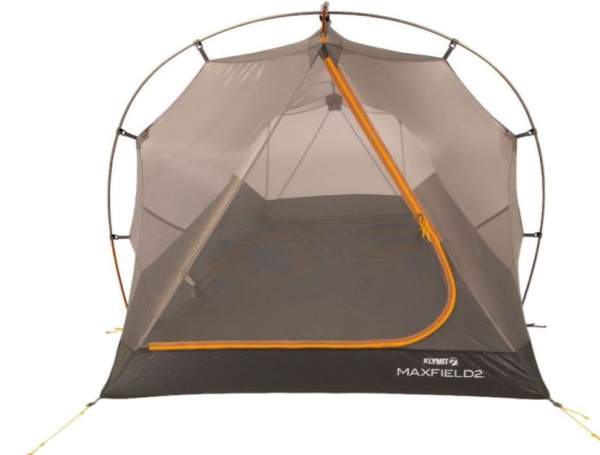 This is a tent with one D-shaped door (shown above) on the front and it is deep under the vestibule. The vestibule itself has one long central zipper which is shown in the top picture.
Ventilation
The whole canopy is a fine mesh so air will circulate easily in all directions. The vestibule can also be half-open to allow more air in, this is shown in the top picture above. Note that you can keep it that way even when it is raining because the inner tent is far underneath the fly. 
But if you have gear in the vestibule and want to keep it closed, no worry, they have added vents on the front and on the back. You have them three in total and they are at different heights.
On the other hand, there is a huge gap between the fly and the canopy that hangs underneath the frame, so that air can circulate and this will keep condensation at a minimum. So this is all done properly and the tent has enough ventilation, there is really nothing one could object to this design, it is excellent.

Materials
The poles & stakes: You have a Yunan aluminum 7001 alloy and they claim it is with an eco-friendly coating. The stakes are also Y-profiled aluminum. You might want to buy a few more to secure the fly in very windy conditions.
Everything is color-coded, they use orange and gray colors, so this will help you in setting the poles correctly. The tips of the poles are with colors that should correspond to those that you have at the tent's base.
The fabric: The canopy is a 20D nylon mesh, and the fly is a 15D Sil/Pu nylon ripstop with a 1200 mm waterproof rating. The bathtub floor is a bit stronger 40D PU nylon ripstop with a 3000 mm rating. So these are all very thin but strong materials. 
Note that the vestibule is long and it is very angled and low on the front area, see the picture below, so when you are inside it is very difficult to come close and zip the vestibule all the way to the bottom.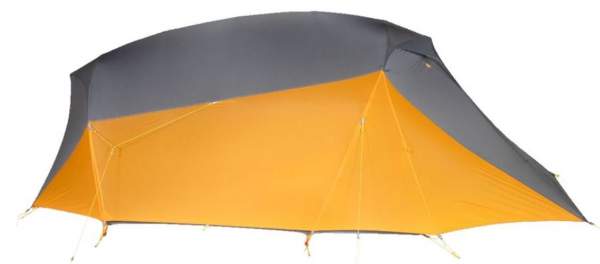 Other features
Canopy pouch.
Side pockets.
Loops for a lantern.
The stuff sack is a roll-up tarp type, so getting everything is easy and you will never have issues in packing the tent.
They sell a footprint separately.

---
Who is it for
Regarding seasons and climate, they describe it as a 3-season tent. So in terms of protection from elements, you can be sure you will be protected.
The previously mentioned waterproof rating for the fly may not look very high, but this is enough for any situation, and most importantly you have a quality coating that is a combination of silicone and polyurethane. Note that the seams are all properly sealed, so this tent is excellent. 
But as mentioned, you will want to add a few stakes and guylines if you camp in very windy spaces. Note that the tent is low profile, you have 44 inches (112 cm) peak height. This is enough for sitting and great against winds. It is best to orient the tent with its back narrow side against the wind.
Regarding the capacity, officially this is a tent for two people. So you have enough of the floor area, 29.3 ft² (2.77 m²). This means 14.65 ft² (1.38 m²) per person. The vestibule area is 12.5 ft² (1.2 m²) so you have a total protected area of 41.8 ft² (4 m²). This is not exactly a palace but it is enough for two people.
Regarding the weight, the tent weighs 4.2 lb (1.9 kg). So it is lightweight but not ultralight as they describe it. Nevertheless, I have included it in my list of best lightweight 2 person backpacking tents.

The packed size is also very good, it measures 19 x 6 inches (48 x 15 cm) in its carry bag shown above. So such a tent you can carry on the trail and it can be transported also on a bicycle and a motorbike.
Please see a bit more in this short video:
---
Specifications
Official capacity: 2 people.
Weight: 4.2 lb (1.9 kg).
Floor dimensions: 86 x 50 in (218 x 127 cm).
Floor area: 29.3 ft² (2.77 m²).
Area per person: 14.65 ft² (1.38 m²).
Vestibule area: 12.5 ft² (1.2 m²).
Total protected area: 41.8 ft² (4 m²).
Packed size: 19 x 6 in (48 x 15 cm).
Peak height: 44 in (112 cm).
Warranty: 2 years.
---
Final thoughts, rating, pros & cons
To summarize this Klymit Maxfield 2 Tent review, this is a tent with an interesting design. This is a new type of product from Klymit, in fact, it is the first they made but they have done it properly. It is not for people on a budget but it is worth the investment. Fully recommended. 
Please see how I rate this tent:
Note that this is an outstanding brand and many sellers want to sell it, so here are some of the globally known sellers where you can find this tent:
For more options please check under the category Tents for 2 people. Thank you for reading. Let me know if you have questions or comments. There is a comment box below. Have a nice day.