---
In this Klymit Maxfield 4 Review, you can read about the first tent on the market from this brand. It comes with aluminum poles, 2 vestibules, and a full-coverage fly.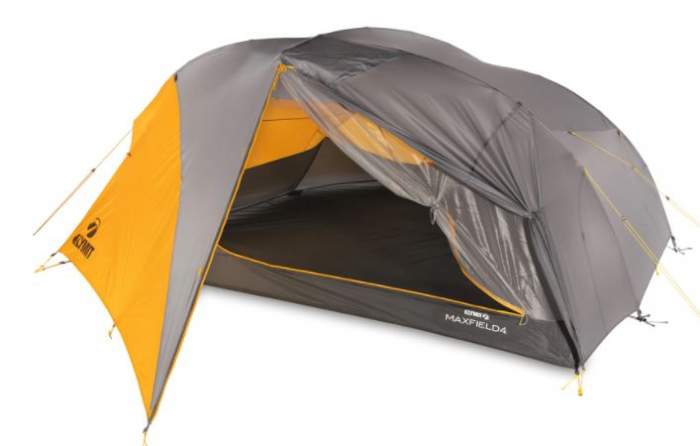 ---
Key features & benefits
Tunnel-type tent
Ultralight.
Full-coverage fly.
Aluminum poles.
Two doors & two vestibules.
Great ventilation.
Perfect carry system.
---
Overview
This Klymit Maxfield 4 Person Lightweight Backpacking Tent is one of the two first tents this brand has ever made. As you probably know they are best known for their unique sleeping pads. So there are two tents in this series, the smaller is a 2-person version.
The picture below shows the tent without the fly, so as you realize this is a mesh canopy and you can see through it completely. There are two doors on its two sides.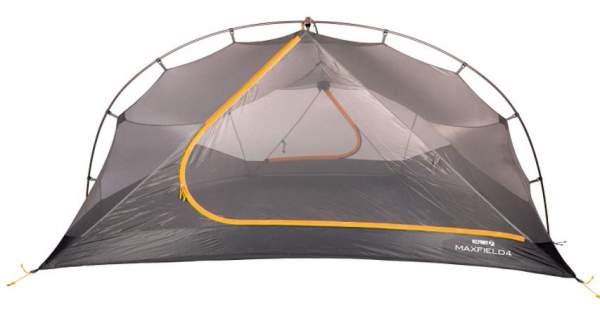 The base is a very irregular shape and you can see it below. So everything is irregular or asymmetric, you have a tapered floor, so this is not the best when you have purely rectangular sleeping pads. But many pads on the market are also tapered, so this should not be a big deal.
The front vestibule is itself asymmetric and it is also almost twice bigger than the rear vestibule. Note that the picture does not show the accurate ratio of their sizes, you will see the numbers below.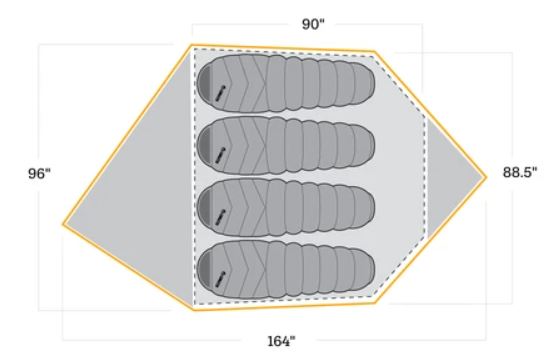 Below you can see some numbers, they are slightly different from the specifications which they provide on their site. But this picture is also from their site. Observe that even here you have asymmetry in the height from the front to the back where you also have a door.

When the poles are in place and the tent is attached, the structure becomes freestanding. This is purely due to tension in the fabric. The picture below shows how it looks inside.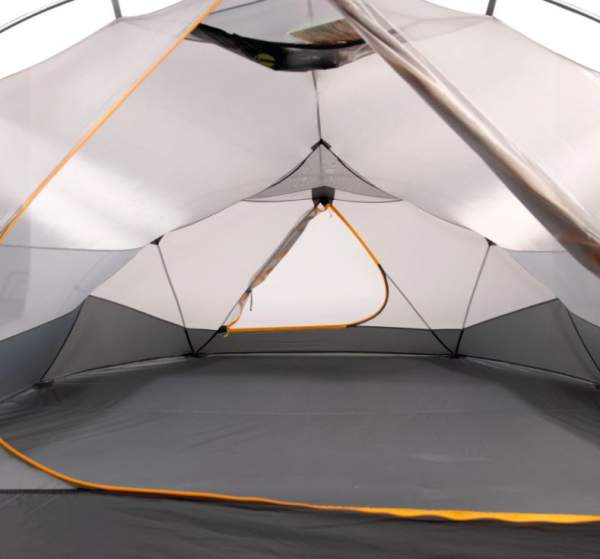 But when the fly is on, you have to stake it properly because of its two vestibules. This is why the tent is not freestanding in general. Below you can see all the elements in the package: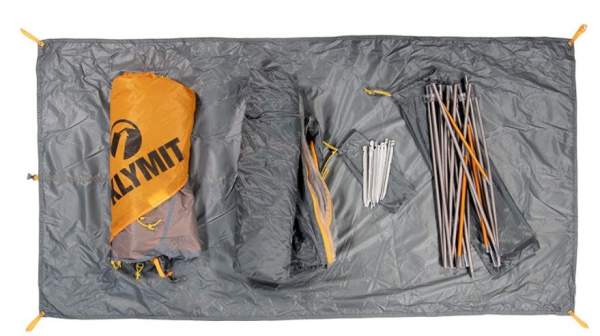 The carry bag shown below is an innovative roll-style tarp, so it is always easy to pack everything back into it. Below you can see how it looks when completely closed:
Ventilation
You have already seen that the canopy is completely an ultra-fine mesh, so air will circulate in any direction. Observe that the canopy hangs attached to the frame and there is a large gap between it and the fly. This is essential against ventilation.
The vestibules are with flaps because of the zipper in the middle. The inner tent is deep inside, protected from the rain, and this is so even if you keep one flap open. 
But they have added several vents on both narrow sides, one is visible in the picture below. So ventilation can be described as excellent for such a type of tent.
Materials
Metal parts: You have Yunan aluminum 7001 alloy poles, and they are hubbed, see the picture below, so setting up the frame is easy. Everything is color-coded. You have orange and gray colors and the tent itself is in these different colors from the two sides.
The ridge pole attaches to the tent above the doors, and this is where the fly attaches as well, this is visible in the picture below.
One of the pictures above shows Y-profiled aluminum stakes. Note that you will have to buy a few more for very windy conditions.
The fabric: You have a 20D nylon mesh on the canopy, and the fly is a 15D nylon ripstop with a silicone/polyurethane coating that gives it a 1200 mm waterproof rating. The bathtub floor is a 40D PU-coated nylon ripstop with a 3000 mm rating. 
Other details
A lantern hanging loop is available, see the picture.
Four interior mesh storage pockets.
---
Who is it for
Capacity-wise, the tent is officially for 4 people, and for this you have 53 ft² (4.9 m²) of the floor area. This gives 13.25 ft² (1.22 m²) per person. The vestibules add 16 (front) and 9.5 (rear) ft² (1.5 plus 0.9 m²). So the total protected space is 78.5 ft² (6.12 m²). This is good enough for 4 people.
Seasons-wise & climate-wise, they claim the tent is for 3 seasons. In terms of protection from elements, this is so, but with so much mesh I see it best suited for a warmer environment.
Note that the tent is quite low for its size, you have only 45 inches (114 cm) peak height. This is good for windy places but you have to crawl to get in.
Weight-wise, this is an ultralight tent, it weighs only 5.6 lb (2.5 kg). I have all the good reasons to add it to my list of best 4 person backpacking tents. 
You have already seen its carry bag, so it measures (L x D) 20 x 6.5 inches (51 x 17 cm). This can be described as very good. So you can transport this tent in every possible way.
Please see a bit more in this short video:
---
Specifications
Official capacity: 4 people.
Weight: 5.6 lb (2.5 kg).
Trail weight: 5.2 lb (2.4 kg).
Fast fly weight: 4 lb (1.8 kg).
Floor dimensions: 86 x 96 in (218 x 244 cm).
Floor area: 53 ft² (4.9 m²).
Area per person: 13.25 ft² (1.22 m²).
Vestibule area: 25.5 (16 front + 9.5 rear) ft² [2.4 (1.5 front + 0.9 rear) m²].
Total protected space: 78.5 ft² (6.12 m²).
Peak height: 45 in (114 cm).
Pack size (L x D): 20 x 6.5 in (51 x 17 cm).
Warranty: 2 years.
---
Final thoughts, rating, pros & cons
In the summary of this Klymit Maxfield 4 review, I would stress again that this is an incredibly light tent, suitable for backpackers and hikers. For such a weight it provides enough space for 4 users. It is light enough even for 3 people who would share the weight and carry it on the trail.
The tent is expensive, but you have quality materials and a globally-respected brand behind it, so you know what you are buying. 
Please see how I rate this tent against my standard set of criteria:
Check under the category Tents for 4 people if you need more options. Let me know if you have questions, there is a comment box below. Subscribe to my weekly newsletter, the subscription form is below. This will keep you informed, I add texts here regularly. Thank you for reading.