---
Here you have the list with best small canvas tents for camping in the capacity range 1-4 people, all very different and unique. Keep reading.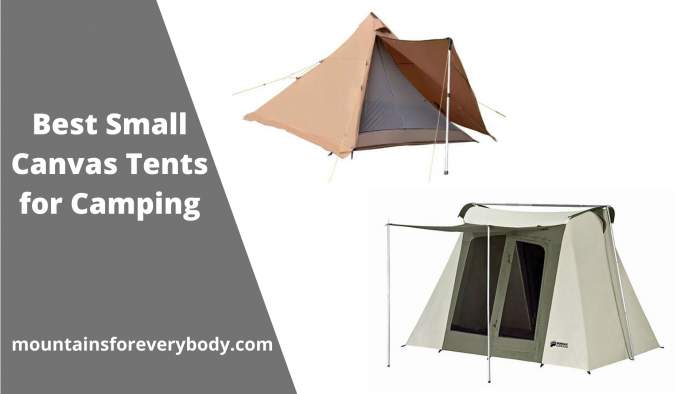 Canvas tents or cotton canvas tents are usually large, and they are frequently among the largest camping tents on the market. They are very popular with all the good reasons and there are many of them around. But when you look for small cotton canvas tents you realize that the situation is quite different, there are no many available on the market.
My motivation to add this text here was a comment I received in one of the texts, the person wanted to know if I could suggest some small canvas tents. I did not have a list to offer and decided to do something about this, hence this text.
Now, the terms small and large have no meaning without some extra specifications. So in the context of this text, this implies tents that are with the floor area large enough to put 1-4 sleeping pads on the floor. For larger family camping canvas tents you have a great selection here.
---
Best small canvas tents – my selection
So here is my list, with the tents ordered by the inner floor area from smaller to larger:
These are very unique tents, all very different, and you will not find similar items on the market. Some of the tents in the list are presented in separate detailed reviews so please follow the links for more information.
---
1. Kodiak Canvas Swag 1 Person Canvas Tent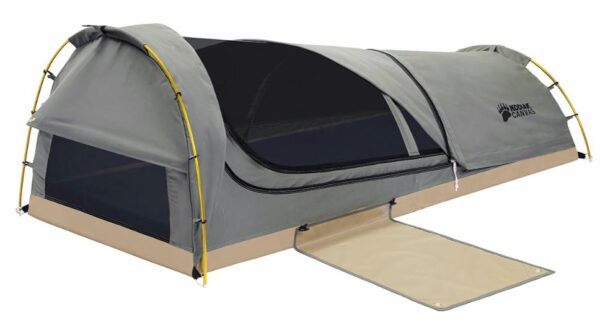 This is a true solo item with a foam mattress and a flannel included in the package. Setup is very easy and it offers complete protection from elements and from bugs. This is a very durable and sturdy construction and it is interesting also because you can use it on a large cot and sleep off the ground.
The tent is with the dimensions 80 x 35 inches (203 x 89 cm), so this is enough space for one person. But this is a bivy so the height is 27 inches only (68 cm). It comes with a set of three poles, guyout lines, stakes, and a carry bag. It weighs 17.5 lb (7.94 kg).

---
2. Browning Camping Talon 1 Person Tent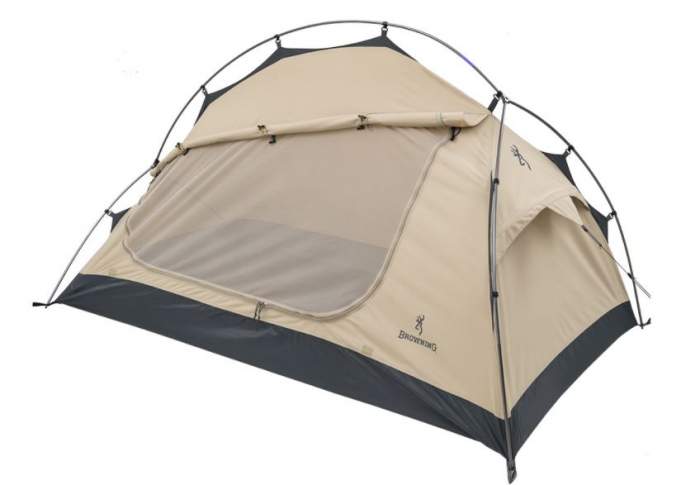 This is a ventilated and fully freestanding polycotton construction supported by quality aluminum double-hubbed poles. They have added a full size mesh door for ventilation, plus roof vents. The tent is suitable for practically any climate and season.
The weight is quite good for a polycotton tent, it weighs only 5 lb 11 oz (2.6 kg). The floor area is 24.5 ft² (2.3 m²). This is enough for solo camping, but note that there is no vestibule. However, you can create an awning with the door flap.

---
3. Crua Tri 3 Person Thermo Insulated Tent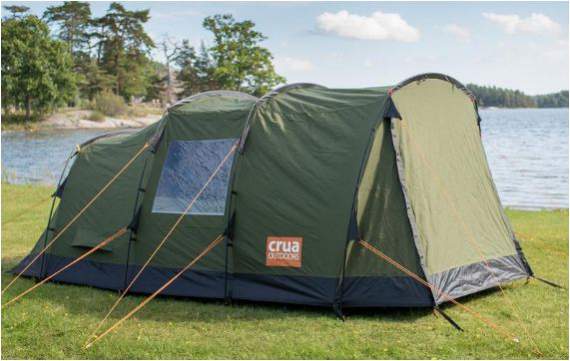 What you have here is completely unique. You will not find anything similar on the market. This is a tunnel type design, but from the name you realize this also is an insulated tent. This implies that it insulates you from everything outside, regardless if it is cold or warm, so this is a true 4-season tent. Its official R-value is 4.
This is because of an insulated cocoon inside also provides sound insulation and at the same time, this is a dark rest design. The tent is heavy and bulky due to its insulation, so you have 48 lb (22 kg).
The inner insulated floor area is small, you have 50 ft² (4.6 m²) and officially this is a 3-person tent but you can use it solo or with your partner. But the total area is very big, it provides 68.5 ft² (6.36 m²), and this includes the porch and vestibule so the tent looks like a 2-room structure when the vestibule is closed, see the picture above.
It is here because of its shell, this is a poly-cotton fabric, and this means breathable but fully waterproof material with a waterproof rating of 5000 mm. The poles are strong aluminum.

---
4. WHITEDUCK Mini Regatta Canvas Bell Tent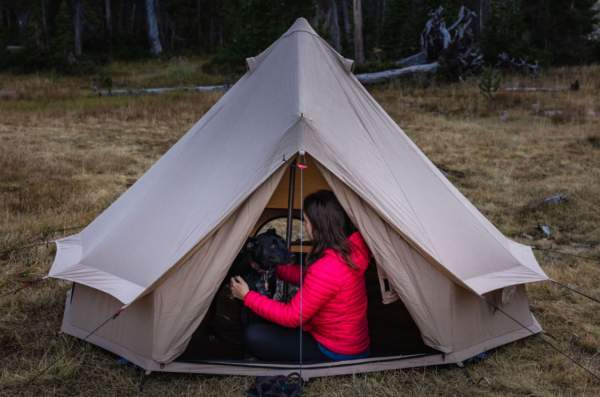 This interesting tent is with a decagon base and it can be described as a bell-shaped tent. You have around 48 ft² (4.5 m²) of the floored area, and the peak height is 5'2" (160 cm). The tent is officially for two people.
There are 3 windows with mesh and zipper flaps, and you have no less than 3 roof vents. The door is also with mesh and a canvas panel. Note that this is a breathable canvas, so better ventilation is hard to imagine.
The floor is sewn-in and sealed heavy-duty 7.5 oz PE. The tent is supported by one central pole, and there is also an A-frame around the door. It weighs 31 lb (14 kg).

---
5. Kodiak Canvas 8.5 x 6 ft Flex Bow 2 Person VX Tent 6086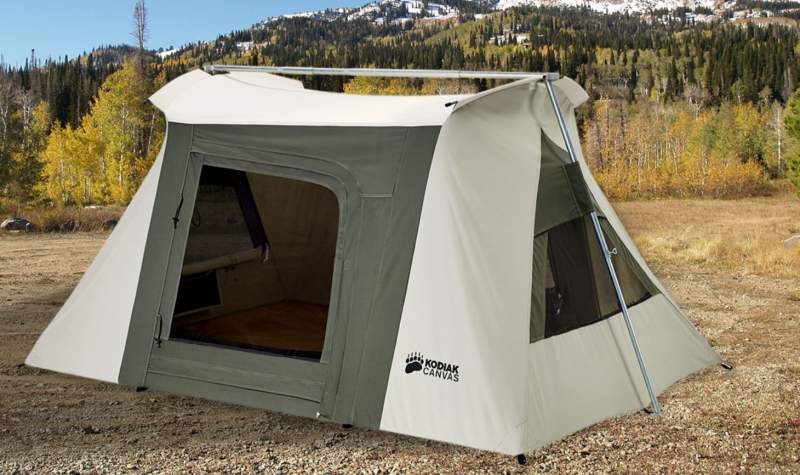 This tent could be described as a cabin-style tent, it is non-freestanding and you have only two poles. It may look like a large structure, but the floor area is 51 ft² (4.7 m²) and it is officially for up to two people. Note also that it is not particularly tall, the peak height is only 4 ft (122 cm).
This is a true 4-season tent, reliable and durable, with a steel frame and thick canvas, and with metal rings to stake it down. You have 4 windows in total and 2 doors, and this is a completely unique design.
The weight is 30.5 lb (13.8 kg). The floor is vinyl, and they give a limited lifetime warranty.

---
6. Delta Zulu Combo Canvas 4 Person Chalet Tent with Gazebo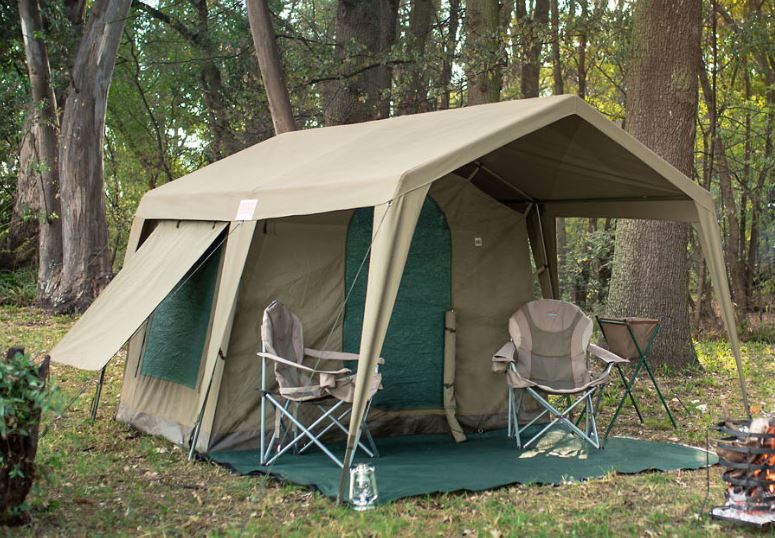 This Delta Zulu Combo Canvas 4 Person Chalet Tent with Gazebo looks big, but the inner tent is only for 4 people. The inner area is 54 ft² (5 m²). But the tent is exceptionally tall with the inner tent peak height of 7 ft (213 cm). In addition to this, it has this large porch.
In fact, this is a 2-in-1 structure, with the gazebo that can be used on its own, and with the inner tent that must be used with the gazebo as a cover and for support; you hang the tent on the frame of the gazebo.
The structure is incredibly strongly built, waterproof and breathable, for all seasons and for all climates. Note it is very heavy, it weighs 127 lbs (58 kg).

---
7. Naturehike Cotton Retro Tent Outdoor Glamping Camping Cabin Tent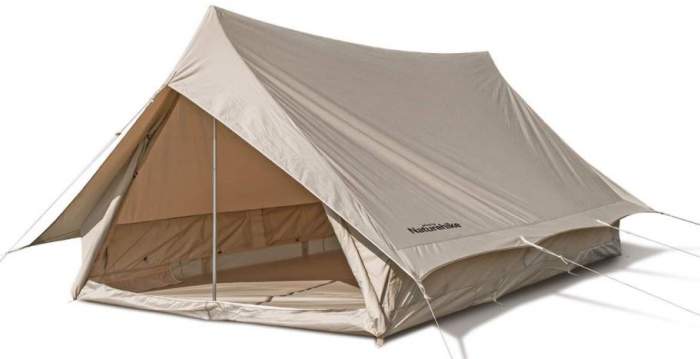 This tent is with 2 doors, it is nicely ventilated, and it is supported by aluminum poles. You also have quality YKK zippers. The fabric is a breathable cotton canvas.
The tent offers lots of space for two users, the inner area is 60.3 ft² (5.6 m²), and it is quite long. It weighs 27.12 lb (12.3 kg).

---
8. Kodiak Canvas Flex-Bow 4 Person Canvas Tent Deluxe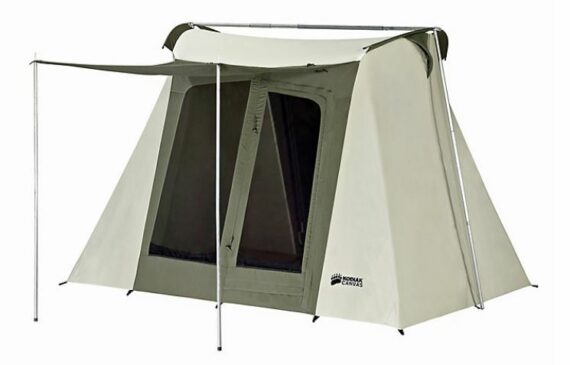 This Kodiak 4 person tent is from their very recognizable series that includes several larger tents in the same shape. This is a 4-season non-freestanding cotton canvas tent, waterproof and breathable. The inner area is around 6.5 square meters.
You have a steel frame that includes 1-inch galvanized steel tubing for the main vertical poles, and flex-bow rods, 3/8-inch, solid, spring steel.
The cotton fabric itself is very heavy and sturdy so the total weight of this tent is 54.5 lb (24.7 kg). This all is built to last for many years. You have the ceiling material that is 10 oz Hydra-shield canvas and walls are 8.5 oz Hydra-Shield canvas.
The floor is a durable 13.5-oz vinyl reinforced with polyester, and with welded seams. If you are not familiar, these seams are the best possible type of sealing and it is possible only on such plastic materials which you have here on the floor, see more in my text here.
This tent has been on the market for a number of years already, you realize this from this 2010 video:

---
9. GEERTOP 4-6 Person Teepee Tent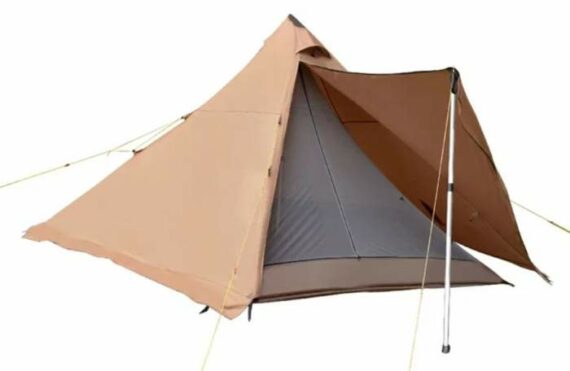 Here again you have something exceptional. This GEERTOP 4-6 Person Teepee Tent is a tipi-type tent but this is a two-wall tent with an inner mesh and a polycotton shell. So the fly is a blend of cotton and polyester. Note also that the floor is fully sealed floor, and you also have a footprint included.
This is a single-pole construction and it allows for a fast-fly setup with the fly and pole only so you have shade and also rain protection. If you plan to camp in a dry area, you can use the inner tent alone with the pole and have a lightweight setup with full protection from insects and snakes.
The tent is not freestanding but it is very easy to set up and one person can do this in a few minutes. The inner area looks big, so you have 107 ft² (9.9 m²), but note that the canopy is rather low closer to the perimeter and users have to sleep closer to the center. The official capacity is 4-6 people, but I would say it is best suited for up to 3 users. The total weight is 14.2 lb (6.45 kg).

---
So this was my list with best small canvas tents for camping, and you realize you have a variety of styles here. Such tents are never lightweight and they are for places with a motorized access. But there are big differences in the weight here simply because all of them are so different.
The list will be updated whenever I find something worth adding, so bookmark this text and visit occasionally. Thank you for reading and have a nice day.