The Browning Camping Talon 1 Person Tent is a ventilated freestanding polycotton construction supported by aluminum poles, suitable for practically any climate and season.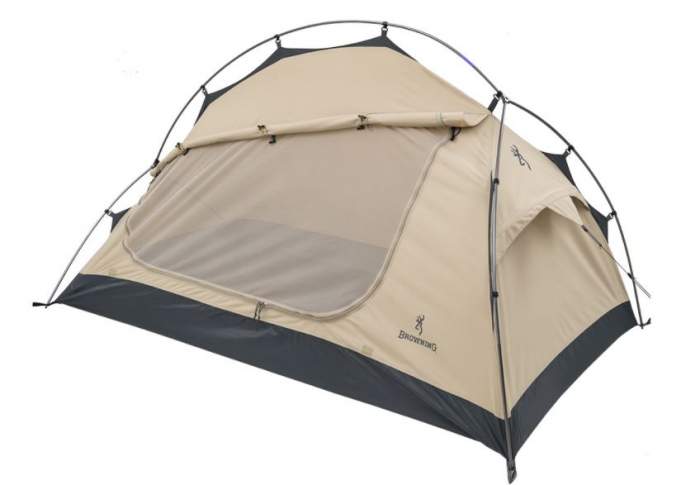 ---
Key features & benefits
Polycotton tent.
Awning setup.
Aluminum poles.
Freestanding.
---
What this is about
When you see the general shape of this tent, you realize it is with an external frame. So if you are in a situation to set it up in the rain, the inner will remain protected. This is a nice example of a dry setup design.
But this is not its only exceptional feature, here you also have a polycotton tent. There are many polycotton tents on the market, but such small examples are rare.
The tent has one door, this is normal for a solo tent, and the top picture above shows that the door is with a mesh and with a panel. Below you can see how it looks when both layers are rolled up and fixed above the doors.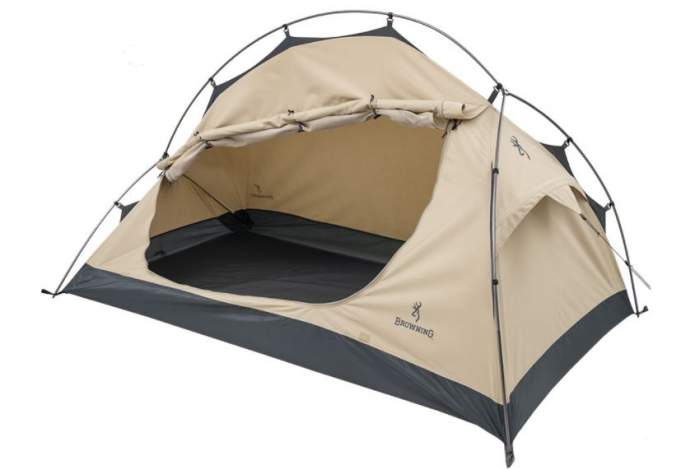 The external flap is designed so that you can create an awning with the help of your trekking poles, but you can also use some pieces of wood. There are grommets on door flap that allow for such a setup.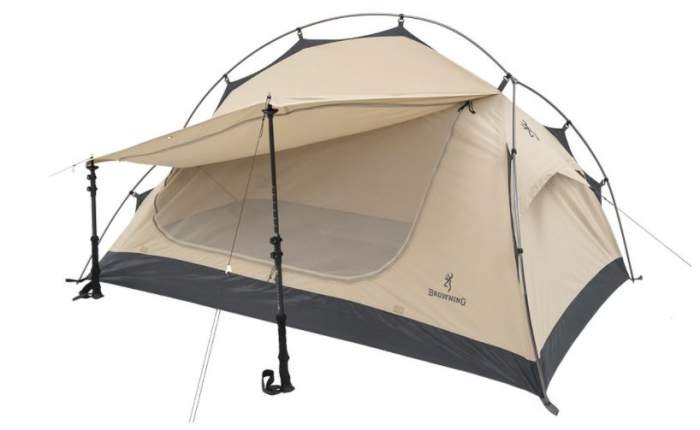 The rear side is without much details and without openings, you can see below how it looks. So when you are in a windy place, you can turn this side towards rain and wind, or you can orient its narrow side in the wind direction.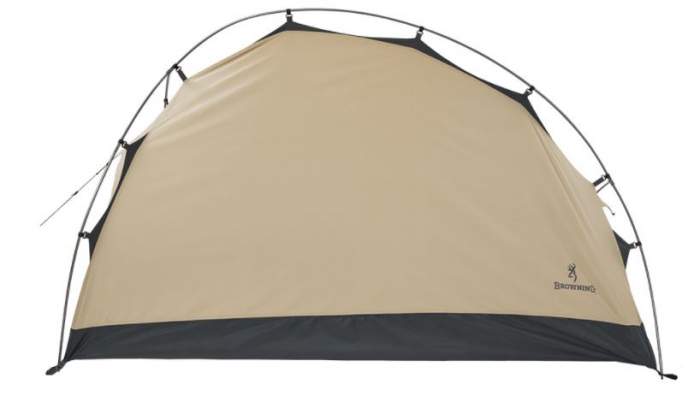 The picture below allows for view inside, so you get the idea about its bathtub floor, and you can also see the vent on the right.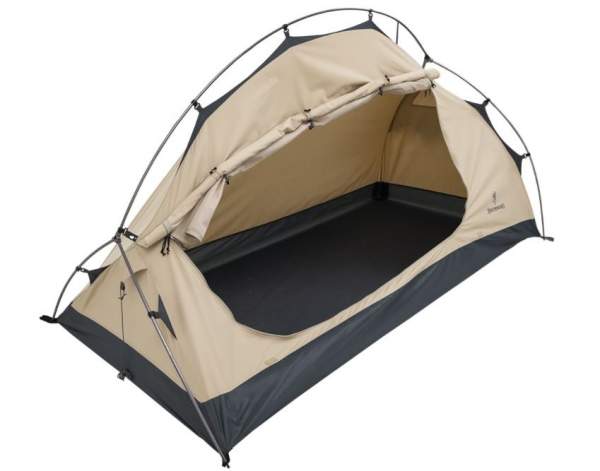 About the materials
The poles: The frame is double-hubbed and very simple, and it is such that the tent is fully freestanding. Below you can see one of its narrow sides and you can clearly see the Y-shaped profile of the frame, very similar is on the opposite side. Note that the poles are a 7000 series aluminum 9.5 mm, and the same material is used for the two hubs.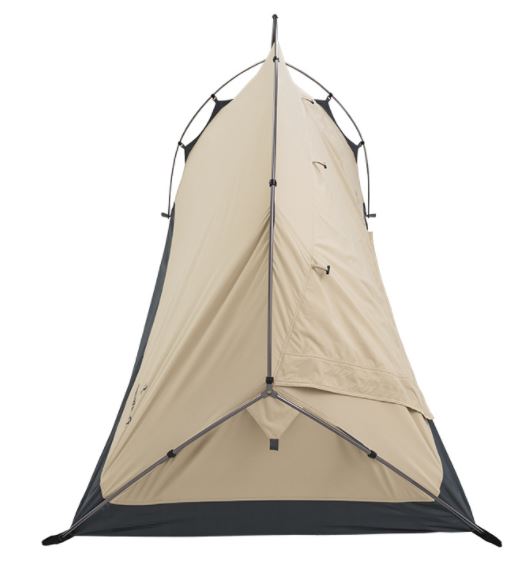 The frame attachment is through grommets on the ground (the picture below) and clips on the canopy, all easy to use and simple.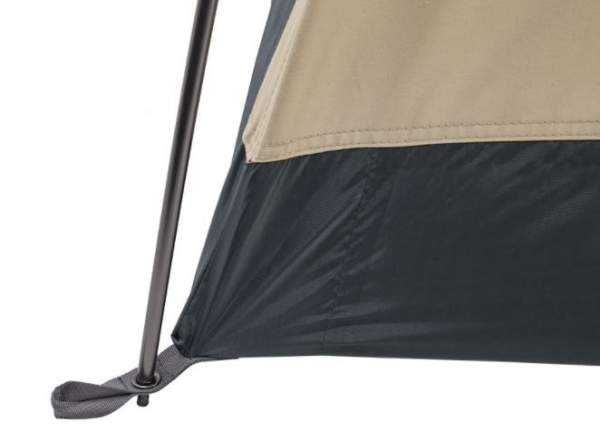 The fabric: The canopy is a high-quality and durable 210 g/m² weatherproof and pleasant poly-cotton. In windy places such tents are far more quiet than synthetic tents. You have a mesh on the door.
The floor is a very strong 210D 110T polyester oxford with 1500 mm coating. I find this value surprisingly low for a floor, but this should still be fine, I have seen such numbers in some winter backpacking tents. Though this is not tent for a trail.
You also have a utility hook for hanging light, and the tent comes with a full set of steel stakes and reflective guy ropes.
Ventilation
I already mentioned its large mesh door, but they have also added roof vents, so there is not much one could object to this polycotton shelter design.
---
Who is this Browning Camping Talon 1P Tent for
Regarding the best use & climate, I would see no problem in using it year round. Its strong fabric offers a bit of insulation, the tent is pleasant and ventilated, suitable for any climate.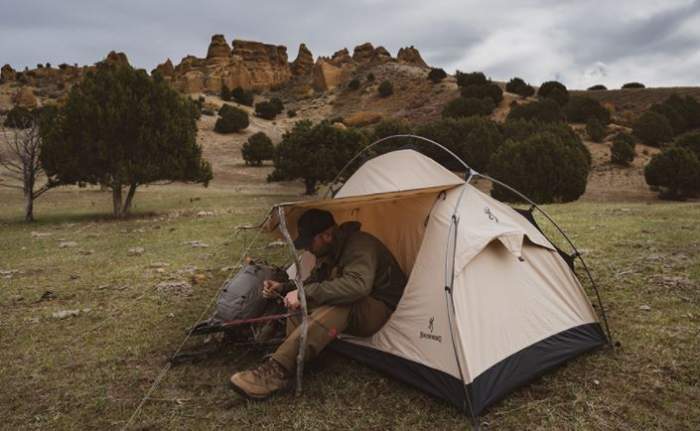 Regarding the size, obviously, this is a solo tent, there is not much to say here. But the area is very good size, you have 24.5 ft² (2.3 m²), and the width is 109 cm. So you can keep your stuff inside when it is raining.
Regarding the weight, it is surprisingly light for a polycotton tent, it weighs only 5 lb 11 oz (2.6 kg). Simply hard to believe. But this is not a tent for the trail of course. The packed size is (L x D) 21 x 6 inches (53 x 15 cm). So it is bulky, but for a polycotton tent this is an excellent size.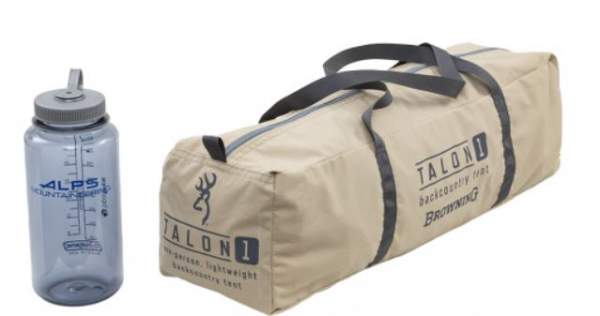 Regarding the price, it may look steep, but this is a very exceptional tent with high quality materials and a unique design.
---
Specifications
Type: freestanding solo tent.
Weight: 5 lb 11 oz (2.6 kg).
Dimensions (L x W): 82 x 43 in (208 x 109 cm).
Inner area: 24.5 ft² (2.3 m²).
Packed size (L x D): 21 x 6 in (53 x 15 cm).
Peak height: 43 in (109 cm).
---
Final thoughts & rating
In summary, this Browning Camping Talon 1 Person Tent is currently unique on the market and you have an excellent combination of materials used in its construction.
There are no many solo tents built with such a durable weatherproof poly-cotton fabric. Aluminum poles are hubbed so this is all easy to use and rock solid. The tent is fully freestanding so you can pitch it anywhere.
They have added a full-length no-see-um mesh layer on the door, and you still have roof vents for plenty of airflow for optimal ventilation. This is a rarely nicely built tent, but this is not surprising for a brand like Browning. Fully recommended. I have included it in my list of best small canvas tents.
Below you can see how I rate it against my usual rating criteria so that you can easily compare it with other items of this type:
BEST PLACEs TO BUY
For more options, please check under the category Solo Tents. Bookmark this site and come again, this will keep you informed because I add texts here regularly. Let me know if you have questions or comments, there is a comment box below. Have a nice day.