---
In this Vango Banshee 300 review you can read about a tent with a very high 3000 mm waterproof rating, a double layer structure designed to withstand severe weather conditions, and with a surprisingly affordable price.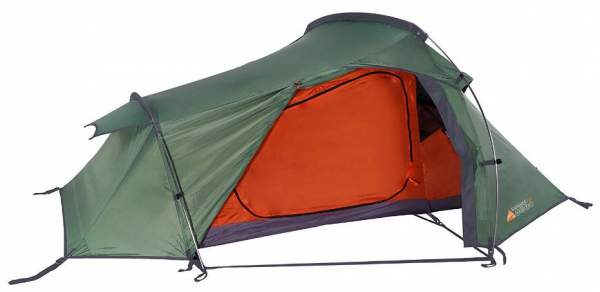 ---
Key features & benefits
Over a decade on the market.
Reliable tent.
Impressive waterproof rating.
2 doors.
Double-layer tent.
Totally incredible price.
---
What is in the name
The Vango Banshee 300 tent is a double-layer type tunnel tent. So you have an inner breathable tent and an external shell.
The tent is non-freestanding, and this is typical for practically all tunnel type tents. It has been on the market for over a decade now, so this is a tool that has stood the test of the time, there should be no unpleasant surprises with such a tent. On the other hand, Vango is a renown Scottish brand that has been around for decades. They build tents suitable for the weather in the area, so they are always with a very high waterproof rating, and this is what you have here as well.
You might want to know that this is DofE (Duke of Edinburgh) recommended tent.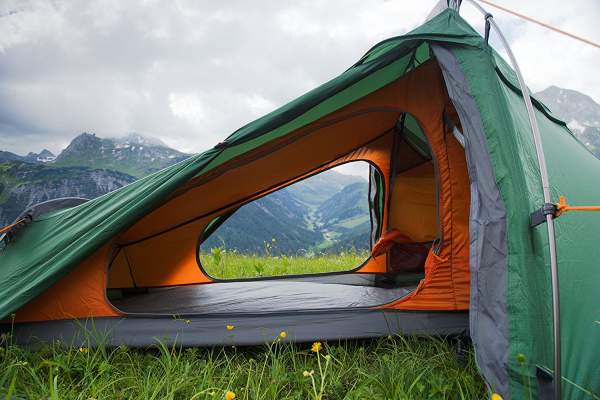 ---
Who is it for
Capacity-wise, the tent is formally for 3 people, but when you see the floor plan you realize it would be very difficult to squeeze three campers inside. Note that the maximum inner dimensions are 90 x 65 in (228 x 165 cm) which would imply a square of 3.76 m² (40.5 ft²). But the area is not square, the actual space is smaller, probably below 3.4 m² (36 ft²). So you have around 1.13 m² (12 ft²) per person if used by three people, therefore this is a tent for 2 people only.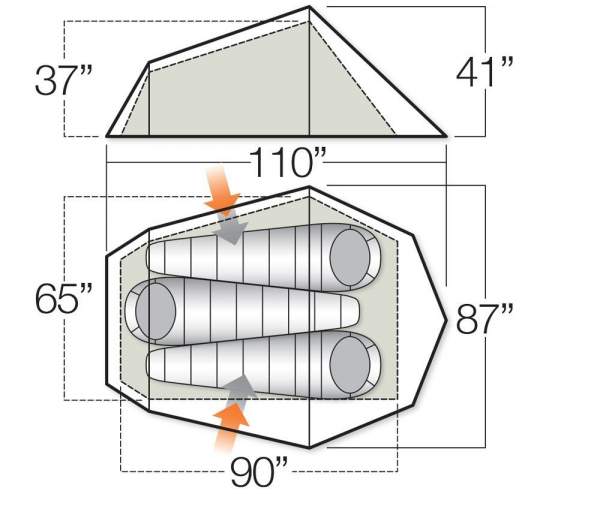 Seasons-wise, with its impressive waterproof rating (more below), this tent is for 3-plus seasons. In fact, this tent looks more like a 4-season tent than many of those 4-season tents which you can see here.
Weight-wise, in view of its 6.06 lb (2.75 kg), and its great packed size of 19 x 6.3 in (48 x 16 cm), this tent is probably lightweight enough to be carried in backpacks even if used by two people only. It is worth the effort. But this is not the lightest option on the market and it is best if you can transport it and use as a camping tent.
So I see it as a nice base camp tent for climbers, and a tent for mountaineers and hikers. The inner tent is a rather enclosed structure without much mesh and as such, it preserves the warmth very well. You will need this if you use it at high elevations where you have winter-like conditions throughout the year. In the Alps, this is typically at 3000 meters of the altitude and you will learn to appreciate such a design if you find yourself in such an environment. In this sense it is similar to the Snugpak The Cave 4 tent.
But this may also be a problem if you use it in a very warm environment. The packed size is such that you can transport it even on a bicycle, in a kayak, etc. This is a versatile tent indeed.

---
Materials & construction
The poles
You have them 2 only, shock-corded and pre-bent for some extra headspace. This is 7001-T6 aluminum alloy quite robust for such a low tent. Do you know the meaning of T6? This denotes the tempering process in which the poles are built to be less brittle, so these are high yield strength poles.
The fabric
The shell tent is Vango's Protex 70D polyester with an impressive 3000 mm waterproof rating. The inner tent is practically all taffeta, and with the waterproof bathtub style 70D polyester floor with a 6000 mm rating.
This is all a fire retardant fabric that meets European EN5912 safety standard. It is also weather tested to the European standard EN5912 by a certified test center. All seams are factory taped.
The doors and the window
The inner doors unzip almost completely and you store them in the pockets on the sides. The outer doors roll up and you fix them with toggles. There are also walking pole attachment eyelets on the door so you can prop it up to create a sheltered porch.
I mentioned a window, so yes, you have something that looks like a window on one of the narrow sides. This is an in inverted U shape double layer window on the inner tent only, which you can use to store some stuff under the fly. The mesh which you have here is a second layer that you can use to increase the ventilation. So this is definitely a very useful feature.
Ventilation
The tent is with vents on both narrow sides; you have two of them on the front and one on the foot side. You also have flysheet door vents which allow you to keep the zippers open from the top to ventilate the vestibule area. Remember also the inner tent window mentioned above.
Being a double-layer type, you can also keep the inner door open. So you should have a good cross flow all the time. Condensation can never be removed completely but such vents and the window help, and the inner tent will prevent the droplets from the shell coming back to your stuff.
TBS system
This is a tensioned band system which Vango uses in most of their tents. It plays a big role in their air beam tents and you can see them in this Vango Capri 400 XL and also in their classic tents like Omega 350 tent, and Omega 250 tent, but I miss to see why this system is necessary for such a low tent with metal poles.
But in any case, you have it here as a bonus, it surely makes the tent more stable with respect to lateral wind pressure.
Other features
You have several low and high pockets. There are mesh sections on the inner tent only in the areas to match the external vents.
Note also that the tent has ground straps that go from one side to another and from the pole to pole, for an extra stability. They are with grommets for poles.
Here is a bit more about the Banshee series:
Setup
Here you can see a group of scouts setting this tent up, have a look. Note that they attach the inner tent separately. This is necessary when you do it for the first time, otherwise just keep it attached to the shell tent and this will save you lots of time:
---
Specifications
Type: tunnel tent.
Capacity: 3 people.
Weight: 6.06 lb (2.75 kg).
Dimensions: 110 x 86.6 in (280 x 220 cm).
Inner area: 36 ft² (3.4 m²).
Area per person: 12 ft² (1.13 m²).
Peak height: 37 in (94 cm).
Packed size: 19 x 6.3 in (48 x 16 cm).
Pitching time: 7 minutes.
Line-Lok guyline runners.
Multiple reflective points.
Orange reflective high strength guylines.
Fast-pack tent bag with an oversized opening for easy packing.
---
Vango Banshee 300 tent vs Competitors
Here I give the Banshee 300 side by side with two recent models from Sierra Designs, all are officially 3-person backpacking tents so you can get some idea of what to expect from tents of this type. I did not choose ultra-lightweight tents on purpose, but you can see some of them in my page with tents and shelters.
Sierra Designs
Sweet Suite 3
---
Final thoughts, rating, pros & cons
In the summary of this Vango Banshee 300 tent review I would point out again its incredible waterproof rating and the price. This is a combination which is hard to match and you can realize this if you compare it with the prices of the two Sierra Designs tents in the comparison table above, both are around $300.
This is a reliable tent which should protect you even in severe weather conditions. The structure is low, stable, and very aerodynamic and it behaves very good in adverse conditions, the TBS system adds to the overall stability. Please see how I rate it:
Vango Banshee 300 Tent
Pros
Impressive waterproof rating.
Very good packed size.
Two doors.
Suitable for practically all seasons.
Great price.
Lightweight enough to be carried in the pack.
Cons
Quite low.
Too small for the declared number of users.
BEST PLACEs TO BUY
If you need something different check in my page with tents. Check this Vango Omega 250 with the same waterproof rating, or Vango Omega 350 and Vango Venture 350 built in the same style. But if you need a larger family camping tent please check here. In the case of questions or comments, please use the comment box below. Have a nice day.