---
The Snow Peak Fal Pro Air 2, 3, 4 Tents are true double-layer ventilated tents supported by quality aluminum poles and with high quality fabric, suitable for year-round use.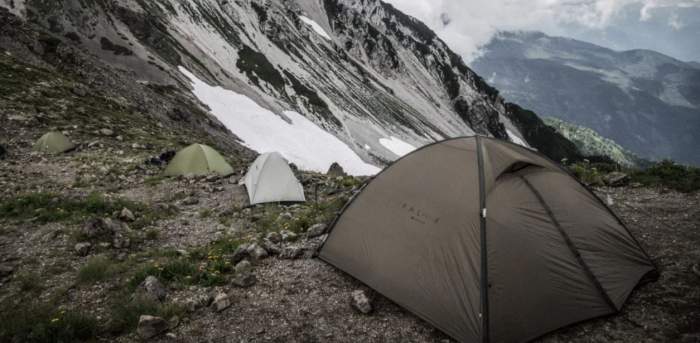 ---
Key features & benefits
Dome-shaped tents.
2-Layer type.
For all seasons.
Full coverage fly.
Ultralight.
Ventilated.
Aluminum poles.
---
What this is about
Here you have a backpack portable series of three tents built in the same style. Do not get confused with the word Air in the names of these tents. This is not about inflatable air beams, my guess is that they simply wanted to stress out the fact that the tents are nicely ventilated, but I may be wrong.
These are very simple dome-shaped tents with a full coverage fly and vestibules. There are small differences in the floor plan as you realize from the pictures below.
The tents are low-profile and aerodynamic, the peak heights are shown in the pictures. Note that the two larger tents have two doors and two vestibules. The picture below shows the aerial view of the Snow Peak Fal Pro Air 3 tent so you can see the shapes of the doors' zippers on its two opposite sides.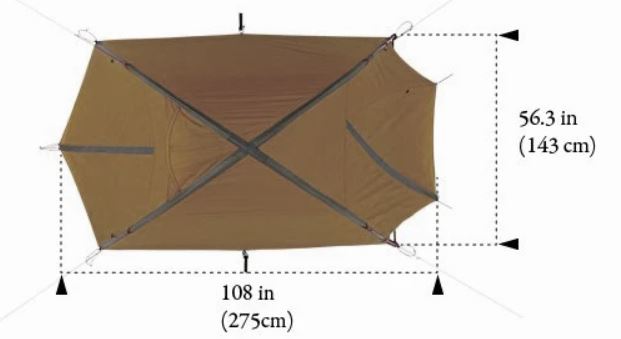 Below you can see how the back door looks, it is quite low and it is more an access point to the storage space under the back vestibule than a real door.
Below you can see this same door from inside. Note that this door is without mesh.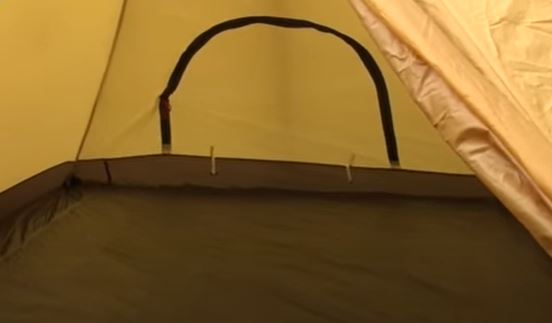 But the main front door is much higher and with a bit larger vestibule, see below how the tent looks with and without the inner tent. Note that the Fall Air 2 Tent has only this door. There are ground straps that allow you to use it as a shade without the inner tent. This is usually described as a fast fly variant if there is a footprint.

The tent can be described as freestanding, and this holds more or less even when you have the fly in place. But this is because the vestibules are not very deep so if necessary they may remain without stakes.
Ventilation
The fly has one roof vent above the rear door, see how it looks when open, there is a Velcro inside and a support bar: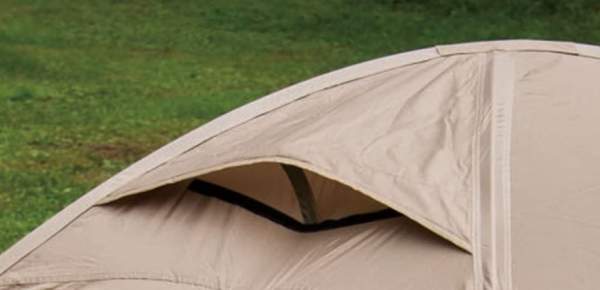 It is paired with a vent on the inner canopy, this inner vent is closable with a zipper: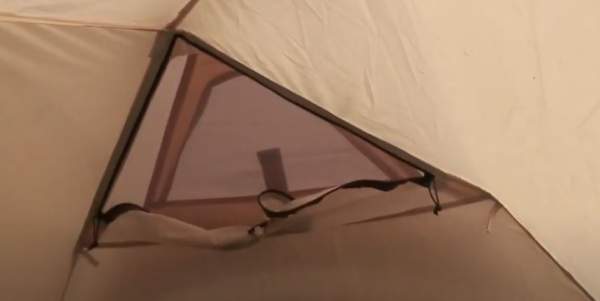 But they have added also a floor vent. It is on the main door, you can see it in the picture below. So the lower part of the door is a two-layer structure with a mesh and a panel that can be rolled up and fixed on the door by toggles. So this is a bit unique detail and very functional.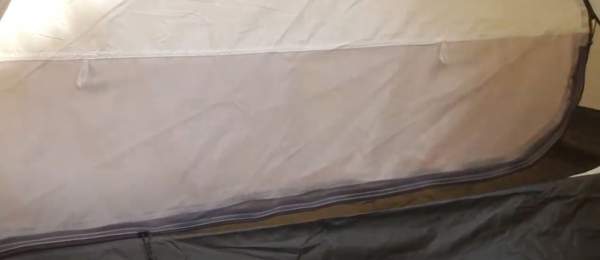 I would say there is not much one could object to ventilation of this tent, but it would be better with a mesh on the rear door.
Materials
The poles & pegs: You have ultralight duralumin 7001 poles, each of the tents is supported by two of them only. On the front they attach to the tent's base through narrow elongated pockets that are in the corners of the fly itself. The rest goes through long sleeves.
With such a design, you can set this tent up even in rain and the inner tent will remain protected. So this is a dry-setup design at its best. The package includes a full set of aluminum pegs and ropes.
The fabric: The fly is a 20D silicon polyester (sil-poly) mini ripstop with a PU coating that gives it 1500 mm minimum waterproof rating. The inner tent is also a 20D polyester mini ripstop and its bathtub floor is a 30D nylon ripstop with the same 1500 mm waterproof rating.
So this is a true double-layer tent, the materials are very thin but of the highest quality, and the waterproofing is also at its best in terms of technology although the rating may look low.
Please see here how to pitch this tent, this is Air Pro 2 Tent but the procedure is the same for all of them:
Note that they also have a groundsheet for each of these tents (i.e., the FAL 2 Ground Sheet, FAL 3 Ground Sheet, and FAL 4 Ground Sheet) and you can order them here.
---
Who is it for
Regarding the best use & climate, these are ventilated tents and this makes them suitable for a warmer climate. But they are also full 2-layer constructions with closable vents so I have no doubt that they can be used all year round.
The profile is aerodynamic and the tents are low, with a full fly and quality poles, so you will have full protection in any weather conditions.
Regarding the size, the tents are for 2, 3, and 4 people. In the specifications below you will see how much of floored area they offer per user. There are also two vestibules but they are not very big, and the manufacturer does not provide the area they offer.
You have already seen their floor plans above. The smallest tent may accommodate 2 people, but the two larger tents are too narrow for 3 and 4 pads, respectively. So I think it is best to downgrade each of them by one user.
Regarding the weight, the tents are light and I would even say ultralight in particular bearing in mind their true 2-layer construction, so it is amazing how they managed to make it so light.
If you calculate the area/weight ratio, the Snow Peak Fal Pro Air 4 is the lightest because if its 1.97 m²/kg. So I have added this tent in my list of best 4 person backpacking tents. The Fal Pro Air 3 tent is included in my list of best backpacking 3 person tents.
The packed size is OK but these are not ultra-compact tents, and the 2-layer design is again behind this.

Regarding the price, this brand is known for its quality products but this comes at a price. Here is the Snow Peak Fal Pro Air 2 price:

Note that you have a lifetime warranty with Snow Peak products, so this also has its price. The Snow Peak Fal Pro Air 3 price is shown here:

---
Specifications
Type: dome-tents.
Weight:
– Snow Peak Fal Pro Air 2: 3.85 lb (1.7 kg).
– Snow Peak Fal Pro Air 3: 4.2 lb (1.9 kg).
– Snow Peak Fal Pro Air 4: 4.9 lb (2.23 kg).
Area:
– Snow Peak Fal Pro Air 2: 29 ft² (2.7 m²).
– Snow Peak Fal Pro Air 3: 34 ft² (3.15 m²).
– Snow Peak Fal Pro Air 4: 47.4 ft² (4.4 m²).
Area per person:
– Snow Peak Fal Pro Air 2: 14.5 ft² (1.35 m²).
– Snow Peak Fal Pro Air 3: 11.3 ft² (1.05 m²).
– Snow Peak Fal Pro Air 4: 11.85 ft² (1.1 m²).
Packed size (L x D):
– Snow Peak Fal Pro Air 2: 13 x 6 in (33 x 17 cm) tent case, 19.7 x 4.3 in (50 x 11 cm) pole case.
– Snow Peak Fal Pro Air 3: body case 14 x 6 in (35 x 17 cm), 20 x 4 in (11 x 51 cm) frame case.
– Snow Peak Fal Pro Air 4: 16.9 x 6.7 in (43 x 17 cm) main case, 20 x 5.1 in (51 x 13 cm) frame case.
---
Final thoughts & rating
In summary, these Snow Peak Fal Pro Air 2, 3, 4 Tents may look simple but do not be fooled with their shape. You have high quality materials here, and a very functional design. These tents will protect you in any weather and they are suitable for any climate. Fully recommended.
Below you can see how I rate these tents against my usual rating criteria so that you can easily compare it with other items of this type. I take the Fal Pro Air 3 for this rating:
BEST PLACEs TO BUY regarding shipping and price:
You might want to bookmark this site and come again, this will keep you informed because I add texts here regularly. Let me know if you have questions or comments, there is a comment box below. Thank you for reading and have a nice day.