---
This ALPS Mountaineering Backpacking Tents Helix built for 1 person and for 2 people is a lightweight and versatile quality tent with aluminum poles and a great waterproof rating.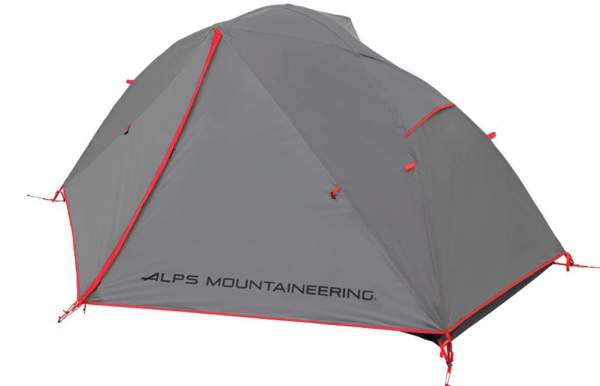 ---
Key features & benefits
Aluminum poles.
Full coverage fly.
Silicone/PU coating.
Vents.
---
What this is about
You have seen the word Tents in the title, so this is about two tents with very similar features a solo tent and a 2-person tent. The main difference is that the solo tent has one door and one vestibule while the two-person tent has 2 doors and 2 vestibules.
The top picture above shows the 2-person tent under the full-coverage fly, and the picture below shows the solo tent with the fly: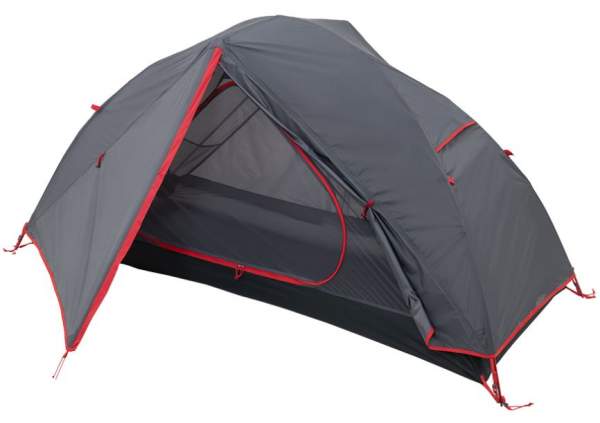 Below you can see how both tents look without the fly, this makes it easier to understand their structure. As you realize, this is a unique 3-pole construction. There is one main pole that crosses the tent diagonally, and two shorter poles that also go diagonally to the sides and they pull the side walls up:
Below you have the top-view of the solo tent, to see even more clearly how the poles are constructed. Something tells me this design is behind the word Helix in the name.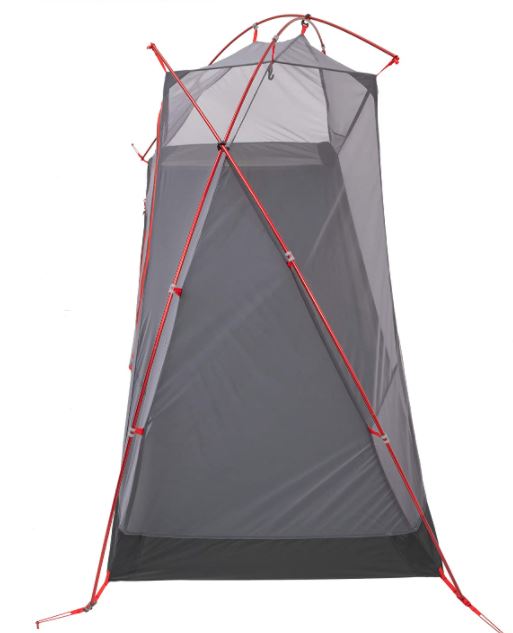 When the tent is without the fly, it can be described as freestanding. This is because the poles are attached to the corner grommets (one is shown below in the text), and the tent hangs attached to the poles, so the tension in the fabric makes it self-supportive.
But there is the full-size fly that creates 2 vestibules in the two-person tent, and one vestibule in the solo tent. So to have them functional, this all must be staked down properly.
Materials
The poles: You have high quality 7000-series aluminum with 8.5 mm diameter. Below you can see some details on how the poles and the tent attach to each other.
There are two cross-points between the long pole and the two shorter poles, and the tent is with hooks at this place to attach it to these points and to keep the poles together, see the picture below.
The fabric: You have a 20D 380T nylon ripstop fly with 2000 mm silicone/PU coating. They claim it resists UV damage and stays taut. The bathtub-style floor is the same materials but with a 3000 mm waterproof rating. All seams are factory sealed.
Other features
The tent has wall pockets in the corners.
Guy-out lines are in the package.
7075 Aluminum stakes.
---
Who is it for
Regarding the size, both tents offer plenty of space, at least from a backpacker or hiker perspective. In the case of the solo tent, you have a total (inner + vestibule) protected space of 28 square feet (2.6 m²). This is more than enough. The total protected area per person in the two-person tent is a bit smaller, it is 23.7 ft² (2.2 m²), but this is still good enough.
Regarding seasons & climate, this is a 3-season tent but in view of so much mesh on the canopy, it is most suitable for a warm environment. You have plenty of mesh on the canopy, and the fly is with vents.
Note that both tents are low profile and aerodynamic, and the fly goes all the way to the ground, so you should be protected no matter where you use this tent.
Regarding the weight, both tents are backpack-portable and quite light. To realize what I mean, it is best to compare, so check my list of best lightweight 2 person backpacking tents where this tent is also included. You can also compare this 2-person tent with yet another from the same brand, the Alps Mountaineering Chaos 2 tent which is much heavier but it also offers far more space.
The packed size is also very good, and this holds for both tents. So you can transport them in any way you want, and they are indeed suitable for a backpack.
Regarding the price, it may look a bit steep, but these are quality tents, with great poles and a quality coating. So the price is justified.
---
Specifications
The numbers below are directly from the manufacturer:
Two sizes: 1 person & 2 person.
Weight:
– 1 Person: 3 lb 3 oz (1.44 kg).
– 2 Person: 4 lb 2 oz (1.87 kg).
Dimensions:
– 1 Person: 7′ x 2'11" (213 x 89 cm).
– 2 Person: 7′ x 4'6 (213 x 137 cm).
Peak height:
– 1 Person: 37.5 in (95 cm).
– 2 Person: 41.5 in (105 cm).
Area:
– 1 Person: 20 ft² (1.86 m²).
– 2 Person: 31.5 ft² (2.9 m²).
Vestibule:
– 1 Person: 8 ft² (0.74 m²).
– 2 Person: 16 ft² (1.5 m²).
Packed size:
– 1 Person: 16 x 5 in (41 x 13 cm).
– 2 Person: 18 x 6 in (46 x 15 cm).
Poles: aluminum.
Stakes: aluminum.
---
Final thoughts, rating, pros & cons
To summarize this ALPS Mountaineering Backpacking Tents Helix review, both tents in this mini-series are nicely designed and they will perform great no matter where you use them in your 3-season adventures. This is a reliable tent from a globally known brand, so you know what you are buying. Fully recommended.
Here is the summary of my rating and pros and cons, as you realize this tent scores great and with all the good reasons:
Please check under the category Tents for 2 people and also among Solo tents if you need more options in these sizes. Let me know if you have questions or comments, there is a comment box below. Have a nice day.