---
If you need a car camping tent for three people, with two rooms and a great waterproof rating, this Vango Venture 350 Tent review is for you. Here you have a tent with 86 ft² (8 m²) of the area, with 2 doors and 2 PVC windows and an incredible price tag.
---
Key features & benefits
2-room tent.
Lots of space per person.
Very good price.
Lights out inner tent.
2 doors.
PVC windows.

---
What type tent is this
The Venture 350 is a tunnel type tent, and it comes with 2 rooms. This includes a sleeping area which is a tent within the external shell, plus the living area. The sleeping area is what they call the lights out design, which means a darker fabric is used and it reduces the amount of early morning light. Such a design is also known as the dark rest or the dark room design. Some call it also blackout design.
Being a tunnel tent, it is not freestanding, so bear this in mind when you plan your camping spot; it must be staked down properly. The tent is 3-person type by its capacity; they use the numbers 350 to stress that it is a 3.5 tent by the area which it provides. Such a notation is typical for Vango and you can see it also in their Omega 350 and Omega 250 tents.
---
Who is it for
Sizewise, the tent is with the declared capacity of 3 people. See the floor plan below to check how realistic this is; you have around 86 ft² (8 m²) and this means 29 ft² (2.7 m²) per person. So this is quite some space, enough of the area for sleeping and lots of the area for the storage, cooking, and for sitting.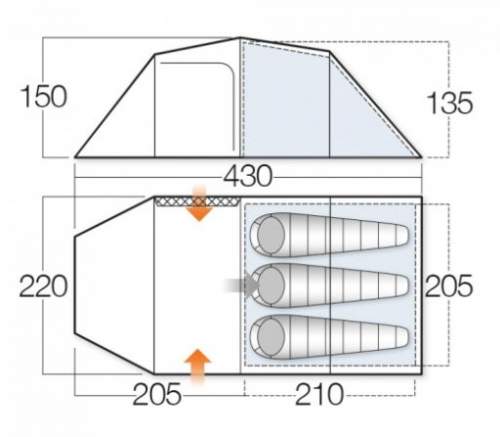 Seasons-wise, this tent comes with an impressive waterproof rating so you can expect a full protection in a 3-season use.
Climate-wise, it is designed with solid windows and without mesh so I see it better suited to a cooler environment.
Weight-wise, this is a heavy tool, you have 15 lb (6.8 kg). Therefore, you would not want to carry it around. It packs nicely to 27.2 x 8.7 inches (69 x 22 cm) so you can transport it even on a bicycle.
---
Materials & construction
The poles
Vango uses what they call the PowerFlex fiberglass poles, you have them three, all is color-coded for an intuitive pitching.
The fabric
You have Vango's Protex 70D polyester flysheet with a very high waterproof rating of 3000 mm. So this is a very reliable fabric for a full protection in a 3-season use. All seams are factory sealed and watertight.
The groundsheet is a very robust and hardwearing polyethylene fabric, fully waterproof up to 10000 mm. It is linked-in type, so this has some good and bad features. The good is that you can remove it and clean, the bad is that the floor in the living room is not fully sealed. But you have the bathtub sealed floor under the inner tent and it goes some 10 cm above the ground, and it is fully sewn in.
The inner tent is a breathable polyester which allows vapor to pass through so condensation should not be an issue. You have mesh sections on the back that match the vents on the fly.
The fabric is weather tested and fire-retardant to the European standard EN5912, and this is certified by an independent test center.
The doors & windows
You have two large doors on the opposite sides of the front room, and one of them is double layer so you have a mesh for insect protection plus panel. They roll to the sides where you can fix them with toggles. On the front you have two solid PVC windows so they are fully sealed.
Other features
Tunnel tents need some extra stabilization from the sides, so here they use the patented Vango's TBSII (Tension Band System). This implies bands fixed on the sides and you can attach them through buckles at the apex. This creates triangular structures between the arches and stabilizes the tent in adverse conditions, especially in changeable winds. When not needed, you can simply unclip and store them in their pockets on the walls.
There are multiple pockets on the sides in the sleeping room. You also have lantern hanging points in the living and bedroom areas.
Ventilation
Since the floor in the front room is not sewn in, you have airflow under the fly. But they have added a large high vent on the front plus two smaller vents on the back side behind the sleeping rooms. The vents are with Velcro stiffeners and you can keep them open all the time, but you can also close them when needed. The upper section of the inner door is also partly meshed for extra ventilation.
---
Good and less good features
Here is my short summary:

Impressive waterproof rating.
Very good packed size.
Two doors.
Great price.
Great organization.

Fiberglass poles.
One door without mesh.
The price & rating
The Amazon price for this tent at the moment of writing this text is only $89. This is really incredible in view of its features. So far the rating by Amazon customers is exceptionally high, the tent has received 4.6/5 average rating. See how I rate it:
My rating breakdown of the Vango Venture 350 Tent
Area per person -

9.1/10

Area/Weight ratio -

8.4/10

Packed size -

8.4/10

Reliability & protection -

9.5/10

Ease of use & features -

9.4/10

Price -

9.9/10
---
Specifications
Weight: 15 lb (6.8 kg).
Dimensions: 169 x 87 in (430 x 220 cm); note these are numbers directly from Vango, slightly different from those on Amazon.
Area: 86 ft² (8 m²).
Area per person: 29 ft² (2.7 m²).
Peak height: 59 in (150 cm); numbers directly from Vango.
Packed size (L x D): 27.2 x 8.7 in (69 x 22 cm).
---
Vango Venture 350 Tent vs Competitors
Here is the Venture tent side by side with two other 3-person tents built in the similar style, but there are significant differences in features. This is to show you some options, like the insulation which you have in one of the tents. Please follow the links to read more.
33 x 24 x 19
(85 x 61 x 48)

---
Final thoughts
In the conclusion of this Vango Venture 350 Tent review I would again stress the price of this tent which I find incredible in view of its features. Note that Vango is a reliable Scotish brand that has been around for decades already, started in Govan in Scotland by one man. So they know how to build tents for the climate they have, this is why you see such a high waterproof rating here which is in the rank of many winter tents. Note that they also have a 4-person version, the Vango Venture 450 tent built in the same style, see also this Vango Beta 450XL with lots of area in its two rooms.

If you still need something different, please visit my page with tents, you have them many in the range 1 – 4 people. Check this Marmot Crane Creek 3 tent if you need something to carry in the backpack. f you need something much bigger for family camping and for large groups, check here. Thank you for reading and please use the comment box below in the case of comments and questions. Have a nice day.  

---