---
If you need a comfortable car camping tent for 4 people, this Vango Beta 450XL review is the text for you. Here you have a very reliable 2-room tent with an impressive waterproof rating and a dark rest design.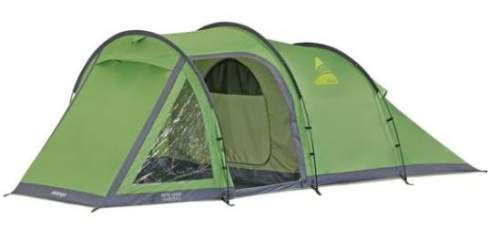 ---
Key features & benefits
Lots of protected area.
2 rooms.
2 doors.
PVC windows.
Dark rest design.
Great waterproof rating.
Enclosed design suitable for a cooler environment.
Very reasonable price.

Warning: after publishing this text I noticed that Amazon was displaying the wrong picture of this tent. So I sent messages to Amazon and Vango and hopefully you are seeing the correct picture on Amazon, it should be as shown above.
---
What is in the name
The Vango Beta 450XL is an extra-large tent for four people, and this is the meaning of the words XL. The tent is tunnel type with three arches and with lots of area in its two rooms. The tent has been on the market for at least 7 – 8 years already.
The sleeping area is a tent within the tent, and this is also a dark rest design or lights out as Vango describes it. This implies that the inner tent fabric is a darker material and there are no windows in the sleeping zone so daylight is reduced and you can sleep longer in the morning. This inner room is fully sealed and fully protected from insects.
The numbers 450 probably indicate its large area which is far more than what 4 people need, this notation is typical for Vango and you can see it also in their Vango Venture 350 and Vango Omega 250 tents.
The tent is not freestanding and this is typical for such tunnel type structures. So choose your camping place where you can stake it to the ground properly.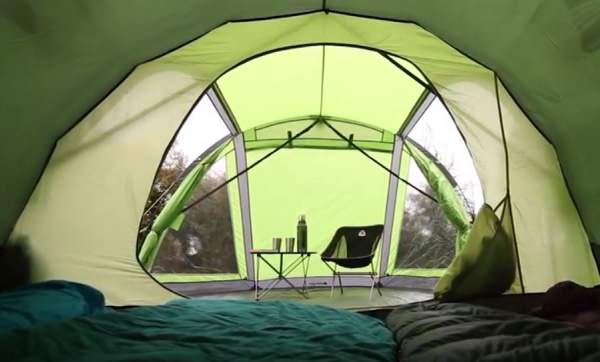 ---
Who is it for
Space-wise, the tent is with the declared capacity of 4 people. The floor area is 123 ft² (11.45 m²) and this means 30.75 ft² (2.86 m²) per person. So this is plenty of space for such a number of users. But as always with the tents of this type, in spite of so much floor area, the sleeping zone is really too narrow for such a number of pads on the floor, just see the dimensions; the width is only 250 cm and this is enough only for 4 very narrow pads. So I know it sounds absurd to say that the area is too small but see yourself.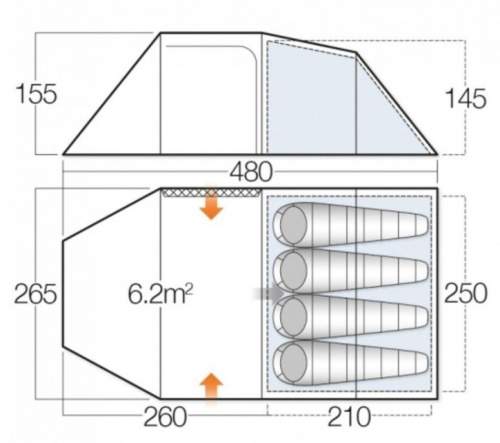 But the living room (or the porch as some call it inappropriately) is so big that it can accommodate a few people easily. Though it is not fully sealed, the floor is linked-in instead.
Seasons-wise, the tent is designed in Scotland and it is without mesh, the windows are fully enclosed, so I see it as best suited for a wet and cooler environment. The waterproof rating is quite impressive, more below, and this is only an argument more for such a statement of its best use.
Climate-wise, the same as above the tent is better suited for a cooler climate. But also that in view of its enclosed design, this is a good option in the cooler areas where you expect sand and dust in the air; you would not want to use those tents with mesh on the ceiling if the air is full of dust.
Weight-wise, with its 17.4 lb (7.9 kg) this tent is not to be carried around even if the pieces are shared among users. This is a tent for places with a motorized access. I have included it in my list of tents for car camping.
But note also its great packed size, 25.6 x 10.6 in (65 x 27 cm), which is such that you can transport it even on a motorbike and bicycle.
---
The materials & construction
The fabric
The shell fabric is Vango's Protex 70D polyester with a 3000 mm waterproof rating, and this is probably more than you will ever need in a normal 3-season camping. The floor fabric is polyethylene, they did not give the waterproof rating but it is definitely far more than for the fly; essentially this is a plastic and it is completely waterproof. All seams are factory sealed.
Note that the groundsheet in the living room is not sewn in, it is linked in so you can attach it to the fly along the perimeter and you have a complete protection from water. This is both good and bad. The good is that you can clean it easily and roll under the inner tent when not needed. The bad is that you do not have a full protection from crawling insects in the living area. But I think you can still use it for sleeping when you have more people inside; you have more than 6 square meters of the area there.
The inner tent is with its own fully waterproof floor, bathtub type, so the protection from the ground is complete. The upper material in the inner tent is a breathable polyester that allows vapor to pass through. This is lights out material with a darker fabric for reduced early morning light.
All materials are fire-retardant and weather-tested, and they meet the European EN5912 safety standard, tested by an independent test center.
The poles
The poles are not the best part of this structure. They call it PowerFlex but this is just a fiberglass, and this material is not particularly durable so it needs some care. But they use the same material in all their tents known to me so it works. Though they also have many family camping tents with air beams instead of poles, see for example this Vango Odyssey Air 500 as a great example.
Windows and doors
There are two large PVC windows in the living room, so this is a solid material and there is no draft passing here. Two entry doors are on the opposite sides, see the picture below, with large panels that roll to the side. One of them is also with extra mesh layer against flying insects. The inner door is from a breathable material and with mesh for ventilation in its upper part. You can unzip it almost all the way around and store it into a pocket on the side.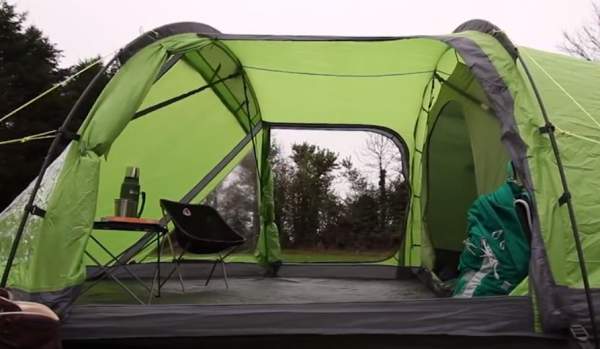 Ventilation
This is a tent without mesh, quite enclosed with its solid windows, but it is with vents. You have one large on the front and two smaller on the back. The inner tent is with mesh sections matching the back vents. The inner door is also with a large mesh section to help airflow.
TBS system
Here you have Vango's patented TBSII system (Tension Band System) which ensures that you have a good tent's stability in adverse conditions. Such tunnel-shaped structures are sensitive to lateral pressure and this is why they have so many guylines from outside, you have probably noticed that.
But they also use this system with bands from inside, and you will see it in their all larger tunnel tents. When tensioned, these bands brace the pole at two points on the sides and at one point at the apex. This prevents sideways movements in changeable winds. They are with buckles so attaching them is very easy, and when not needed you to store them in their tiny pockets on the walls.
Other features
You have reflective webbing around and there are many of them, typical for tunnel tents.
There are lantern hanging points both in the living area and in the inner tent.
This tent is a part of The Scout Association recommended kit.
You have several inner pockets on both sides in the sleeping room to organize your small items.
You have an oversized carry bag opening for easy packing. It is also with compression straps to cinch it down to a smaller size.
Setup
It is best that you see this video, all steps are shown, how to set it up and how to pack it down. It seems they missed first to stake down the backside, this would make the process easier. They use the blue version, there is no difference between this and the green tent. Everything is color-coded for intuitive pitching:
---
Specifications
Type: tunnel tent, non-freestanding.
Capacity: 4 people.
Weight: 17.4 lb (7.9 kg) – this number is directly from Vango.
Dimensions: 189 x 104 in (480 x 265 cm).
Area: 123 ft² (11.45 m²).
Area per person: 30.75 ft² (2.86 m²).
Peak height: 61 in (155 cm).
Packed size (L x D): 25.6 x 10.6 in (65 x 27 cm).
Pitching time: 15 min.
---
Vango Beta 450 XL tent vs Competitors
In the table below I give this Beta 450 XL side by side with two other tents in a similar tunnel shape, but they are with very different features. This is to show you the variety of luxurious options in this size range, note that one of them is a fully insulated tent, yes you are reading correctly.
28 x 13.8 x 12.2
(71 x 35 x 31)

33 x 24 x 19
(85 x 61 x 48)

---
Final thoughts, rating, pros & cons
In the summary of this Vango Beta 450XL review, I wish to stress again that this tent has been around since 2010. So everything is known about this tent and there should be no surprises with such a tool. This is a reliable tent from a renown brand. I would not use it in a very warm environment, after all, it was designed in Scotland, and you have seen its shape, this is for wet and cooler areas.
Please see how I rate this tent:
If you need something smaller from the same brand, check their Vango Omega 350 and Vango Venture 350, both are built in the same style.
Need something with the same or similar capacity in the dome-style? If so, check this Chinook Twin Peaks Guide 4-Person Plus tent. But if you need a much larger tent for family camping, you will find many of the tents from this brand here.
Thank you for reading. Please use the comment box below in case of questions or comments. Have a nice day.