---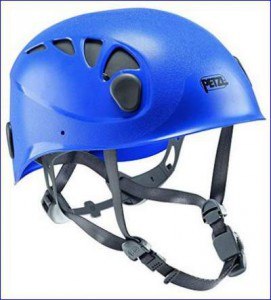 This is a review about Petzl Elios helmet, my own climbing tool which I have been using for more than 7 years now.
After so many years having it attached to my backpack, one could argue that I am positively biased, and I cannot deny this. But I present some basic facts about this tool, so you can decide yourself.
What I like in particular about this helmet is that it really feels like a protective tool, like a helmet indeed on-and-around your head. You will realize it when you compare it with some other models, which are perched so high on top of your head that you feel quite unnatural with them.
The model which I have is the older version with a couple of differences as compared with the more recent type. One obvious difference is the adjustment wheel on the back, which is now replaced with two buttons. In this text, I give details about the new version of course.
Description
Petzl Elios helmet is a reliable tool from a renown brand. This is a comfortable hardshell helmets, made of lightweight and durable ABS shell in four colors. ABS stands for Acrylonitrile butadiene styrene, well known for its toughness and impact resistance. So having this on your head, you can be sure that you have the best lightweight protection.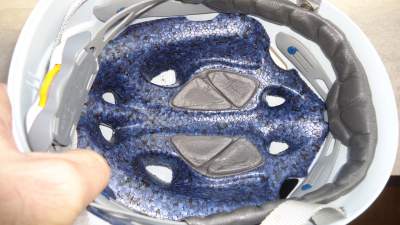 Inside the helmet, you have a polystyrene foam and a nicely padded adjustment mechanism. The foam is quite comfortable and there is nothing one could object to it. You can see this in the picture on the right.
This helmet is a great tool for mountaineering and climbing, for caving canyoning, and or ferrata tours. I myself have been using it in all ferrata and in many climbing tours.
The old version has a series of openings on the back and on both sides. They are made for ventilation. The new model has less opening on the back, but it has sliding shutters to adjust ventilation and to close in case of rain. I would say this is a good improvement.
Adjustability
There is a lot of adjustability with Petzl Elios helmet.
Chinstrap can be positioned forward or backward, to adjust your chin shape. The corresponding adjustment buckles are placed to the sides, away from the chin. This is available in both old and new models.
Adjustable for the head size. You have quick and easy headband adjustment suitable to use even while the helmet is on your head. This all is easily removable and replaceable as well. You can see it in the picture above. In fact, I prefer the old version with one click-wheel to the new model with two red buttons.
Headband height adjustment, for the new model only.
All these features you may see in this pdf file from Petzl, please have a look. In addition, you may see this file as well, about inspection and maintenance of their helmets.
Headlamp attachment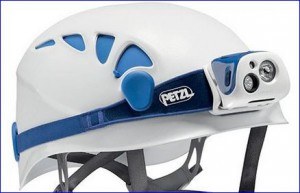 With Elios helmet, you can use any of the Petzl lamps of course. Several great models from this brand you may see described within this site, like Petzl Nao, Petzl Tikka R Plus, or Petzl Tikka RXP.
A lamp can be attached by using 4 integrated clips. You can see how it looks like in the picture here. You put the lamp strap by raising the blue clip with a nail at its lower end, or simply by sliding it under the clip, very easy to do.
I have seen some complaining that this is not easy, and that you cannot slide the strap under the clip. My experience is that it slides quite easily under it.
Ventilation
The old version has a series of 3 openings on both sides, plus 4 openings on the back. The new version has 2 openings on the back and 4 on each side, so 10 in total again.
But there is a shutter added to side openings. It is opened and closed by using a tiny knob, which you may see in the pictures above. It is located within the biggest opening on the side, just above the lamp attachment clip.
Technical specifications 
Material:
– ABS shell
– expanded polystyrene liner
– polyester webbing
– PE foam.
Certification(s): CE EN 12492, UIAA 106
Colors: white, blue, yellow, orange, shown here in the picture.
Petzl Elios helmet is made in 2 sizes. Here are a few data:
 Size 1:
 Size 2:

Weight: 300 g
Circumference: 48-56 cm

Weight: 330 g
Circumference: 53-61 cm
My own is size 2 and with the weight 345 g. So the new version of this helmet is improved in this respect as well.
My experience with this helmet is great. Here is a table with possible cons, and with pros:
 Cons
 Pros

Heavier than foam helmets, but this is natural.
Some complain that lamp attachment is not easy. My experience is different.

Versatile.
The lightest of ABS made helmets.
Great price for the value.
Very comfortable.
Very durable.
Reliable.
Conclusion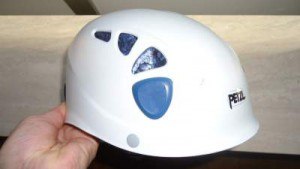 I have not much more to say in this review about Petzl Elios helmet. My own white helmet looks a bit like those used by troopers in Star Wars, so I wish I have chosen some other color.
Blue or red are more appropriate colors for safety reasons as well, more visible from the distance.
Nevertheless, I love it, a great tool in every sense. I have been using it in many climbs, you may see this selfie on Lagginhorn,  or this photo on the summit of Weissmies. I am confident that in this lifetime I shall not need yet another one.
I wish to stress that Elios is a unisex helmet. But Petzl also has Elia helmet, which is specifically designed for women, so have a look.

So, thank you for reading. Please check the links above for updates about the price. I shall be happy to have some comment from you. There is a comment box below. Have a nice day.