---
Big Agnes Van Camp SL 3 Tent is a truly versatile freestanding tent with a great combination of the weight and the area which it offers. It fills the gap between the camping and backpacking tents.

---
Key features & benefits
Two doors & two vestibules.
Freestanding.
3-season tent.
Very reliable.
Versatile.

---
What this is about
The Van Camp 3 is a new tent on the market they launched for the season 2018. The series includes this tent and also the 2-person version. This is a dome style freestanding tent, double-layer type with the inner tent and a full coverage fly.
The tent is with two doors and two vestibules, so this is quite a functional structure. The peak height of 45 inches (114 cm) is quite typical for such a type and you will realize this from the comparison table below.
---
Who is it for
Size-wise, the declared capacity of this tent is 3 people, but the space is quite tight as usual, and you can realize this from the picture below. You have 42 ft² (3.9 m²) and this means 14 ft² (1.3 m²) per person. But when you add the area under the two vestibules, which is 9 + 9 ft² (0.8 + 0.8 m²), this does not look so bad at all.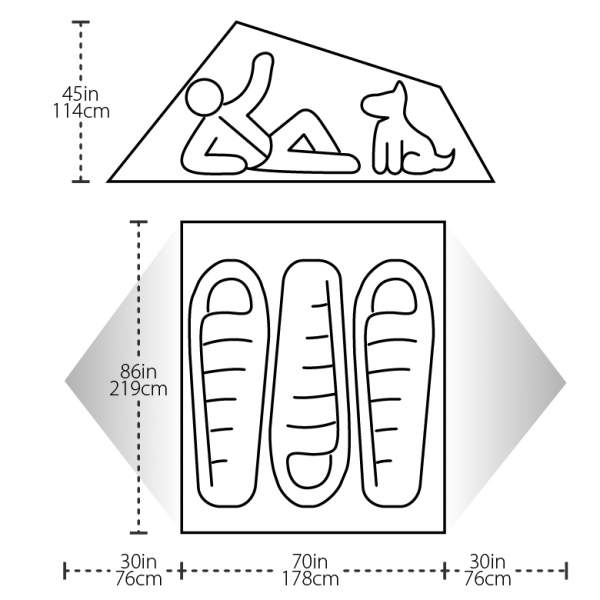 Weight-wise, with its 6 lb 2 oz (2.78 kg), this tent is lightweight enough even to be used as a backpacking tool. Though you certainly have much lighter options on the market, in particular if you are ready to pay more. Note that they have yet another ultra-lightweight tent for 3 people, the Big Agnes Copper Hotel HV UL3 with much more storage space under its huge porch.
Climate-wise and season-wise, this is a very reliable 3-season tent with a full coverage fly and a decent waterproof rating. But with so much mesh in the inner tent, it is better suited for a warmer climate.
So in view of all this, I see it as a tent for hikers, mountaineers, backpackers, and for ordinary camping as well. The packed size is good, 21 x 6.5 inches (53 x 17 cm), so you can transport it in various ways, including a bicycle and a kayak. Three people can squeeze in, but it is much better for two. Nothing is wrong with using it solo as long as you do not plan to carry it yourself.
---
Materials & structure
The poles
There are 3 of them, lightweight aluminum poles. The two main poles are pre-bent and they create the usual X-shaped structure, and the third pole is just a short piece that crosses the two main poles and serves to attach the side walls and make the walls vertical, so it adds lots of headspace here. I did not find any info about the manufacturer but they look like quality and durable. This is a press-fit construction and the tent attaches through clips, there are no sleeves here.
The fabric
You have nylon rip-stop used for the fly, and polyester for the floor which is bathtub style. The other areas are a breathable nylon rip-stop and polyester mesh. The waterproof rating may not look big, 1200 mm for the fly and 1500 mm for the floor, but in reality you do not need more if all seams are properly taped and this is the case here. They have used solvent-free polyurethane tape (No PVC or VOC's).
Ventilation
The main element with respect to this is one vent on the fly. In combination with the mesh and the two vestibules which you might keep partly open, this should be fine.
Other features
Boxy structure with steep walls for a great livable space.
Color-coding for an easy setup.
6 mesh pockets.
Lightweight aluminum hook stakes included.
Media pockets above sleeping area.
Velcro tabs connect fly to the frame.
Pre-cut guy lines and tensioners attached to the fly.
Reflective guylines and webbing on corners.
Integrated gear loft loops.
Please see more about the Van Camp series in this short video:
Accessories
They have the Big Agnes Triangle Gear Loft and Big Agnes Van Camp SL 3 Footprint which you can order separately. With the footprint, you can use the fast-fly variant shown in the picture. In this configuration you use only the fly, the footprint, poles, and stakes.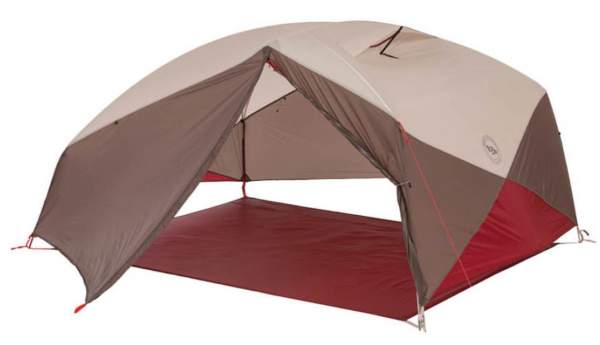 ---
Good and less good features
Here is my short summary:

Quality tent.
Versatile.
Very reliable.
Good ventilation.

The price & rating
The Amazon price for this tent at the moment of writing this text is $350. It is steep but this is a quality and very versatile item. See how I rate it:
My rating of the Big Agnes Van Camp SL 3 Tent
Area per person -

8.0/10

Area/Weight ratio -

8.9/10

Packed size -

8.8/10

Reliability & protection -

9.4/10

Ease of use & features -

9.2/10

Price -

7.8/10
---
Specifications
Packed weight: 6 lb 2 oz (2.78 kg).
Trail weight: 5 lb 9 oz (2.52 kg).
Area: 42 ft² (3.9 m²).
Area per person: 14 ft² (1.3 m²).
Vestibule area: 9 + 9 ft² (0.8 + 0.8 m²).
Peak height: 45 in (114 cm).
Packed size (L x D): 21 x 6.5 in (53 x 17 cm).
Footprint weight: 11 oz (312 g).
Fast fly weight: 1.93 kg.
---
Big Agnes Van Camp SL 3 vs Competitors
In the table below you can see how this tent stands when compared to a super light backpacking tent from Sierra Designs and yet another new tent on the market from Marmot built in the same style and with the same purpose. Please follow the links to compare prices.
Sierra Designs
Sweet Suite 3
---
Final thoughts
In the summary of this Big Agnes Van Camp SL 3 Tent review, I hope you realize that this is a nice and very reliable tent from a renown brand. Regarding the area, it is quite standard, no wow factors here, and the same is with its weight which puts it in between backpacking and camping tents. You might want to compare it with this Mountainsmith Vasquez Peak 3 person tent with footprint. Much lighter and with much more area is their Copper Hotel HV UL3 tent, but you would have to pay more.

Thank you for reading. If you still need something different, just visit my page with tents, you will find the best models on the market in the size range of 1 – 4 people. In particular, check this Big Agnes Copper Spur HV Expedition Tent 3 person which is from the same brand and a convertible tent for all seasons. For larger family camping tents please check here. See this Vango Mistral 300 with its incredible waterproof rating.
Please use the comment box below in the case of questions and comments. Have a nice day. 

---