---
This ALPS Mountaineering Meramac 2 Person Tent review is about a freestanding dome style tent for 2 people, with 2 doors, a very easy setup, and an incredible price.

---
Key features & benefits
2 doors.
Very easy setup.
Very reliable tent.
Bonus gear loft included.
Incredible price.

---
What type of tent is this
The Meramac 2 is a tent from a large series that includes five tents from 2 to 6 people. This series has been around for a number of years already, everything is known about them. So this is the smallest tent in the series, and they all share the same basic features.
The tent is a fully freestanding construction with a partial coverage fly. This means that even after adding the fly, you can still move it around and rotate to find the best position in the camp. This also means that you have no vestibules. So if you need vestibules, then check their Lynx 2 tent.
The tent is a very typical dome structure created with two main poles, plus a small brow pole that supports the roof above the doors. This pole you put into two tiny pockets underneath the fly and also fix to the fly with a Velcro tab, this is why it is not in the picture below: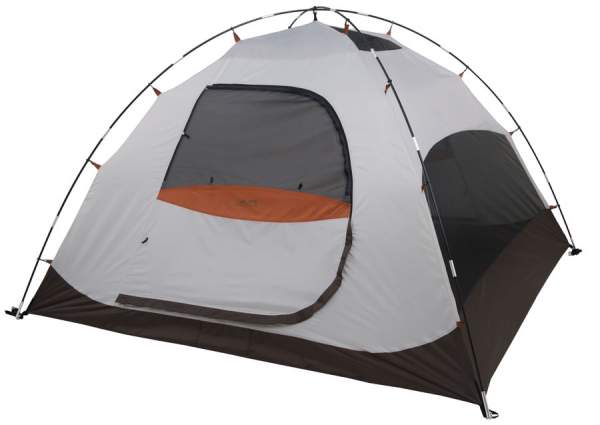 ---
Who is it for
Weight-wise, with its 7.56 lb (3.43 kg), this is a camping tent and not something to carry in the backpack. But its packed size is really good and you can transport it even on a bicycle, in a kayak, on a motorbike. You have it packed into (L x D) 20 x 6.5 inches (51 x 17 cm) only.
Space-wise, the tent is with the declared capacity of 2 people, and it offers the area of 38 ft² (3.5 m²). This means 19 ft² (1.75 m²) per person. Now, you have no vestibules here, so although you have more than enough space to put two sleeping pads, I think it is best used as a solo camping tent. In such a case, you can put a cot inside and have a castle.
The tent's height is good enough for such a type, you have 48 inches (122 cm). So it is best to use some of those low cots; you have them from the same brand, like this Ready Lite Cot. But see also some similar cots from other brands like this Slumberjack Low Cot, or this Go-Kot Regular.
Seasons-wise, the tent is with a decent waterproof rating and with all seams taped, but the fly is not a full-coverage type. So I am sure it will protect you in most situations in a 3-season warm weather use, but do not put it to really harsh tests. Its design is such that you can easily orient it so that the doors are not in the direction of the wind.
Climate-wise, this is a tent for a warm weather camping. Too much mesh does not keep the warmth, so if you need something for a cold environment, better choose some of those fully enclosed tents without mesh like the Vango Omega 250 or the Vango venture 350.
---
Materials & setup
The poles
This tent uses fiberglass poles, so this is not the best materials, it is heavy and not particularly durable. There are 3 poles, two main plus a brow pole, all shock corded and you cannot lose any part of it. They are 8.5 mm in diameter and with aluminum at all joints.
The fabric
The fly and floor are from the same material, so you have 75D 185T polyester with 1500 mm coating. This is a durable material for the fly but just average for the floor. The same holds for the waterproof rating, you do not need more for the fly but it would be better to have more on the ground. So adding a tarp or a footprint would not be bad, you can order it here for some $27 or so. This is not much in view of the great price which you have for the tent.
Note that they have recently launched a series with a much thicker floor, but those are far more expensive. These tents have ZF letters in the name, see the Meramac 5-person ZF tent from this new series.
The fly is with four reinforced high guy-out points and this should give enough stability even in stronger winds.
The two doors are with mesh and with waterproof panels, so you have a protection and privacy. There are no vents on the fly, in my view you really do not need them; the brow pole keeps the fly up and you will have a good vertical air flow all the time.
Other features
The zippers are extra large #8 on both doors for extra durability. You have rather small mesh storage pockets, but a gear loft is included as well so you can keep your small items and light above the ground.
The tent comes with 8 inches steel stakes, and with guy ropes included.
Ventilation
There should be no issues with ventilation here. The two narrow sides are with plenty of mesh area, and you have it also on the top. These sections are fully covered by the fly. Note that without the fly you would not have much privacy from these narrow sides.
The doors are also with mesh in the upper sections and you can keep them open almost always because they are under the small brims which you have there, so you can always have a good cross flow.
Setup
I guess it cannot be easier (unless you are using an instant tent). So all is based on ring-and-pin poles attachment to the corners and then you clip the tent to the structure. Note that there are no sleeves.
---
Good and less good features
Here is my short summary:

Good waterproof rating.
Very good packed size.
Bonus gear loft.
Great price.

Fiberglass poles.
No vestibules.
The price & rating
As of the moment of writing this text the Amazon price for this tent is only $73, it was reduced from $129, so check the links for updates. This is incredible for such a nice tent.
The rating by users is generally very positive and the average rating by Amazon customers is for every respect; it is 4.5/5 based on almost 200 reports. See how I rate this Meramac 2 tent:
My rating breakdown of the ALPS Mountaineering Meramac 2 tent
Area per person -

8.1/10

Area/Weight ratio -

8.1/10

Packed size -

8/10

Reliability & protection -

8/10

Ease of use & features -

9/10

Price -

9.9/10
---
Specifications
Weight: 7 lb 9 oz (7.56 lb; 3.43 kg).
Dimensions: 90 x 60 in (229 x 152 cm).
Area: 38 ft² (3.5 m²).
Area per person: 19 ft² (1.75 m²).
Peak height: 48 in (122 cm).
Packed size (L x D): 20 x 6.5 in (51 x 17 cm).
Pole diameter: 8.5 mm.
---
ALPS Mountaineering Meramac 2 tent vs Competitors
It is always good to compare an item like this with its competitors, this is the best way to understand its feature if you are not familiar with this industry. So here are two tents built in a similar style but with vestibules, so compare the space and other features. To see more please follow the links, they are described in detail in my separate reviews.
Vestibules area, 
sq ft (sq m)
ALPS Mountaineering
Meramac 2
---
Final thoughts
So in the summary of this ALPS Mountaineering Meramac 2 Person Tent review, I would say that it is not surprising that this tent has remained on the market for all these years and that it has remained so popular. The price is simply incredible and this tent is reliable and with quite good features for occasional outdoor trips. This is such a simple and easy to use design and a good packed size, and its price tag is hard to match. I have included it in my list of the best 2-person camping tents.

Thank you for reading. I gave a few alternatives above in the case you want something different. Much more you will find if you visit my page with tents in the range 1 – 4 people. If you need something for all seasons, check this Eureka Mountain Pass 2 tent. Check also this 4-person ALPS Mountaineering Meramac 4 ZF Tent from the same series and also the ALPS Mountaineering Meramac 3 Outfitter Tent with aluminum poles. For larger family camping tents please check here.
Please use the comment box below in the case of questions and comments. Have a nice day. 

---