---
Eureka Mountain Pass 2 Backpacking Tent is for outdoor adventurers who go on the trail all year round. This is due to its convertible design that makes it suitable for summer as well as for winter camping.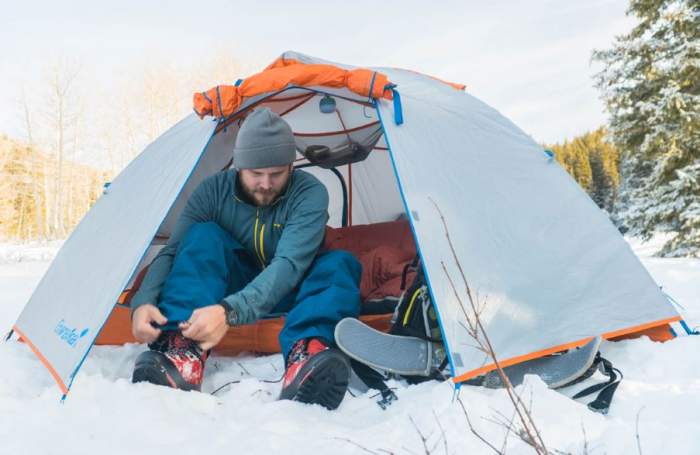 ---
Key features & benefits
Unique convertible design.
Two doors & two vestibules.
Footprint included.
Gear loft included.
Aluminum poles.
---
What type of tent is this
Note first that this tent should not be mixed with their Mountain Pass tents with XTE in the name, where the letters mean "extended" but not in physical size, this is in terms of seasons. They wanted to say that it is more than a 3-season tent.
In fact, with this new series (without the letters XTE) they have even more extended these new tents to 4-season tools. So this all may sound confusing but in any case, the tent which you have here looks very much as a 4-season tent and you will realize this from all its features.
This is a two-layer full-coverage fly dome style tent with a freestanding design. Namely, you have a hubbed design and as soon as you attach the poles' ends to the tents' corners, the poles alone become self-supporting. But it has two vestibules that must be staked down to be fully functional. So as usual, the term freestanding is a bit vague, and it is necessary to give more details about this.
---
Who is it for
Space-wise, the tent offers 32 ft² (3 m²) of the inner area, plus 10.8 + 7.6 ft² (1 + 0.7 m²) under the two asymmetric vestibules. So the total protected area per person is 25.2 ft² (2.35 m²). This is quite a lot for such a type, and you will realize this also from the comparison table below.
Seasons-wise and climate-wise, they have built it in such a way that you can use it in all seasons. This is a clever convertible design with removable panels (for summer camping), but you can put them back to use the tent in a cooler environment. The waterproof rating (more below), strong poles, the footprint, all together give an impression of a tent for all seasons, in particular if you use it below the tree line. So I have included it in my list of best winter camping tents.
Weight-wise, with the minimum weight of 5 lb 9 oz (2.52 kg), this is not the lightest option if you plan to carry it in the backpack, so I would say it is in between the true ultra-light backpacking tents (see for example this Big Agnes Copper Hotel HV UL2 Tent or the Marmot Force 2P tent) and camping tents (compare it with this Eureka Suite Dream 2 tent which is also with a footprint).
The term minimum weight is never clear unless the manufacturer explains what it means. They did not give this info so I asked them and the reply was that this is for the frame, fly, and tent body, and the footprint is also included in the minimum weight. Note that the total weight of the Mountain Pass 2 tent is 6 lb 15 oz (3.15 kg); this according to the official manufacturer's statement.
The packed size 17 x 6 inches (43 x 15 cm) is really excellent and this makes it even more a backpack-portable tool.

---
Construction & materials
Convertible design
As I discussed in my previous text, so-called 4-season tents are typically just winter tents. This is simply because they are built for low temperatures and are consequently not very comfortable for summertime use.
Well, this is not the case here due to a unique and clever design – as mentioned above, this is a convertible tent. So you have panels that are removable or you can unzip them just enough to have a great ventilation when you camp in summer. But if you use it in winter, you can zip them up and have a very enclosed configuration that preserves the warmth similar to any winter tent, with an important difference – here you have a double layer design which you do not have in most of the winter tents.
Poles & stakes
This is a hubbed design; some manufacturers call this fast-pitch. So the poles converge to the top hub element and they are permanently attached to the hub, this is a shock-corded construction.
The poles are Osung aluminum, 9.5 mm in diameter, and you also have one brow pole which provides more head and elbow room by making the front and back walls vertical. So all of them are permanently attached to each other. The stakes are also provided and this is aluminum material.
The fabric
The fly is 68D 185T polyester taffeta, PU coated and with 1800 mm waterproof rating, and all seams are taped. The floor is the same materials but here you have a 3000 mm rating. The walls are 20D 400T polyester ripstop and the mesh sections are 40D polyester no-see-um.
The two vestibules are asymmetric; one is with dual parallel zippers shown in the picture above, and the other is with a single central zipper, see the picture below. Note that the two doors are also asymmetric and very different in size.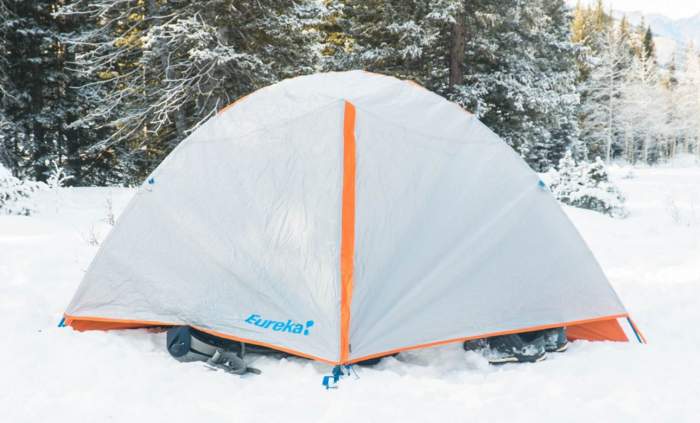 Ventilation
All is properly done regarding this issue. You have dual vents on the roof and they are matched with the mentioned inner mesh sections. Guyout points are positioned so that you can pull the fly away and have a proper airflow from below.
Other features
This tent comes with a footprint in the package. This adds lots to the value and to the lifetime of this excellent tent. It saves the floor from groundwater and sharp objects.
There are 5 pockets for storage.
Gear loft is included.
Please see more in this short video:
---
Specifications
Capacity: 2 people.
Minimum weight: 5 lb 9 oz (2.52 kg).
Dimensions of the inner area: 86.6 x 55.1 in (220 x 140 cm).
Floor area: 32 ft² (3 m²).
Vestibules area: 10.8 + 7.6 ft² (1 + 0.7 m²).
Total area: 50.4 ft² (4.7 m²).
Total area per person: 25.2 ft² (2.35 m²).
Packed size: 17 x 6 in (43 x 15 cm).
Peak height: 3 ft 5 in (41 in; 104 cm).
Vestibules: 2.
Doors: 2.
---
Eureka Mountain Pass 2 Person Tent vs Competitors
I give this Mountain Pass 2 tent side by side with the two other tents that are considered as 4-season tents. The MSR tent is also a double-layer type. So you see that the Mountain Pass is heavier, but it offers more space and it comes with the footprint. It is also convertible so it will serve you equally well in summer and in winter; this is not the case with the other two tents. Please follow the links for more details.
---
Final thoughts, rating, pros & cons
So the Eureka Mountain Pass 2 person tent comes with a clever design which makes it a versatile option and a true tent for all seasons. Although a bit heavy, it packs nicely so it is indeed backpack portable in particular if the weight is shared among the users.
The tent costs a lot but this is a quality item worth the investment, and it is more affordable than some of its 4-season competitors. See how I rate it:
BEST PLACEs TO BUY
You might want to compare it with this Big Agnes Copper Spur HV2 Expedition Tent which is also built as a convertible tent. See also my text where I compare these two tents side by side.
If you need more options for winter tents, please check this text, and also have a look at this great Slumberjack In-Season 2 Tent built for all seasons. Check also this new Eureka High Camp 2 tent which is a winter tent. Please use the comment box below in the case of questions or comments. Have a nice day.