---
This Big Agnes Shield 2 Review is about an impressive technical winter tent with breathable and waterproof single-layer design, a great tool for experienced mountaineers and outdoor experts.
---
Key features & benefits
Waterproof and breathable fabric with very high rates.
Suitable for all seasons.
Very easy setup.
Strong and sturdy structure.
---
What type is this
This is what is called a 4-season tent, which in practice means a tent suitable for winter conditions. You can see more about this terminology and features of winter tents in my separate text.
The tent is a single-layer type, which is typical for winter tents. Such a design is used because it allows for a quick setup which can be expected in such conditions. But this does not mean it is the best; having an inner tent has certain advantages.
It is free-standing, which is again completely natural for winter tents, but it comes with Mega X stakes which may be buried as deadman anchors, and it is with oversized reinforced stake out loops – to be used with skis, ice axe, ski poles. So the bottom line is that you can pitch it anywhere, regardless of the surface.
---
Who is it for
This is a very expensive tool, with advanced materials and a lot of technology used in its construction. So if you are a beginner you might want to consider something less expensive. But if you can afford it, do not think twice; this is a great and reliable tool very much suitable for mountaineers in all seasons.
I normally go to the Alps and to high altitudes above 3000 meters, and those are elevations where you always have almost a winter atmosphere. So this tent is definitely for such an environment. I am convinced it may withstand quite strong winds.
---
Overview
This tent has enough space for two people, you have 28 sq ft (2.6 sq m). It is not completely rectangular, see the floor plan below. But this floor area is all you have, there is no vestibule and you do not have space for gear. So this is not the most luxurious option on the market, but such tents are not built for luxury. If used solo, it will give plenty of space, but see the weight.
You have a single front door, this is an optimal configuration for two users and for such narrow tents.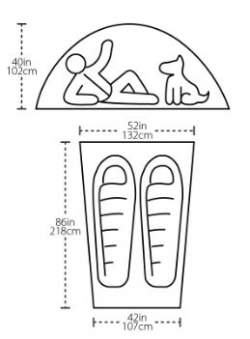 This is a 2-pole structure so it looks like any ordinary 3-season tent, but these poles are stronger than usual, and the tent attachment to the poles is through very strong and long sleeves. There is also a third short pole on the front but it is there mainly for an additional vestibule if you decide to buy it, and to give support to the door.
The door rolls down towards the floor, and you have a plastic-weather viewing window on it. I am not sure how durable this plastic is. You also have a mesh section on the door so you can unzip its flap and have some extra ventilation and a window on the door. This is quite necessary because the rest of the tent is without windows, but you have dual vents on the top.
There is enough headroom to sit in the tent. A bit of luxury are four mesh pockets inside, for small items, and you also have gear loft loops on the ceiling (a loft can be ordered separately). The fly vents are with zippers, so you can use them for venting in inclement weather, or zip up the nylon layer in the case of strong storms.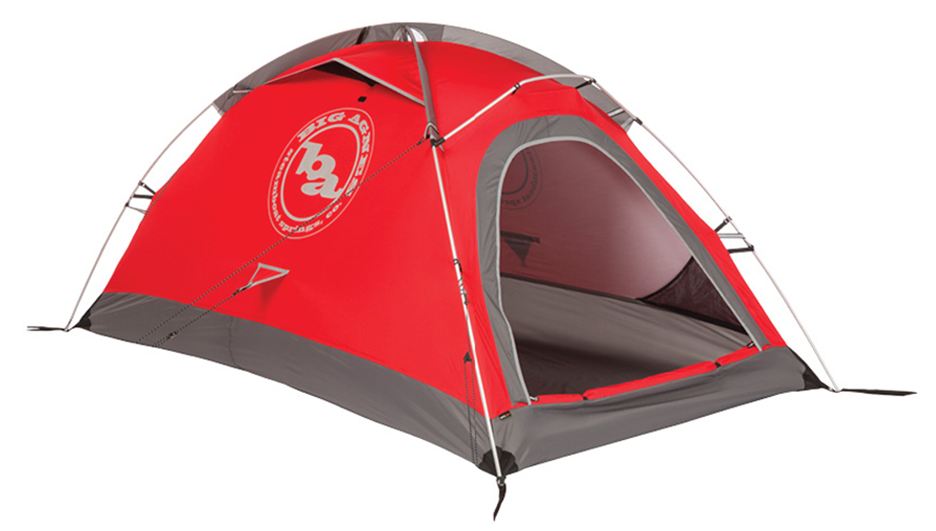 ---
Materials
The materials used in the construction of this tent are quite impressive. The fabric of this tent is with extraordinary features, an ultralight three-layer waterproof, breathable nylon fabric with a microporous membrane and tricot layer to enhance moisture management.

Breathability rating
This tent is built from a breathable fabric with 30000 g/m²/24 hours. I could not believe my eyes when I saw this number. This puts it in the group of materials of this type with the highest breathability. Just for comparison, one of my good waterproof and breathable jackets is with the breathability rating 12000 g/m2/24 hours, and I can tell you it is quite breathable, and another is 5000; to get some idea about the meaning of this number.
But you will notice also that this tent has two vents. So this is the best possible combination you can expect from a winter tent.
Waterproofness rating
The membrane used here is with electrospun nanofibers which provide a 10000 mm waterproof rating at minimal weight. Such a rating is formally in the middle of the scale, perfect for standard mountaineering jackets, so for a tent this is an impressive number. In addition to this, all seams are taped with waterproof, solvent-free polyurethane tape (No PVC or VOC's). See more about this terminology here.
To realize the meaning of this rating, compare it with this MSR Access 2 Tent which is with 1200 and 3000 mm for the fly and the floor respectively.
37.5 Coating
This is something advanced, applied from inside on the fabric, a layer which is supposed to regulate moisture and temperature keeping it at 37.5 degrees. Hard to understand how this works, but field testing seems to show that it does.
---
Big Agnes Shield 2 Vestibule option
This tent is without a vestibule. In view of the limited space in the tent, you might need it. It can be ordered separately, see how it looks when added to the tent:
Now you see the purpose of the extra third pole. With such an addition you get a lot of extra functionality and protection.
---
Specifications
Trail weight: 3 lb 12 oz (1.70 kg).
Packed weight: 4 lb 5 oz (1.97 kg).
Packed size: 5 x 17.5 in (13 x 44 cm).
Floor area: 28 sq ft (2.6 sq m).
Peak height: 40 in (102 cm).
Footprint weight: 6 oz (170 g), to be ordered separately.
No vestibule.
Doors: 1.
Vents: 2.
Stakes: 8 lightweight Mega X.
Storm flap on door zipper.
Ready to pitch; with pre-cut guy lines and tensioners attached to fly.
Reflective guylines and webbing on tent corners.
4 interior mesh pockets.
Oversized, reinforced stake out loops.
Gear loft loops included.
---
Summary & rating
To conclude this Big Agnes Shield 2 Review, this is an incredibly well-built tent for all seasons. I love the combination of the breathable fabric and dual vents. This together with the door mesh window should provide an optimal ventilation and reduce condensation to the minimum. I can strongly recommend this tent. See how I rate it:
If you need something less technical and more affordable, please visit my page with tents, there are many great options available. See in particular this MSR Advance Pro 2 tent.
Thank you for reading. In the case of comments and questions, please use the comment box below. Have a nice day.