---
This WELLAX UltraThick FlexFoam Sleeping Pad review is about an impressive insulated pad for all seasons and climates, with a quiet ripstop fabric, and an incredible price.
---
Key features & benefits
Very thick pad.
Huge R-value.
Integrated self-inflating pillow.
Quiet ripstop nylon material.
Brass valves.
Carry bag included.
Great price.
---
What this WELLAX Sleeping Pad is about
Here you have a self-inflating pad, and this implies a thick layer of a memory foam which they call the FlexFoam inside of the pad. So when the pad is decompressed, its foam pulls the air in and this is how it self-inflate. So just open its two brass valves (one shown below) and spread it and leave, you can do other things in the camp while it inflates.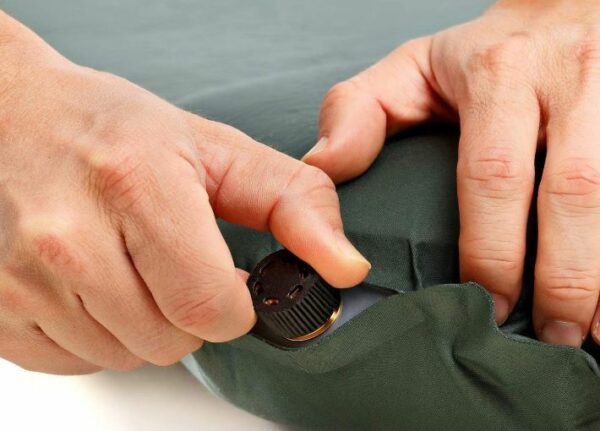 In a few minutes the pad will be ready. Then just close the valves and this is it. If it is not inflated enough you can always blow a bit of air by mouth. I know that with new pads it may take a bit longer to inflate. This is normal because the foam has been compressed for a long time and it needs time to recovers its elasticity.
This is quite a thick pad and with great dimensions, see its side view in the picture below. Note that you have a headrest on one end and it is completely integrated with the rest of the pad. So it inflates together and you may do well without any extra pillow.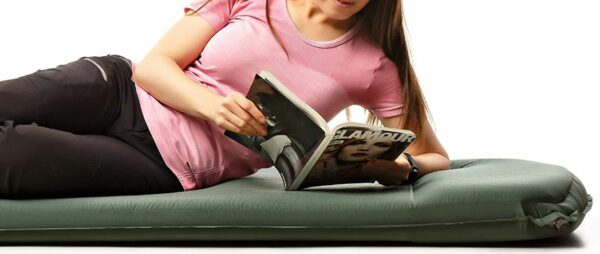 The shell is a laminated 20D ripstop nylon with a TPU layer, see the picture below. The pad is waterproof, abrasion-resistant, and it is also very quiet. So if you are sensitive to sounds you might want to consider it. As you know there are many pads on the market even from the top brands that are very noisy. This is not so here.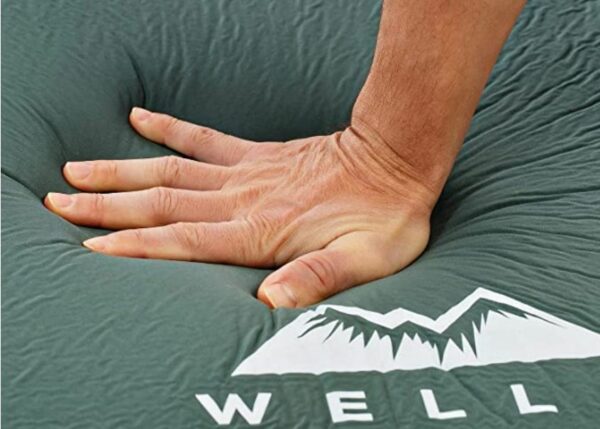 You might want to know also that they have a 'no question asked policy' so you can try it and return if you are not happy with it. This shows the confidence of the brand in this product. Observe also that it comes with 2 compressing straps and a carry bag.
Insulation: The declared R-value is 9.6. I assume this is not the new rating system (ASTM F3340-18 Standard R-Value) introduced in 2020, but it does not matter really, it is huge in any case.
Such a great rating is due to its thick memory foam and the air trapped inside. So you are safe with such a pad no matter where you are going to use it.

---
Who is it for
Regarding the weight, they describe it as 'compact and lightweight', but with its 7 lb (3.18 kg) this pad is everything but lightweight. They also describe it as a backpacking and hiking pad and this clearly makes no sense at all. Check one of these ultralight self-inflating pads designed for such a purpose.
This is a great pad, but you would not want to carry it anywhere, use it at places with motorized access and you will have a pleasant camping bed.
Regarding the size, the pad is quite impressive with its 77 x 27 inches (196 x 69 cm). They build it in one size only, but this is good enough because there is no need to be worried about its weight and size, you are not supposed to carry it.
Regarding the thickness, with its 3 inches (7.6 cm) this pad offers lots of comfort and cushion, and it is good enough even if you are a side sleeper. So it is for everybody.
Regarding the R-value which is 9.6 as mentioned above, this pad is suitable for all seasons and for all weather conditions.
Regarding the price, when you see all the features above, I would say this pad is simply incredible, a true bargain.
---
Specifications
Type: self-inflating pad.
Weight: 7 lb (3.18 kg).
Dimensions: 77 x 27 in (196 x 69 cm).
Thickness: 3 in (7.6 cm).
R-value: 9.6.
Packed size (L x D): 31 x 8 in (79 x 20 cm).
---
Final thoughts, rating, pros & cons
To summarize this WELLAX UltraThick FlexFoam Sleeping Pad review, this pad is perfect for any outdoor activity where you would not have to carry it long distances. No doubt it can be used at home as well in the case of sudden guests and sleepovers. You have a great value/money combination here, fully recommended.
I have included it in my list of best car camping sleeping pads and also in the list of best self-inflating camping pads.
When you check the numbers on Amazon you will see a mess with several different packed sizes and several widths, three different weighs values, quite disappointing. But if you disregard all this, you still have a great pad, see my rating:
Please check under the category Sleeping Pads if you need more options. If you need something ultralight from the same brand, check this WELLAX Ultralight Air Sleeping Pad. But if you want something in the same style for car camping, see this Lightspeed Outdoors XL Self-Inflating Sleeping Pad built in the same style.
Bookmark this site and visit again, we add texts here on a regular basis. Thank you for reading and have a nice day.