---
This WELLAX Ultralight Air Sleeping Pad review is about an inflatable camping mat for backpacking, traveling, and hiking, and with a price that is hard to match. 
---
Key features & benefits
Ultralight.
Ultra-packable.
Inflatable.
R-value 2.1.
Very silent.
Great price.
---
What this is about
Here you have an inflatable sleeping pad with numerous air-sprung cells for a great support and cushion. They write about 300 of such cells though this does not look so, but there are far more than 100 for sure. With so many cells, this pad is very stable and bouncing is reduced to a minimum. It provides a cradling configuration so you are kept on the pad when you sleep, see the picture: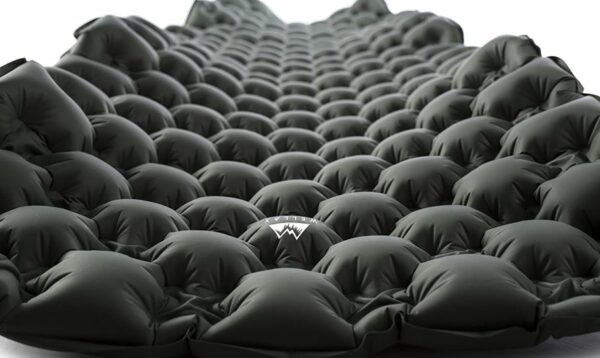 The material is a 20D ripstop nylon so this is thinner than what you have in the Sea to Summit Ether Light XT Mat. It is with a TPU coating that makes the pad waterproof. The top and botom are the same structure as you can see from the picture: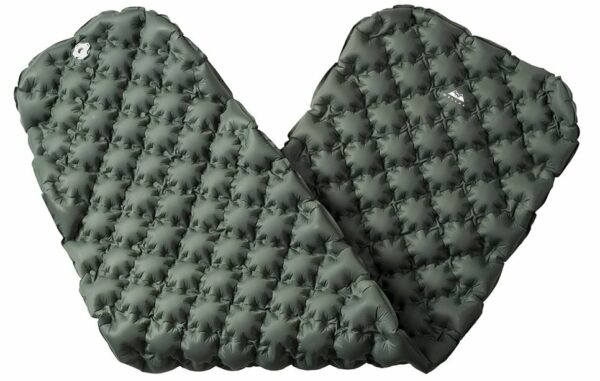 This is one of the pads that are really quiet. As you know there are many of them on the market that are crinkly and squeaky, and this can irritate you and other people in the tent. You are safe from this with this WELLAX Ultralight Air Sleeping Pad.
The valves: The pad comes with two of them, one for inflation and one for deflation, both very flat and easy to use, see how they look. Normally you can inflate the pad in up to 10 blows by mouth.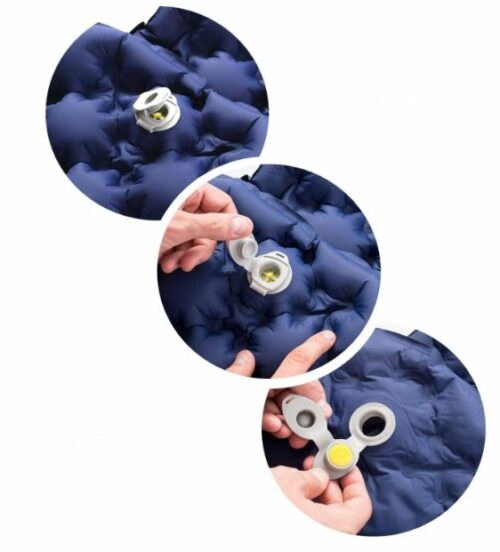 Insulation & R-value
The pad comes with some insulation, but they do not provide any information about the material inside. The official R-value is 2.1.
---
Who is it for
Regarding the size, they build it in one size only. The size is great, it measures 78 x 24 inches (198 x 61 cm), note that this is in the range of the L size of the mentioned Sea to Summit Ether Light XT Mat (which is considerably heavier).
Short people do not need such a length, and this would save some weight in the pack, so it is a pity they do not build in several sizes. You can compare this with the Big Agnes Insulated AXL Trail Boss Air Sleeping Pad that is built in no less than 5 different sizes.
Regarding the thickness, with its 2.5 inches (6.3 cm) it is not particularly thick, but the construction is clever and this makes it more comfortable than what you would expect. This is in the range of the Klymit Insulated V Ultralite Pad (which is both smaller and heavier).
Regarding the weight, with its 14.5 oz (411 g) of weight, this pad is in the group of ultralight backpacking pads and you will see it included in the list if you follow the link. So indeed they are right when they describe it as a pad suitable for backpackers and hikers.
Note also that its packed size is excellent, it measures 10 x 3.5 inches (25.4 x 8.9 cm). So again, this is suitable for attaching to a pack, and you can transport it also on a bicycle.
Regarding seasons & climate, with the declared R-value of 2.1, this is a pad for 2 seasons. They claim it is for 3 seasons but I would not take this seriously. For a cooler environment, you should find something warmer. But even with this value, it is still far better than the Sea to Summit Ether Light XT Mat.

---
Specifications
Weight (given on Amazon): 14.5 oz (411 g). Note that on the brand's site the weight is 0.97 lb (430 g).
Dimensions: 78 x 24 in (198 x 61 cm).
Thickness: 2.5 in (6.3 cm).
Packed size (L x D given on Amazon): 10 x 3.5 in (25.4 x 8.9 cm). Here again to stress that on the site of the brand the numbers are 11.02 x 3.93 in (28 x 10 cm).
Warranty: No question asked if you want to return.
---
Final thoughts, rating, pros & cons
To summarize this WELLAX Ultralight Air Sleeping Pad review, they have built a really great pad, it is indeed ultralight and ultra-packable, easy to use, and comfortable. The price is hard to match, so I can fully recommend it.
Please see how I rate this pad against my standard set of criteria so you can easily compare with some other pads presented here in the site:
Note that there is yet another pad from this brand presented here in the site, the WELLAX UltraThick FlexFoam Sleeping Pad.
If you need something different, just look in the category Sleeping pads, you will find them many and in a variety of types. Bookmark this site and visit again, this will keep you informed because we add texts here on a regular basis. Thank you for reading and have a nice day.