---
Here you have the list with ultralight sleeping pads for backpacking, all top-notch inflatable and nicely packable items from renown brands. So keep reading.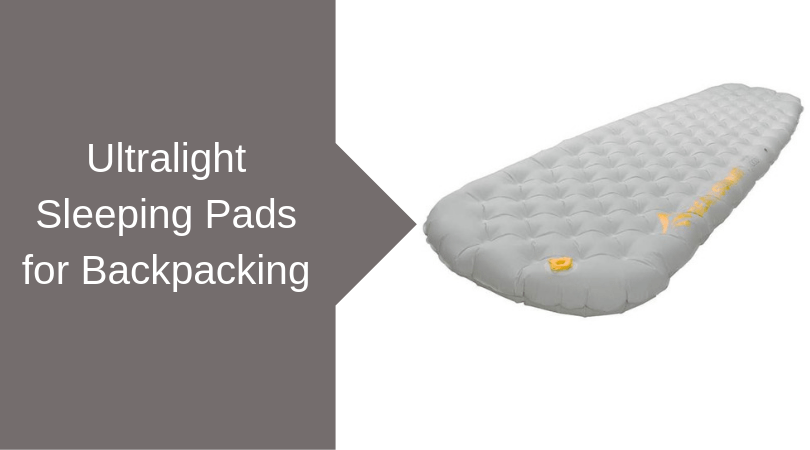 ---
What does the term ultralight sleeping pad mean?
My guess is that everybody will have a different understanding of the term 'ultralight'. I have decided to make it 1 pound (453 grams) per person. There is no particular reason for taking this number and not some other. But I have been carrying backpacks for well over 3 decades so far. So I have some feeling about what such a limit may mean when you take into account all the other stuff in the pack.
But the weight is not the only important parameters. The packed size also plays a big role, otherwise we would all use closed-cell foam pads which are even lighter. In view of the packed size, nothing is better than inflatable pads of course. There is also a big difference in comfort when you compare these two very different constructions.
---
My list of ultralight backpacking sleeping pads
So here are all the pads, ordered alphabetically, the numbers are only for navigation and this is not ranking:
Regarding the size, you will see:
Sleeping pads for solo use.
Double-wide sleeping pads. This type may shed the weight if you are on a tour with a partner. In such a case my weight limit is 2 pounds. This explains why I use the words 'per person' in the text above.
Regarding the seasons & climate you will find:
3-Season pads.
Insulated sleeping pads for all seasons. In general, here you can have the pads with synthetic and down insulation.
Here I give only some basic information and data, so please follow the links for more details.
---
1. Exped AirMat HL Duo Inflatable Sleeping Pad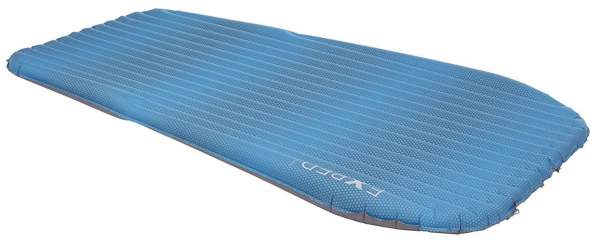 So this is a double-wide pad and it is incredibly light, it weighs only 1.54 lb (700 g) for the size M. So this is only 350 grams per person and I think this is a great number.
The packed size is (L x D) 7.9 x 4.7 inches (20 x 12 cm). This means the volume below 2.3 liters when packed, so as you see this is also an incredibly packable item. It is built in two sizes M and LW and it is most suitable for warm weather camping, hiking, and backpacking. The official temperature rating is 39 °F (4 °C), or the equivalent R-value 1.9, so this should be good enough for up to 2 seasons use.
Note that you have two separate baffled chambers, and they are 2.8 inches (7 cm) thick. The pad comes with the Schnozzel Pumpbag which you use to inflate the bag and it also doubles as a waterproof stuff sack.

---
2. Klymit Insulated V Ultralite SL Inflatable Sleeping Pad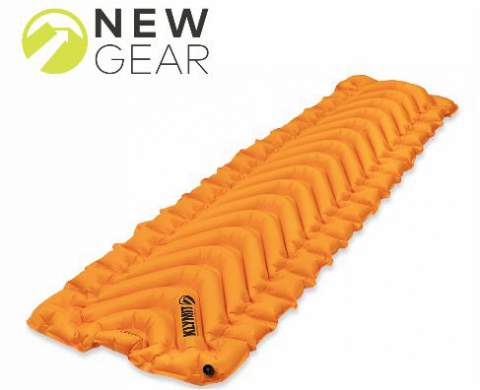 With the weight of 0.99 lb (450 g), this Klymit Insulated V Ultralite SL Inflatable Sleeping Pad is just below the limit which I introduced here. But observe that this is an insulated pad so indeed it is ultralight. The official R-value is 4.4, or the temperatures rating is 15 F (-9 C). This makes it suitable for all seasons.
Here are some numbers which you might want to know. The dimensions are (L x W x H) 72 x 20 x 2.5 inches (183 x 51 x 6.5 cm), and the packed size is (L x D) 7 x 4.5 inches (17.8 x 11.4 cm). This means its packed volume is only 1.8 liters, and this is far from bad for an insulated pad.
The pad is with Klymit's body mapping technology and with their famous V-chamber design. Note that they have the version without insulation as well which is only 11.9 oz (337 g) so it fits into this group as well.

---
3. Sea to Summit Ether Light XT Mat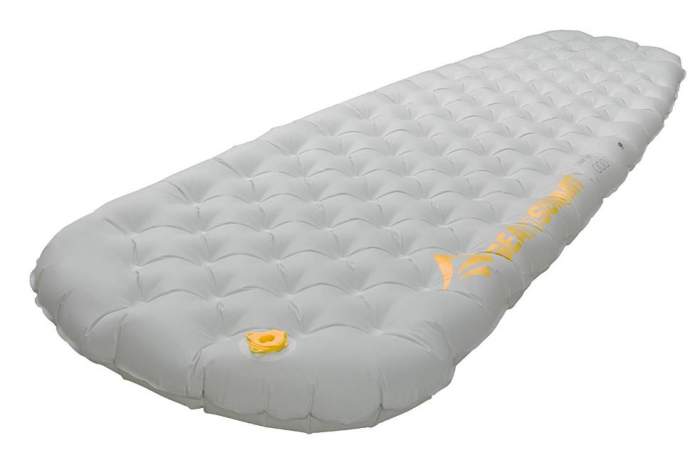 The weight for the size R of this pad is 0.86 lb (390 g), so you realize why it is here in the group. The packed size is 8.3 x 3.9 inches (21 x 10 cm). This means the volume of 1.6 liters when packed, simply excellent. This is the right choice for backpackers.
As for the climate, this Sea to Summit Ether Light XT Mat is for warm weather use, its R-value is around 0.8. It is built it in three sizes, and it comes with the stuff sack that doubles as its pump sack.
The picture above shows its interesting baffle design. This is dot welds system which results in numerous interconnecting chambers (Air-Sprung Cells). They claim that this better conforms to the body than traditional vertical or horizontal baffles.

---
4. Sea to Summit UltraLight Mat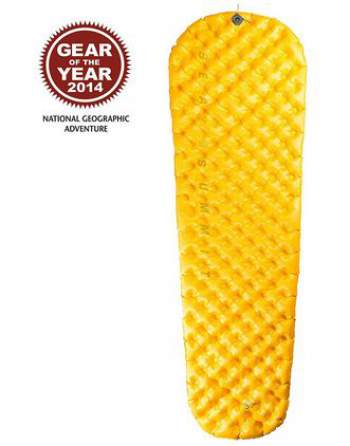 This pad is built in three sizes and the size R is 0.87 lb (395 grams) only. This is an award-winning sleeping pad suitable for backpackers and hikers and it has been on the market for a number of years already.
This is one of the pads for warm weather, its R-value is 0.7. The dimensions of the R version are 183 x 55 cm (72 x 21.5 in), and the thickness is 5 cm (2 in).
The picture reveals that here you have their medium-resolution patented Air Sprung Cells which give the lightest and smallest packed-volume mat without compromising comfort. This technology is used also in their more recent pad shown above.
So this is a dot-weld pattern to create a high surface area matrix of interconnected chambers. Each of the cells deforms independently so the mattress conforms to your body shape and to the ground as well.

---
How to choose
Regarding size: These are ultralight pads but this is normally not because of their impressive size. The indicated weight is typically for the R size or M. So if you are a very tall person check if they have a larger option for you.
Regarding insulation: The air in such pads adds a bit of insulation, and the corresponding R-value is always indicated. But this may not be enough in the case of an uninsulated pad if you plan to camp in a cooler area. Note that we lose up to 50 times more body warmth to the ground than to the surrounding air. This is why an insulated pad is needed.
Regarding durability: These pads are ultralight partly because of thin materials used in their construction. So bear this in mind and go for a more durable material if you are concerned. Note that, if punctured, you will end up on the ground and this will ruin your tour. They normally always have a repair kit included, so do not miss to have it with you.
Regarding inflation & deflation: Some of the pads here come with the stuff sack that acts as a pump bag. So this is a huge bonus. Check also the valve system, it is annoying if you have to spend lots of time in the morning when you want to deflate the pad.
---
Final thoughts
So this was my list with exceptional ultralight sleeping pads for backpacking. It will be updated regularly and there will be new items added whenever I find a pad that deserves to be included in such an exclusive list. You might want to bookmark this text and visit occasionally.
Note that there are more inflatable pads here in the site, so please visit my page with sleeping pads. You will find top brands presented there.
I love to hear from you, so please use the comment box below in the case of questions or comments.
---