---
This Therm-a-Rest NeoAir XTherm Ultralight Backpacking Air Mattress is incredibly light and compact, with a unique valve design, and a pump bag.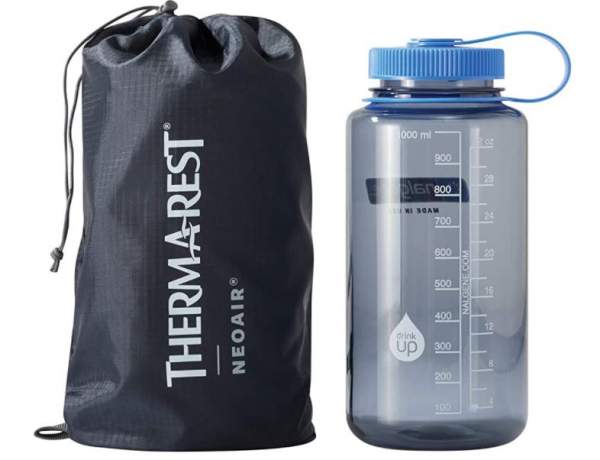 ---
Key features & benefits
Ultralight.
Ultra-compact.
Great valve.
Insulated.
Excellent warmth-to-weight ratio.
A pump bag is included.
---
What this is about
This Therm-a-Rest NeoAir XTherm pad has been on the market for many years already, and it has received numerous awards in the past. But this excellent pad has been upgraded recently so it is better than ever. In other words, the new version is not just a marketing step, this is a true improvement. Both the valve and the insulation are considerably better.
The pad is built in two sizes, so you have regular (R) and large (L) versions. Both are nicely packable, and you realize this from the top picture above. The packed size of the R pad is simply incredible 9 x 4 inches (23 x 10 cm).
The regular pad is still suitable for most potential users but it is a bit narrow, and both pads are with a tapered profile in the feet area. The picture below shows the top view so you see its transverse baffles.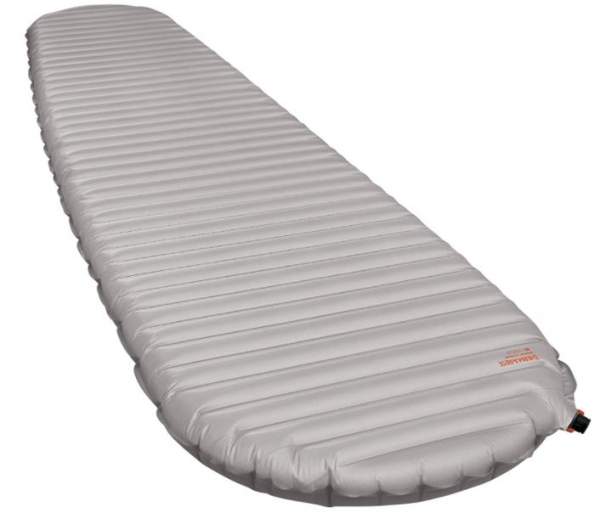 So just to get some idea of what you are looking at, the dimensions of the R pad are 72 x 20 inches (183 x 51 cm). Both pads are 2.5 inches (6.4 cm) thick, and this should be good enough even if you are a side sleeper.
With such a tapered profile and being relatively narrow, it is no surprise that the pad is incredibly light. The R version weighs only 15 oz (425 g). Now you know why I have included it in my list of best ultralight sleeping pads for backpacking.
Insulation & R-value
This is an inflatable pad and inside you have something that they describe as the Triangular Core Matrix which, as they write, 'minimizes convective heat loss–all without the bulk'. Plus, you have a reflective ThermaCapture technology that traps radiant heat from the body.
The only way to know what this all is would be to destroy the pad and see it from inside. Whatever this is, it results in an R-value of 6.9. This is according to the new ASTM rating. Note that on Amazon they write that the R-value is 7.2.
In any case, this is a great value, and the warmth to weight ratio for the R size is incredible 16 (per kilogram of weight). This is the number you get by dividing its R-value by the weight described in kilograms.
To understand this a bit better, it is best to compare it with yet another famous sleeping pad, the Klymit Insulated V Ultralite SL Inflatable Sleeping Pad that is also inflatable and insulated. Its R-value is 4.4 and the weight is 450 grams. So the warmth to weight ratio is lower, it is around 10 (per kilogram of weight).
So the Therm-a-Rest NeoAir XTherm pad is better by its absolute R-value and by its absolute weight, and consequently, the warmth-to-weight ratio is better. But note that the packed volume of both pads is exactly the same.
Below you can see all the elements in the package. You have a pump bag included together with its stuff sack. A repair kit is there as well.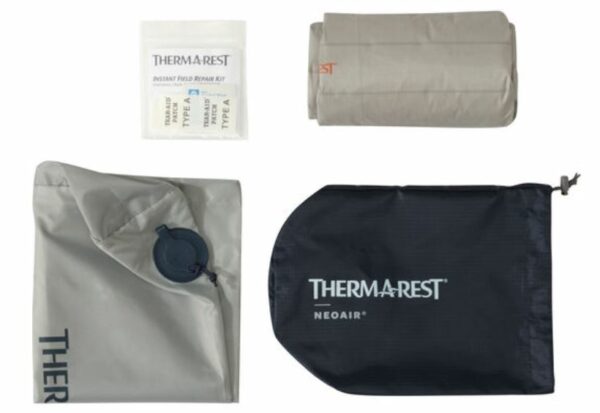 ---
Materials
There are differences in the fabric on the top and on the bottom. The top is a 30D ripstop HT nylon and on the bottom, you have a 70D nylon.
WingLock valve
The best part of this design is its new WingLock valve. This is a completely new and excellent design, and I do not remember seeing anything similar on the market. See below how it looks.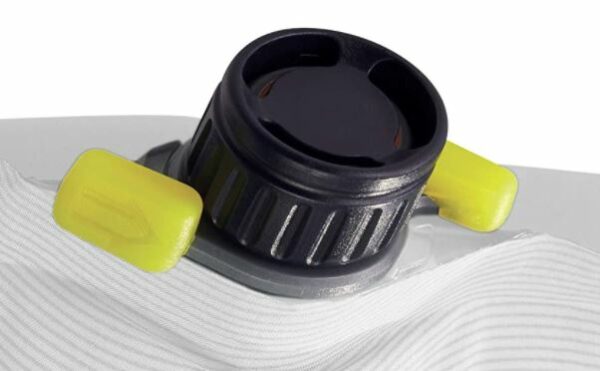 The word 'wing' tells you that there are a couple of wings on the side of the valve, so turning them in one or another direction you change the regime from inflation to deflation or vice versa. Note that this is also a one-direction valve, and this means when you set it to inflate, the air cannot get out.
Please see more in this video:
Pump sack
So this is yet another bonus here, this Therm-a-Rest NeoAir XTherm pad comes with a separate pump bag. Please see in this video how this works:
---
Who is it for
Regarding the weight, this pad is insulated and it is lighter than many uninsulated pads. It is perfect for backpackers and hikers, for mountaineers, and for practically any outdoor activity. You have seen its packed size, so here too I wish to stress that it packs better than most uninsulated pads on the market.
Regarding protection, this is all about insulation, and here you have it enough for any weather conditions. The R-value is such that you can use it even in winter. This is a true 4-season pad.
Regarding the price, it is steep, but the pad is worth the money.
Specifications
Two sizes, R & L.
Weight:
– R: 15 oz (425 g).
– L: 1 lb 4 oz (567 g).
R-value: 6.9.
Dimensions:
– R: 72 x 20 in (183 x 51 cm).
– L: 77 x 25 in (196 x 64 cm).
Packed size:
– R: 9 x 4 in (23 x 10 cm).
– L: 11 x 4.5 in (28 x 11 cm).
Thickness: 2.5 in (6.4 cm).
---
Final thoughts & rating
In the conclusion of this Therm-a-Rest NeoAir XTherm Ultralight Backpacking Air Mattress review, I wish to stress its excellent warmth-to-weight ratio that is hard to match. The pad is incredibly packable and in view of its thickness, it is comfortable enough even for side sleepers.
The inflation/deflation design is also excellent and the included pump bag is an extra bonus. Fully recommended. I have included it in my list of best cold weather sleeping pads but this is a pad for all seasons.
Please see how this pad stands against my standard set of criteria:
You might want to see also my comparison text Therm-a-Rest NeoAir XTherm vs Klymit Insulated V Ultralite SL Pad. For more options please check under the category Sleeping Pads, you will find them in all shapes and sizes.
Let me know if you have questions or comments, there is a comment box below. Subscribe to my weekly newsletter and stay informed. I do not spam, ever. The subscription form is below. Have a nice day.