---
Sea to Summit Ether Light XT Mat is an inflatable ultralight and ultra-packable warm weather sleeping pad built in three sizes, with the stuff sack that doubles as its pump sack.
---
Key features
Ultralight pad.
Ultra-packable.
Inflatable.
Pump sack included.
For warm weather use.
---
Where to buy
This sleeping pad is available on Amazon and I have seen it on several of their global stores. So please follow the link and check the price and shipping conditions for your location.
---
What type of a sleeping pad is this Ether Light XT Mat
So here you have an inflatable sleeping pad for warm-weather camping. By this, I mean that its R-value is very moderate 0.8. Roughly speaking this is in the range of the temperature above 10 degrees C.
This is an interesting baffle design shown in the picture below, with dot welds which result in numerous interconnecting chambers (Air-Sprung Cells). Something similar you can see also in Big Agnes Insulated AXL Trail Boss Air Sleeping Pad presented in my separate text.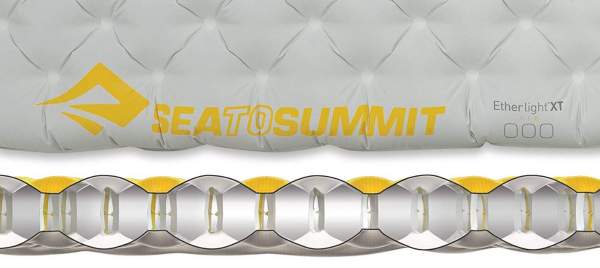 Such a construction better conforms to the body than traditional vertical or horizontal baffles. See more about this concept in this short video:
The top and bottom welds are connected inside, and this gives a 4 inches (10.2 cm) thick bed. This should be perfect even for side sleepers. Anti-microbial treatment is added to the TPU formula to prevent internal mold growth.
The face fabric is 30D and 40D nylon with liquid extruded lamination which makes it both durable and quiet. It is interesting also that you have pillow lock strips on the surface, which then keep the Aeros pillow from this brand on the mat.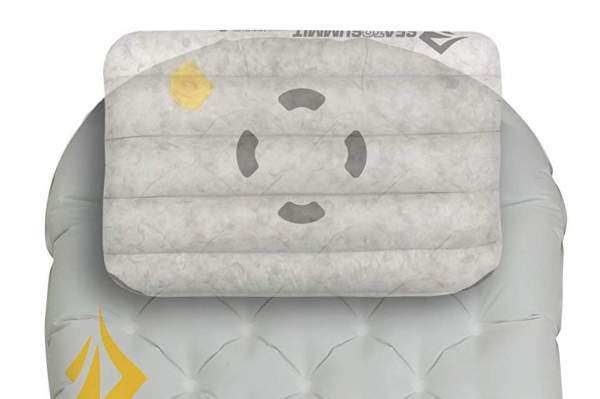 The single valve is multi-function, high flow rate, and low profile, it is also with a small button inside for fine-tuning. The pad's stuff sack doubles as its Airstream pump sack. Note that they build this pad in 3 sizes, you will see the numbers in the specifications below.
---
Who is it for
Weight-wise, with 0.86 lb (390 g) for the size R, this is definitely an item for backpackers and hikers. If good for them, it is suitable for practically any outdoor activity. Bear in mind also its packed size which is excellent, see the picture below, but there are even more packable pads, you will see some examples in the comparison table below. I have included it in my list of ultralight sleeping pads for backpacking.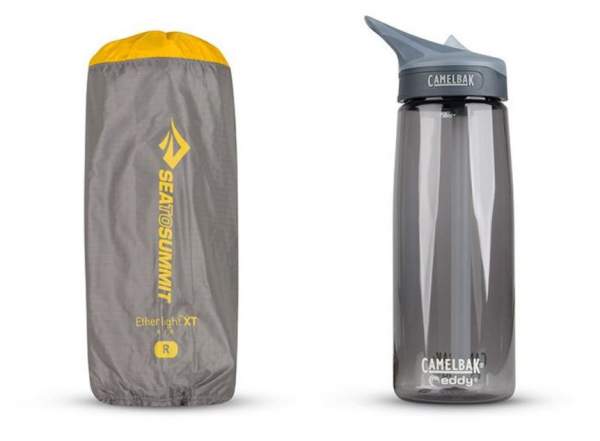 Size-wise, it is good that they build it in three sizes so you can choose the best length for you and avoid extra weight in the pack. You will see below that Klymit V Ultralite SL Pad is built in one size only, so this limits its use for a big part of the population.
Note also that it is surprisingly thick so this comes as a real luxury if you are a backpacker or hiker.
Regarding the R-value, this is clearly a sleeping pad for warm weather and nothing more than that. If you need something insulating under you, please check in my page with sleeping pads.
---
Good and less good features
Here is my short summary:

Excellent weight.
Excellent packed size.
Very stable and supportive.
3 Sizes.

The price & rating
This pad is on the US market with the price in the range of $159-179. On the EU market, the R size is in the range of 130 Euro. So this is an expensive pad, you will see some more affordable options in the comparison table below. Please see how I rate it. I use the same criteria for all the pads here in the site, this is convenient for easy comparison between them.
My rating of the Sea to Summit Ether Light XT Mat R size:
Weight -

9.7/10

Size -

8.6/10

Comfort & features -

9.4/10

R-value -

6/10

Packed size -

9.6/10

Price -

7/10
---
Specifications
Note that the numbers available on Amazon are a bit different from those provided directly by the manufacturer (which I am using here).
Three sizes: S, R, L.
R-value: 0.8.
Thickness: 4 in (10.2 cm).
Weight:
– S: 0.81 lb (370 g).
– R: 0.86 lb (390 g).
– L: 1.1 lb (500 g).
Dimensions:
– S: 66.1 x 21.6 in (168 x 55 cm).
– R: 72 x 21.6 in (183 x 55 cm).
– L:  78 x 25.2 in (198 x 64 cm).
Packed size:
– S: 8.3 x 3.9 in (21 x 10 cm).
– R: 8.3 x 3.9 in (21 x 10 cm).
– L: 9.4 x 4.3 in (24 x 11 cm).
---
Sea to Summit Ether Light XT Mat vs Competitors
To understand the features of this sleeping pad, it is a good idea to see how it stands when compared with some other pads. This will help you in making an informed choice. So I show it side by side with two Klymit pads. As you see Klymit V Ultralite SL Pad is lighter and it packs better, but it is considerably thinner.
The other pad, Klymit Static V Lightweight Sleeping Pad is a bit heavier, but as you see it has a far more durable fabric. Yet even this pad is much thinner. But both Klymit pads are much more affordable.
Sea to Summit
Ether Light XT
---
Final words
Sea to Summit Ether Light XT Mat is a quality pad, very supportive and stable due to its Air-Sprung Cells construction. Its thickness is also one of its great features. But if you are a backpacker, you will particularly love its packed size and weight. This is a great pad if you can afford it. Fully recommended. I have added it to my list with best inflatable sleeping pads.

Note that this is not a sponsored text and I am not paid by the brand. I love to hear from you so please let me know what you think about this pad, there is a comment box below.
---