---
Big Agnes Insulated AXL Trail Boss Air Sleeping Pad is built from an ultra-durable aviation-grade fabric, insulated, very light, ultra-packable, and suitable for 3-season plus use.
---
Key features
Rectangular & insulated, inflatable pad.
5 Sizes.
Ultra-durable construction.
Inflation sack included.
Lightweight.
Ultra-packable.
---
Where to buy
This sleeping pad is available on Amazon in all 5 sizes. So follow the link and check the price and shipping conditions for your location.
---
What type of a sleeping pad is this
This is a rectangular inflatable sleeping pad and a patent-pending design. They describe it as a backpacking pad and this should imply an appropriate weight. But I would not put it in the group of ultralight pads, you will see more about this below.
Materials & insulation
The fabric is a highly durable ripstop nylon and they describe it as tough-as-nails. This is an aviation-grade puncture-resistant fabric, the same what you have in evacuation slides in the airplanes. The bottom is with an additional polycarbonate coating which makes it 10 times more durable than non-coated materials of this type.
The insulation inside is synthetic, this is a PrimaLoft Silver material, one of the best of this type, but there is no information about how much of this insulation is here per square meter. In view of such a great packed size, there is probably not much of it inside. The insulation is laminated to a Mylar sheet and it seems that it is with holes so that the bottom and top sheets are quilted together, this is why you have those interesting baffles in the pad.
The outer chambers are larger to keep you comfortably cradled in the middle of the pad. The heat reflective film inside creates a dynamic convection system by trapping heat and transmitting it back to the user.
They describe it as their 'warmest air pad' while at the same time they describe it as a 3-season plus sleeping pad. However, they do not provide any R-value for this pad. But they are rather consistent with this, the same is with their other sleeping pads and when you see the R-value attributed to them, this is usually added by various sellers and not by the brand itself.
It appears that they do not believe in R-values which various brands declare with their pads, and that those are not consistent without some independent testing center. In any case, this pad should probably be good enough for the temperature range as low as 15 – 35 F (-9 to 2 C). This would imply an R-value around 3.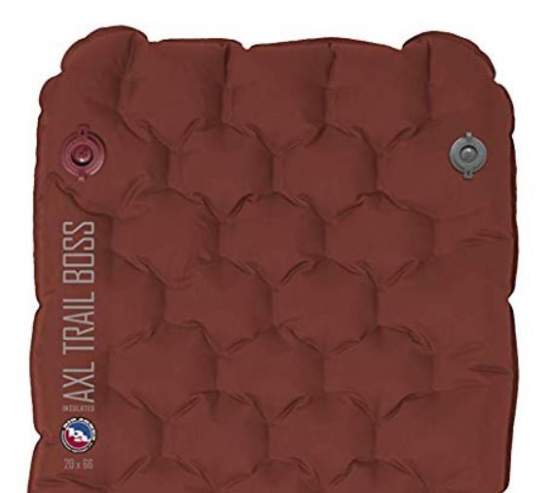 The valves are low profile for easy inflation and deflation, see them in the picture above. There is a button inside the valve so you can release small amounts of air for fine-tuning. Note that they include an inflation sack, this reduces the amount of moisture inside as compared with the case when you use mouth to blow the pad.
But the pad has an antimicrobial treatment inside to prevent microorganism growth. It comes with a stuff sack as well.
---
Who is it for
Size-wise, they have done a great job here by building this sleeping pad in 5 different sizes. So you have regular (R), petite (P), long (L), wide-regular (WR), and wide-long (WL). You will see the numbers in the specifications below.
This means that it is very likely you will find the best size for you and avoid carrying unnecessary weight in the pack.
Weight-wise, again, you have them in 5 sizes so you can choose. But in general, those are lightweight pads although not ultralight. You will be able to see how it compares with some of its competitors, there is a comparison table below.
Seasons-wise, the manufacturer describes it as a 3-season-plus pad. You have seen about its insulation above, so this should be taken as granted.
Please see more in this short video:
---
Good and less good features
Here is my short summary:

Incredibly durable.
Insulated pad.
Excellent packed size.
Very supportive.
Variety of sizes.

The price & rating
This pad is on the market with the price up to $250, so clearly, this is an expensive product and there are many more affordable pads on the market, some of them will be shown below. Not many pads are as durable as this one, but there are some that are even more durable, see this Klymit Armored V Inflatable Sleeping Pad to understand what I mean.
Please see how I rate this pad against my standard set of criteria used for all the pads presented here in the site, I use the R size as an example:
My rating of the Big Agnes Insulated AXL Trail Boss Air Sleeping Pad R:
Weight -

9/10

Size -

8.4/10

Comfort & features -

9.2/10

R-value -

7.5/10

Packed size -

9.5/10

Price -

7.5/10
---
Specifications
Dimensions:
– P: 66 x 20 in (168 x 51 cm).
– R: 72 x 20 in (183 x 51 cm).
– L: 78 x 20 in (198 x 51 cm).
– WR: 72 x 25 in (183 x 66 cm).
– WL: 78 x 25 in (198 x 66 cm).
Weight:
– P: 31 oz (879 g).
– R: 34 oz (964 g).
– L: 36 oz (1.02 kg).
– WR: 41 oz (1.16 kg).
– WL: 44 oz (1.25 kg).
Thickness: 3.25 in (8.2 cm).
Packed size:
– P: 8.5 x 5 in (22 x 13 cm).
– R: 9 x 5 in (23 x 13 cm).
– Long: 9.5 x 5.5 in (24 x 14 cm).
– WR: 10 x 6 in (25 x 15 cm).
– WL: 10.5 x 6 in (27 x 15 cm).
---
Big Agnes Insulated AXL Trail Boss Air Sleeping Pad vs Competitors
Regardless of statements of manufacturers, it is always best to see such pads side by side, this is the best way to understand where they fit in the crowd. So here are Exped SynMat 9 and Klymit Insulated V SL pads. As you realize, with respect to weight, the Klymit pad is by far the best here.
On the other hand, the Big Agnes pad is far more expensive, but it is definitely far more durable. But its R-value is missing and the number I give here is more guessing than a fact. Please follow the links to read more.
Big Agnes
Insulated AXL R
Klymit Insulated
V Ultralte SL
---
Final thoughts
So the best features of this Big Agnes Insulated AXL Trail Boss Air Sleeping Pad are its durable fabric and its packed size. It is warm enough for 3-season use. This is an excellent hiking item but the price is steep, so if you are on a budget you might want to check the alternatives given in the comparison table above. I have added it to my list with best inflatable sleeping pads.

If you need something lighter, check this ultralight Sea to Summit Ether Light XT Mat. More pads are available in my page with sleeping pads.
Note that this is not a sponsored text, and I am not paid by the brand. What do you think about this sleeping pad? Any experience with it? Please share your thoughts, there is a comment box below.

---