---
With its huge R-value, this popular Lightspeed Outdoors XL Self-Inflating Sleeping Pad is suitable for all weather conditions and climates, easy to use, and very affordable.

---
Key features & benefits
Pad for all seasons.
High R-value.
Self-inflating.
Integrated headrest.
Carry bag included.
Reasonable price.
---
What this is about
Here you have an incredibly popular sleeping pad that has been on the market for a number of years already, with hundreds of reports by users and incredibly highly rated. It is on Amazon under the complicated name Lightspeed Outdoors XL Super Plush FlexForm Premium Self-Inflating Insulated Sleep and Camp Foam Pad which describes all its most important features.
So the letters XL describe the fact that this is a large pad, you will see more below. The words Super Plush and FlexForm are related to its pleasant fabric which is a 4-way stretch polyester with TPU lamination.
The interior is a sort of memory foam. Note that it is very similar to this WELLAX UltraThick FlexFoam Sleeping Pad where they use the term FlexFoam. So this is more or less just for marketing, though they claim that this "FlexForm equalizes the varying pressures of your head and neck, shoulders and hips and adapts to your body temperature to provide all-climate comfort." They also write that it "melds with your body, allowing for a soothing head-to-toe sensation." Lots of nice words for a stretchy fabric and a memory foam piece.
In any case, this foam is behind the term Self-Inflating. The meaning is that the pad will inflate by itself, you simply spread it and open its two valves. The decompressed foam will suck the air in and after a few minutes you can close the valves and the pad will be ready to use.
If you feel that it is not inflated enough, you can blow some air by mouth. When you want to deflate the pad, here are the steps that I always do with such pads:
Open the valves (one shown below) and start rolling from the end without the valves keeping it compressed. I normally use my knees for this. Note that both valves here are on the hearest section.
When it is rolled, close the valves and use the straps.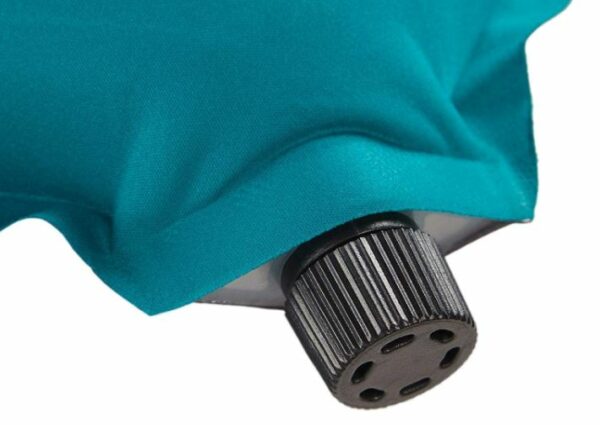 The pad comes with an integrated headrest. Perhaps it can serve as a pillow if you are a back sleeper, but it is quite symbolic really, it is only 0.5 inches (1.3 cm) thicker than the rest of the pad, see the picture below. You also have compression straps and a carry bag.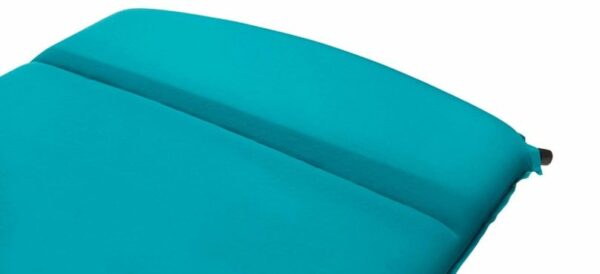 Insulation
The pad with its foam and the air trapped inside provides great insulation. According to their statements, the R-value is 9.66. I seriously doubt that an R-value can be determined with such precision, and it is probably not the new rating system (ASTM F3340-18 Standard R-Value) introduced in 2020. But there is no doubt that this pad is suitable for all seasons and all weather conditions.

---
Who is it for
Regarding the weight, with its 6 lb (2.72 kg) of weight, this is an item you would not want to carry in the backpack. So this is for car camping, and I have included it in my list of best self-inflating camping pads. But if you want something of this type on the trail, check these backpacking self-inflating pads.
Regarding the packed size, the same as above, this is quite a long tube shown below that measures 30 x 7.75 inches (76 x 20 cm). So you need a car for transportation.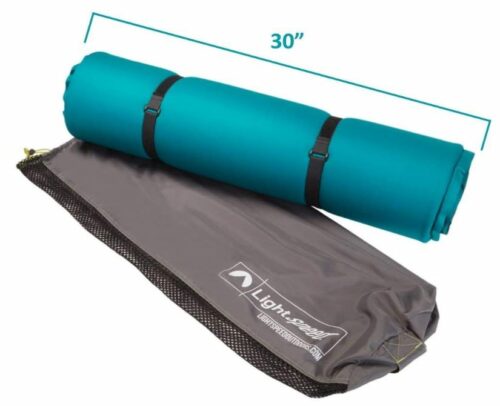 Regarding the dimensions, with the size of 77 x 30 inches (196 x 76 cm), this is a very wide pad and the length should be good enough for most of the users. Note that it offers 3 inches (7.6 cm) of pleasant cushion underneath you, so this should be fine even if you are a side sleeper. But there are much thicker options on the market, just to know.
Regarding the seasons & climate, you have already seen its R-value, and it is huge. This pad will insulate you and keep you warm in any weather conditions, but this assuming that you have an appropriate sleeping bag of course.
---
About Lightspeed Outdoors brand
The Lightspeed Outdoors was established in 2009 in San Diego. They claim that their vision is to create highly durable, easy to use, and functional outdoor products. I would say this pad presented here is a great example of such a philosophy.
For this particular pad, the Lightspeed Outdoors offers a 1-year limited warranty, and they will require proof of purchase from an authorized dealer.
---
Specifications
Type: self-inflating pad.
Weight: 6 lb (2.72 kg).
Dimensions: 77 x 30 in (196 x 76 cm).
Thickness: 3 in (7.6 cm).
R-value: 9.66.
Packed size (L x D): 30 x 7.75 in (76 x 20 cm).
---
Final thoughts, rating, pros & cons
In summary, this Lightspeed Outdoors XL Self-Inflating Sleeping Pad is very comfortable and with great dimensions, the R-value is high so you can use it anywhere, and the price is more than appropriate. Fully recommended. 
Please see how I rate this pad against my standard set of parameters used for all the pads here in the site so you can easily compare:

Lightspeed Outdoors XL Super Plush FlexForm Premium Self-Inflating Insulated Sleep and Camp Foam Pad
$89.99
​Check in the category Sleeping Pads if you need more options. Bookmark this site and visit again, we add texts here on a regular basis. There is a comment box below so let me know if you have any questions or comments.